Global non-financial trends will shape the regulatory agenda for years to come
Key points
The consensus is that regulatory activity will continue
Non-financial trends such as technological innovation, climate change and demographics will drive new regulation
In some countries, senior management accountability is coming into focus
Regulators are said to be behind the curve but are becoming more proactive
The global regulatory drive that began in response to the financial crisis is not over. In its Financial Markets Regulatory Outlook 2018, Deloitte foresees "no wholesale rolling back of the post-crisis regulatory framework".
However, Deloitte's report highlighted two new trends. Regulatory frameworks are starting to diverge worldwide, posing grave challenges to global organisations. Brexit is the prime example of this. At the same time, long-term structural issues affecting the global economy, such as technological innovation, climate change and population ageing, are driving new regulations.
Regulators are often blamed for lagging behind the market, and no doubt many authorities face such criticism. On the other hand, the financial industry as a whole is under pressure to adapt to three drivers pressure to adapt to all three drivers of change – technological innovation, population ageing and climate change. The degree of readiness in the industry varies, but these trends are developing so rapidly that it is hard to keep pace.
Laying down the law on tech
Technological change is transforming the financial industry to such an extent that regulatory intervention is inevitable. Regulators have their sight set on innovations in financial technology (fintech). Authorities are actively monitoring technologies such as blockchain and artificial intelligence (AI), but there is no expectation that these areas will attract their own regulation in the future.
Amin Rajan, CEO of asset management research firm CREATE-Research, says: "Regulators are behind the curve when it comes to new technologies. For example, they face a series of issues around blockchain. The technology poses the question of who is ultimately responsible for the data recorded in distributed ledgers. Regulators need to know that information, but the technology does not allow them to, for the time being.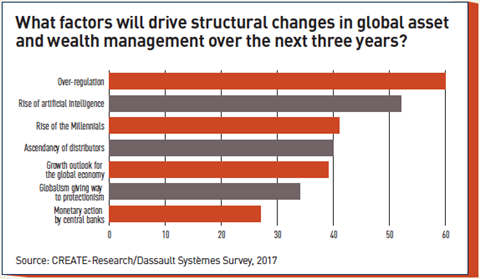 "Similarly, machine learning is increasingly applied to areas like factor investing. The technology is very powerful in dealing with factors. But there is nervousness around accountability, particularly if things were to go wrong. These issues mean that the pace of adoption of new technologies is slower than the speed at which they become available. Human societies always adapt, but the process is not linear. It is often a messy process."
In some contexts, regulators are trying to be proactive. In November 2015, the UK's Financial Conduct Authority (FCA) launched a "sandbox", a secure environment where fintech companies can test tools and ideas. Thanks to this initiative, dozens of companies have tested their technology under the supervision of the regulator. The Bank of England has launched a similar initiative, branding it FinTech Accelerator. Other initiatives are underway in Europe and emerging economies like India and Singapore.
There are areas, however, where regulation will soon be overdue. One is mobile technology, which is changing the way financial products are distributed. Regions, particularly Asia, are at the forefront of change.
Dan Waters, managing director of ICI Global, cites China as a key example. He says: "Mobile phone-led distribution of money market funds has been growing in China for several years. Mobile phone users can buy and sell funds using very simple interfaces, which allows asset managers to hoover up assets. Soon mutual funds could also be widely distributed in that way."
In developed markets, distribution of financial products via mobile technology is less advanced. However, asset managers are investing in mobile technology and other tech-based enhancements, to cater for the next generation of investors and savers. "Millennials are fully absorbed and fluent in mobile technology. They want to communicate through those challenges, and that is what they will get," says Waters.
But rule-making is going to be a challenge, according to Waters. He says: "Markets have been set up in a certain way, and change is difficult. I hope that regulators in the more established markets get to a place where they allow technology to develop and bring real value and change to the market, but do so in a way that is user-friendly and understandable for investors."
Regulating people
Whatever the technology, the focus of regulators is on the people implementing it. Many issues around the adoption of new technologies within the financial services are implicitly addressed by rule books such as the FCA's Senior Management Regime (SMR), which replaced the Approved Persons Regime (APR) in 2016.
The goal of the SMR is to increase the accountability of senior management within financial services. It came into force in March 2016, initially covering only banking, but is now being rolled out to the wider financial services industry, with asset management expected to be included by the end of 2019.
The SMR requires every senior manager to have a "statement of responsibilities" that outlines what they are responsible and accountable for. Firms have to provide "responsibilities maps" clarifying how individual responsibilities are aligned and certify that senior managers are fit to do their job.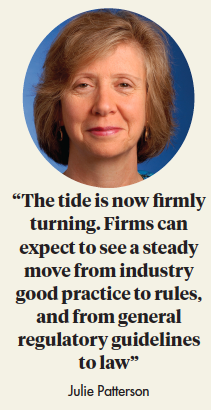 The SMR does not specify what managers should be responsible for or how governance should be structured. The emphasis is on conduct, although in Europe managers often need professional qualifications in order to hold a particular role.
Robert Dedman, senior director at US consultancy Navigant, says: "With the SMR, regulators are trying to incentivise appropriate risk-taking and good decision making. The regime puts in place additional tools that allow regulators and firms to trace the line of accountability much more clearly, and to hold individuals accountable for the decisions they take."
The SMR implicitly covers technology, according to Dedman, because managers should be accountable for decisions regarding the deployment and operation of systems. The same principles apply to cybersecurity and operational resilience, as responsibility for understanding and managing these risks lies with senior management.
This approach should favour UK financial firms focused on innovation. Dedman says: "Technology brings new risks that firms and regulators need to understand and mitigate. But regulators do not want to disincentivise technological innovation. They want to help the process, because they recognise it has the potential to change the industry. The SMR regime helps because it is flexible and encourages senior managers to think about the risk their organisations are running and how to mitigate them, rather than forcing them to adopt a series of measures."
Heavy weather
The idea of accountability is also hotly debated in the context of climate change, with most regulators agreeing that financial firms should account for climate-related risks. At a global level, the Financial Stability Board's Task Force on Climate-related Financial Disclosures (TCFD) is developing a voluntary framework for climate-related disclosures (see article in this section).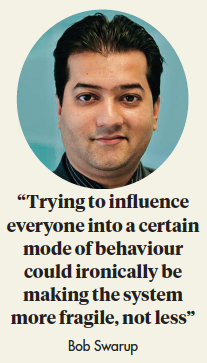 In Europe, the European Community's High-Level Expert Group (HLEG) on sustainable finance has recommended that asset managers' duties regarding climate change are clarified. The industry expects the EC to propose legislation with regard to climate-risk disclosure in asset management. Many, however, are worried that this legislation will chose a one-size-fits-all approach to climate-related investment.
ICI, among others, does not favour a prescriptive approach from EU regulators. Waters says: "It seems to be in the Commission's mind to mandate that asset managers must take account of ESG factors in every fund. We don't think it actually reflects the real and positive dynamics in the markets. We think this is likely to produce a tick-box mindset, which is never a good approach when undertaking risk analysis. We are concerned about that and hope they won't use such a blunt instrument."
The debate, is set to continue for some time, and whatever the regulators decide, asset managers will comply. Julie Patterson, head of asset management regulation at KPMG , says: "The tide is now firmly turning. Firms can expect to see a steady move from industry good practice to rules, and from general regulatory guidelines to law. Now is the time for asset managers and institutional investors to engage in the European debate, to have a regular dialogue with their clients and beneficiaries on sustainability issues, and to evolve their investment strategies and product options for a world in which sustainable finance is the norm, not a nice to have."
Macroprudential focus
Ageing, the third of the major drivers of regulation identified by Deloitte, underpins everything mentioned so far, and the industry has responded with a proliferation of savings and pension products. As the number of products increase, so will the scrutiny on them. From the EU's proposed legislation on a Pan-European Personal Pension Product (PEPP) to the Market in Financial Instruments Directive (MiFID), regulatory activity is bound to continue for the foreseeable future.
While the merit of each regulation is debatable, there is an underlying theme focusing on microprudential regulation, a concept introduced after the financial crisis in an attempt to contain systemic risk.
Bob Swarup, principal at Camdor Global, says: "The focus is increasingly going to be on macroprudential policy… The problem is that it is a largely untested tool. If you see macroprudential policy as a tool to influence economic behaviour, it can be powerful but also unwittingly create some fragility. Trying to influence everyone into a certain mode of behaviour could ironically be making the system more fragile, not less."
The Brexit factor
Uncertainty over the UK's departure from the European Union has raised concerns that the City of London, arguably the world's largest financial centre, will become isolated from its customer base.
Some of the practical issues concerning financial regulation are already on the negotiating table. The European Securities and Markets Authority (ESMA) has signalled it may tighten UCITS rules around delegation to protect European customers.
The UCITS framework allows managers to set up funds in one country while managing it from another. UCITS has benefited London, where portfolio decisions are made on funds registered in places such as Luxembourg and Dublin.
Dan Waters, ICI Global's managing director, says: "The future is extremely uncertain at the moment. We have been concerned about the approach the European Commission and ESMA have taken with respect to delegation under the UCITS directive. Delegation is one of the bedrock reasons that the UCITS brand is the only successful global fund brand."
The UCITS framework has benefited firms such as MJ Hudson, an asset management consultancy that helps fund houses set up UCITS structures. Brexit could actually be good news for the firm and its competitors, as fund houses may have to rely more on consulting services to navigate the regulatory uncertainty that is expected to prevail in the years after Brexit.
However, Odi Lahav, CEO of investment advisory and research firm Allenbridge, an MJ Hudson subsidiary, says: "There is a huge amount of uncertainty and high risk of policy missteps. The UK needs to leverage its competitive positioning for financial services and at the same time ensure we have an efficient and fair marketplace that delivers good products. We have to be aligned with the EU if we want to trade with them, and at the same time we have to be aligned with the US."
He adds: "EU regulations such as MiFID, which is completely misaligned with the US market, show how difficult that will be. Such uncertainty will cause firms to be hesitant and adopt a lowest-common-denominator approach. This, in turn, will be problematic for innovation."
Regulation: Stepping outside the comfort zone
1

Currently reading

Regulation: Stepping outside the comfort zone

2

3

4