The UK's Pensions Regulator (TPR) has published its proposed regulatory framework for defined contribution (DC) master trusts.
The proposed rulebook will take effect from October, when the multi-employer DC market becomes subject to TPR's authorisation regime. Providers will have until April to apply for authorisation.
The draft rules, published yesterday, set out TPR's policy for regular monitoring of master trusts, the circumstances in which it would increase its engagement with particular schemes, and what would happen if a scheme was struck off its list of authorised providers.
Kim Brown, head of master trust authorisation and supervision at TPR, said: "Authorisation will create a market with better safeguards. To do that we need to set the standards that every master trust must meet to operate once they have been authorised, or set up in the market.
"We will also supervise these schemes to ensure that they continue to meet the authorisation criteria, are well-run and offer good value for members.
"Our policy outlines how we will be collaborative in supervising schemes, but tough to use our powers, including de-authorising schemes, if they drop below the standards outlined in legislation."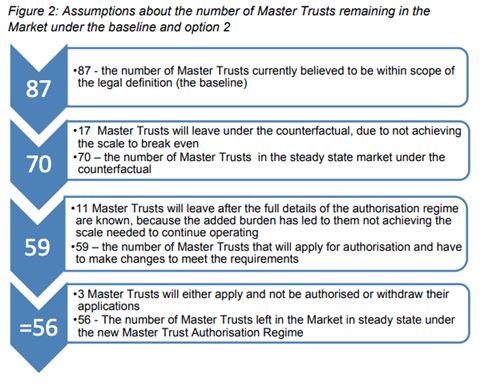 TPR outlined its plans to monitor the individuals running a master trust, the financial strength of the trust's backers, the robustness and quality of its systems and processes, and its continuity planning.
Should the regulator decide a trust posed a high risk to its members, it would impose additional supervision measures such as face-to-face meetings with managers and trustees, and in some cases the appointment of a named supervisor to enhance monitoring of risks and mitigation efforts.
"New master trusts can expect to receive a higher level of supervision than those who are more established because they will not have an operational track record," the regulator said. "Higher intensity supervision will give these master trusts the opportunity to demonstrate that they continue to meet the authorisation criteria."
In deciding whether to withdraw a master trust's authorisation, TPR said it would consider aspects including the frequency and impact of rule breaches, the sustainability of the trust, the "intention and behaviour of individuals involved in running the master trust", and the impact on members.
"We are more likely to withdraw authorisation where the master trust frequently fails to meet the authorisation criteria and/or the impact of any failures are a significant detriment to members," TPR stated.
The UK government has previously estimated that the number of master trusts could shrink by more than a third when the new authorisation regime kicks in.
The consultation on the new rules runs until 23 August. The draft rules are available here, and TPR's feedback form is here.