COVID-19 joins the line of obstacles slowing Irish pension reform plans
Key points
Pension reforms, including the introduction of auto-enrolment, have been dogged by delays
Consolidation is likely if small schemes struggle to meet IORP II requirements
Master trusts will become an important feature of the pensions landscape
This year is set to be pivotal for the Irish pension system.
In 2018, the government published its 'Roadmap for Pensions Reform', which set out plans for a national auto-enrolment system to be fully implemented by 2022. But rather than a speedy progression along a supersmooth highway, the road has, in fact, turned out to be more of a winding, bumpy lane with lots of hold-ups.
First published as strawman proposals – designed to generate discussion rather than represent firm government policy – the plans were beset by delays, culminating in last year's twin challenges of an inconclusive general election in February, and the arrival of the COVID pandemic.
More recently, it could be argued that the ending of the Brexit transition period on 31 December 2020 was a distraction for the Irish government.
While the current coalition – formed by Fianna Fáil, Fine Gael and the Green Party – is continuing work on the reforms, there is still a lack of detail in several areas. There is also uncertainty about the timing of the changes. For example, the new government has hinted that the 2022 deadline for auto-enrolment will not be met.
However, Roma Burke, partner, LCP Ireland, says. "I expect that there will be a real push by the government to deliver it in a timely fashion. Now that Brexit is done, it would be good to see a timeline on the delivery of auto-enrolment. But the impact of Covid-19 will have to be factored into the design of the new system."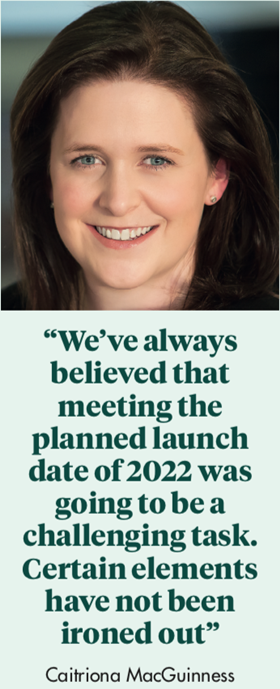 Ireland is getting help in introducing auto-enrolment from the European Commission's Directorate-General for Structural Reform Support.
"Hopefully the Directorate-General's input will be beneficial, as well as helping to avoid any pitfalls that may have befallen other countries," says Burke.
Caitriona MacGuinness, defined contribution (DC) and master trust leader at Mercer Ireland, says that auto-enrolment has the potential to transform preparedness for retirement.
However, she says: "We've always believed that meeting the planned launch date of 2022 was going to be a challenging task. Certain elements have not been ironed out – for instance, the strawman proposals on tax relief differ from the taxation approach under the existing tax regime, adding a layer of complication."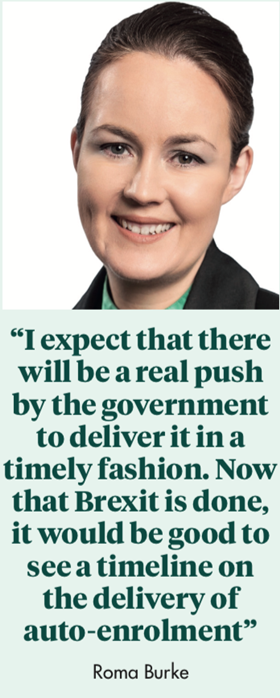 In addition, she points out that the central processing agency (CPA), proposed by the government to manage the auto-enrolment process, has not yet been set up. At this stage no budget has been allocated and the CPA's structure has also not been confirmed.
"We are very positive about the impact auto-enrolment will have and believe the government should continue to progress plans for its introduction," MacGuinness says. "However, we have to be cognisant of the short-term financial impact of Covid-19 on employers and employees and launch auto-enrolment at the right time."
But Dean Heaney, head of institutional, UK & Ireland, Franklin Templeton, warns against seeing auto-enrolment as a "silver bullet" for the challenges of engagement and greater contributions.
In particular, Franklin Templeton's own research among young savers finds that while savers expressed strong emotions about responsible investment, only 22% feel their current pension reflects their values.
And Heaney says: "As the industry begins to see the first cohort of people who will rely predominantly on their defined contribution (DC) pension savings in retirement – Generation DC – we believe there should be a clear alignment between the issues that savers care about, such as climate change, animal welfare and packaging, and those that the investment-management industry focus on when they adopt responsible investment strategies."
Looking further ahead, once embedded in the pension system, auto-enrolment will have a substantial impact in terms of size, suggests Jerry Moriarty, chief executive, Irish Association of Pension Funds.
"The current proposal is that there would be about four approved providers, and employees would either choose their provider or be allocated one," he says. "With an estimated 584,000 people in the target population, these schemes would become quite large – in an Irish context, initially by membership size, and ultimately by asset value."
Questions on IORP
Meanwhile, the implementation of IORP II and its effect on smaller pension schemes is still a live issue.
"The directive will be a significant step up in governance for large schemes, and an even bigger shift for smaller schemes," says MacGuinness. "The decision has yet to be made on whether to exempt small schemes from incorporating it."
It is essential that the underlying member doesn't feel less 'attached' to a retirement solution that is a pool of multiple scheme assets, as opposed to its historic company-tailored approach. Effective communication and engagement strategies would be central to offsetting this challenge" - John Campion
Given that the Pensions Authority says it wants to see consolidation in the Irish market, Mercer is expecting the adoption of the directive to be a major and possibly insurmountable challenge for small schemes, resulting in significant consolidation.
She adds: "For DC plans, master trusts will be a bigger feature of the market in the future. However, current regulations are not conducive to an easy transition from stand-alone trust to master trust, and we would hope to see legislation in place to simplify this."
For technical legislative reasons, it is currently not possible to have defined benefit (DB) master trusts in Ireland, so DB plans will have to either meet the additional governance requirements or consider winding up, MacGuinness says.
But the outlook for schemes taking the master trust route is not unremittingly sunny.
Moriarty says: "The Pensions Authority has set out a proposed authorisation and regulatory regime for master trusts that many consider to be impractical and may hinder their development. Furthermore, the current process of moving a scheme to a master trust is cumbersome and costly, and will need to be streamlined if we are to see the landscape that the Authority envisages."
And even if a small scheme manages this move successfully, there can still be inherent drawbacks with the framework.

"A master trust can offer 'big scheme benefits' to smaller schemes, meaning that, in theory, DC members can expect higher-quality investment strategies, more effective communications and at a cost representing better value for money than might otherwise be available in a small DC scheme," Burke says.
But on the downside, she argues that the potential scale of master trusts may mean that the "individuality" benefit of smaller DC schemes might be lost.
For example, the DC Code of Governance on Investment says "a suitable default investment strategy will differ for all schemes and will depend on the requirements and demographic profile of the scheme membership".
"This could be hard to achieve in a master trust with members from a wide variety of backgrounds," says Burke.
This consideration is also important in terms of the scheme's relationship with members as a whole, says John Campion, senior DC consultant at Willis Towers Watson.
"It is essential that the underlying member doesn't feel less 'attached' to a retirement solution that is a pool of multiple scheme assets, as opposed to its historic company-tailored approach," he says. "Effective communication and engagement strategies would be central to offsetting this challenge."
On a strategic level, the new government has set up a Pensions Commission to examine and make recommendations for the sustainability of state pensions and the social insurance fund.
The 2020 Mercer CFA Institute Global Pension Index ranked Ireland 14th out of 39 national pension systems. But for sustainability, it was ranked only 24th.
One of the country's biggest challenges is the projected fall in its ratio of workers to pensioners, from 5:1 today to 2:1 by 2050.
And government finances will continue to be under pressure as a result of a relatively generous level of state pension, along with the recent decision to delay any increase in state pension age.
"With increasing reliance on DC schemes as the retiring exit strategy, there will need to be greater flexibility with regard to retirement ages and conversion of private pensions," says Campion. "Most people will see retirement as more of a dimmer switch in gradually retiring, rather than the historic sudden move from a five-day working week to full retirement at the age of 65 or 66."
Country report: Pensions in Ireland 2021
1

2

Currently reading

A long and winding road

3

4

5