The Partnership for Carbon Accounting Financials aims to improve disclosure of the greenhouse gas emissions of financial investments
KEY POINTS
A new standard for carbon accounting provides rules for measuring and disclosing the financed emissions of investors and lenders
Many institutional investors already use carbon accounting practices
The Partnership for Carbon Accounting Financials says harmonised rules will provide transparency and may improve uptake
In August, the Partnership for Carbon Accounting Financials (PCAF) published a standard to provide financial institutions with shared methodologies and rules for measuring and disclosing the greenhouse gas (GHG) emissions of their investments and loans (financed emissions).
The Global Carbon Accounting Standard is based on carbon accounting methods being used in several countries by investors and banks. Carbon accounting methods are based on the Greenhouse Gas Protocol and allow institutions to assess, track and report on their financed emissions – a starting point for aligning financial flows with the goals of the Paris Agreement.
"Until now, there was no global, harmonised way for financial institutions to measure and disclose their financed emissions," says Giel Linthorst, executive director, PCAF, and director at consultants Guidehouse. "But today, banks and investors across the globe have access to a standardised approach to measure the climate impact of lending and investment portfolios."
According to the PCAF, the absence of harmonised methodologies and reporting rules has led to the poor uptake of carbon accounting of financed emissions and to inconsistent disclosures across financial institutions. In contrast, it says the guidance in the document will enable institutions to make disclosures that are consistent, comparable, reliable, clear and efficient.
It acknowledges the challenge posed by limited data, but the standard provides guidance on data-quality scoring per asset class, facilitating data transparency and encouraging improvements to data quality in the medium and long term. It also provides recommendations and requirements for disclosures, which include a minimum disclosure threshold.
The methods outlined in the document cover the measurement and disclosure of GHG emissions associated with six asset classes: listed equity and bonds, commercial real estate, mortgages, business loans, project finance, and motor-vehicle loans.
A company's carbon emissions are attributed to investors or other sources of funding in proportion to their financial interest in the company.
For example, for a listed company, the percentage interest is deemed to be the institution's outstanding amount divided by the value of the investee company.
The standard defines the company's value as enterprise value including cash (EVIC). This, in turn, is the sum of the market capitalisation of ordinary and preferred shares at the fiscal year-end, and the book values of total debt and minorities' interests, according to the EU Technical Expert Group on Sustainable Finance.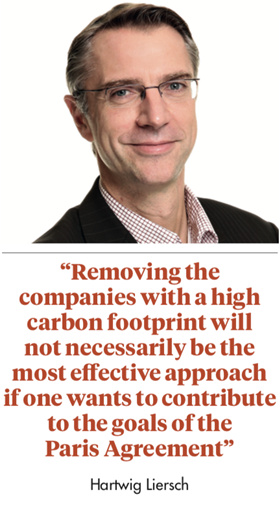 The standard provides for three possible options in terms of emissions data: reported emissions, physical activity-based emissions, and economic activity-based emissions.
The data across all investments should apply to a fixed point in time, most likely the investor's accounting (fiscal) year-end.
Stepping stone for PMT
PCAF ran a public consultation on the document, ending in September. The final version of the standard is set to be published in November this year.
PMT, the pension fund for the Dutch metal industry, decided to support PCAF, having made the Dutch Carbon Pledge to work with other Dutch institutions in bringing its carbon footprint in line with the Paris Agreement.
The fund had already measured its footprint before Paris took place, and it has disclosed this since it signed the Montreal Pledge in 2015.
"Carbon accounting has been a valuable stepping stone in our climate strategy," says Hartwig Liersch, PMT's CIO. "We think it is key to collaborate on designing accounting methodologies because it enables us, as a sector, to work towards harmonisation."
Over the five consecutive years PMT has been carrying this out for its listed equity portfolio, its carbon intensity footprint – the amount of emissions for a specific unit of economic output – has fallen by over 20%.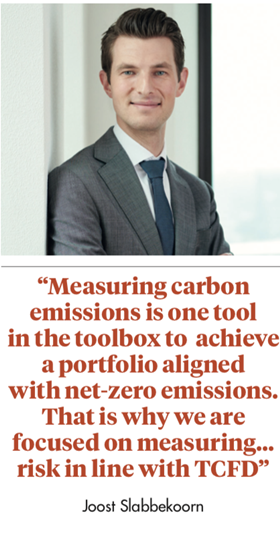 It is now investigating the possibility of disclosing the carbon footprint of its bond portfolio.
"When looking at this asset class, as well as equities, one must consider looking at the company's enterprise value rather than just its market capitalisation," says Liersch. "The new proposal from PCAF defines this as EVIC. We are happy that PCAF is helping to guide entities in using the right metrics, so the carbon footprint of different financial parties can be compared."
Carbon accounting helps identify the biggest emitters in its portfolio. The fund considers this data when selecting companies for its climate engagement programme, encouraging them to decarbonise and commit to net-zero strategies.
"We do, however, believe that it makes sense to judge the companies we invest in not only by their carbon footprint, but to look at this in the context of the sector the company is active in, the efforts they take to reduce their carbon emissions and the reduction targets they have set," says Liersch.
"Simply removing the companies with a high carbon footprint will not necessarily be the most effective approach if one wants to contribute to the goals of the Paris Agreement."
Integrated reporting for APG
Another early supporter of PCAF was APG, which is however no longer taking an active role. "It was a useful initiative for us to discuss shared challenges around carbon measurement," says Joost Slabbekoorn, responsible investment and governance specialist at APG.
Carbon emission data has been fully integrated into APG's investment process to meet its carbon reduction ambition, which was set in 2015.
At present, APG measures carbon emissions in its listed equity portfolio, and plans to extend carbon measurement to other asset classes over time. Meanwhile, clients have set targets to reduce the carbon footprint of their listed equity portfolios.
Slabbekoorn says the data is part and parcel of its main data and portfolio management systems, allowing portfolio management teams to see their investee and portfolio carbon footprint on a continuous basis, and to monitor performance against their allocated carbon budget.
What is the Partnership for Carbon Accounting Financials?
PCAF is a global collaboration of 70 financial institutions with total financial assets of more than US$10trn (€8.4trn).
It was set up in 2015 by 11 Dutch banks and asset managers, including APG, PGGM and MN, to develop a standard measuring the impact of their investments on the climate.
In 2017, the group announced it had developed a method for measuring carbon emissions from equities, government bonds and other asset classes. The method involves proportionally assigning a company's carbon emissions to investors, for example, making a 1% stakeholder responsible for 1% of a company's carbon footprint.
Carbon data are usually supplied by companies themselves or by specialised firms, such as Sustainalytics or Trucost.
In 2018, PCAF expanded to North America. Last September it launched a UK coalition of investors and banks, led by Federated Hermes' international business, to apply PCAF's methodologies for measuring financed emissions in a UK context.
PCAF's steering committee includes representation from the UN-convened Net-Zero Asset Owner Alliance.
At present, 80 institutions are disclosing the GHG emissions associated with their portfolios of loans and investments.
The PCAF initiative aims to grow this number to over 100 financial institutions globally, including large mainstream institutions.
"Extending measurement from just listed equity to other asset classes entails a review of our current carbon measurement methodology, for which the PCAF report will be useful input," says Slabbekoorn. "However, we do note that the asset classes chosen by PCAF are heavily focused on the banking sector, hence some asset classes covered are less relevant for pension funds."
Carbon measurement helps APG meet regulatory and stakeholder expectations. "It helps APG to understand the related risks, but it is not sufficient," Slabbekoorn says.
"We believe that it makes sense to judge the companies we invest in not only by their carbon footprint, but to look at this in the context of the sector the company is active in, the efforts they take to reduce their carbon emissions and the reduction targets they have set" Hartwig Liersch
"Measuring carbon emissions is just one tool in the wider toolbox to ultimately achieve a portfolio aligned with net-zero emissions. That is why we are focused on measuring, monitoring and disclosing climate risk in line with the Task Force on Climate-related Financial Disclosures [TCFD], and we have been actively involved in developing the Net Zero Investment Framework with the Institutional Investors Group on Climate Change [IIGCC]."
Insurers support PCAF
Belgian insurer KBC also supported the formation of PCAF, and says its sustainability department presently applies the accounting rules suggested by PCAF only to a limited number of credits, and not to asset management.
However, it has carried out three pilot studies, including the calculation of GHG emissions relating to houses and apartments in Flanders, where it holds mortgage assets. It intends to repeat them over the next year in all core countries covered by the group.
In 2017, the Dutch insurance group Achmea decided to support PCAF because it needed to measure carbon footprints in a uniform, standardised manner.
Thierry Oeljee, senior engagement specialist at Achmea Investment Management, says: "We fully support the strong call for climate action, but are critical of the impact and effectiveness of actions at all times. PCAF enables us to determine which measures will add (non-) financial value and which will not. Carbon emissions are an important data point, but carbon risk is another more forward-looking aspect that helps us with our dialogue with companies."
Achmea uses carbon accounting for equities, corporate credits and government bonds, using a method that it says strongly resembles the approach recommended by PCAF.
Oeljee says: "The PCAF methodology offers a valuable and very practical approach to describing the carbon footprint of portfolios but it doesn't answer all questions. However, it is a good starting point."
He says the integration of carbon accounting into Achmea's existing investment process has required the use of external carbon data. It also resulted in adjustments in processes related to reporting and risk management.
"Our current investment process allows for an optimisation of the portfolio's carbon footprint both in credits and equities," he observes. "From our analysis of the carbon footprint data we have been able to identify companies that will be the focus of our voting and engagement activities."