Since the first exchange-traded funds (ETFs) were launched in the early 1990s, they have had a huge impact on the asset management industry, pushing down costs and challenging the dominance of active managers.
Together with index-tracking mutual funds, the cost, simplicity and accessibility of ETFs has permeated dozens of asset classes and opened them up to new audiences.
At the same time, the popularity of the product has helped companies such as BlackRock, Vanguard and State Street cement their positions as the world's biggest asset managers.
With these listed structures so synonymous with index-tracking and beta investing, it might come as a surprise to discover that many within the sector expect an imminent explosion of active strategies to be launched using the ETF wrapper.
In June, the Financial Times reported that 42 active ETFs had been launched in the US during 2020 to 4 June, compared to 35 index-tracking products, according to data sourced from FactSet and Ultumus.
Research firm CFRA estimates that 70 new active funds could come to market this year (including those already launched), which would make it a record year for active ETF debuts.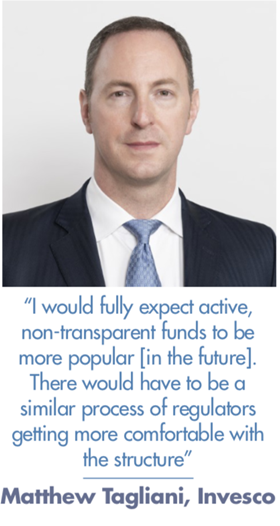 Asset managers including Schroders, Fidelity, JPMorgan Asset Management, ClearBridge and VanEck have all listed actively managed – also known as 'non-transparent' or 'opaque' – ETFs in the US and Australia this year.
Hector McNeil, co-founder of white-labelling platform HANetf, believes the sector is due for a "paradigm shift" that could reshape asset management distribution. For him, it is just a matter of time before the investment world is fully on board with the idea of the ETF as a wrapper for almost any investment strategy.
"My analogy for ETFs versus mutual funds is it is like landlines versus mobile phones, or analogue versus digital," he says. "We're probably two to three years behind the US. We need to prove the model works [for active]. It will be like a snowball once people see that it works."
Transparent or opaque?
The first corporate bond ETFs, launched in the late 2000s, were actively managed (in a way) due to the difficulty in replicating fixed income benchmarks.
PIMCO launched an ETF trading under the ticker BOND in 2012 to replicate the performance of its flagship PIMCO Total Return fund, which at the time was run by former co-CEO Bill Gross. Since 2017, BOND has been run by a different management team to the Total Return fund but maintains an active approach.
These products were all fully transparent regarding portfolio holdings. The more recent terminology connected with active ETFs relates to the amount of visibility investors and market makers get when trading such funds.
In an index-replicating fund, every holding is known and disclosed by the fund manager daily. This allows the market maker – who is responsible for pricing and trading shares of the ETF – to get an accurate price.
Semi-transparent, non-transparent and opaque ETFs, in contrast, do not publish daily holdings. Much like mutual funds, this is to stop other investors trying to 'front run' a portfolio or replicate a strategy.
"In the Wild West, no one could make money from farming until they invented barbed wire," says HANetf's McNeil. "The non-transparent structure is the barbed wire for active ETFs."
He also argues that full portfolio transparency – while used to "beat up" mutual funds – is not important to most ETF investors.
"Transparency is only useful if you are going to do something with it, and many investors don't know what to do with transparency once they have it," McNeil says. "In more than 15 years I have only ever had five clients ask me for a portfolio composition file [PCF]. I sent it to them and they never asked twice."
However, market makers still require portfolio data in order to price the shares. More recently, though, innovations such as Precidian Investments' ActiveShares method have allowed for US-listed ETFs to be priced on top-level portfolio data akin to a mutual fund's monthly factsheet, with top 10 holdings disclosed along with sectoral and geographic exposures – enough for a market maker to get a price, but not too much information so as to compromise a manager's strategy.
In Europe, slightly more liberal regulations meant semi-transparent ETFs were around "for a while", Invesco's Matthew Tagliani, head of ETF product and sales strategy, explains. However, following the Libor fixing scandal, products that were not fully transparent fell out of favour.
"I would fully expect active, non-transparent funds to be more popular [in the future]," Tagliani says. "There would have to be a similar process of regulators getting more comfortable with the structure."
The cost argument
The undeniable success of passive ETFs has played a major part in the growth of low-cost index investing and put significant downward pressure on fund management fees as a result.
However, fees are unlikely to be a primary selling point for the new breed of active funds, according to Ed Rosenberg, head of ETFs at American Century Investments. ETFs are "not so much cheaper than the mutual fund counterpart if they have one", he says.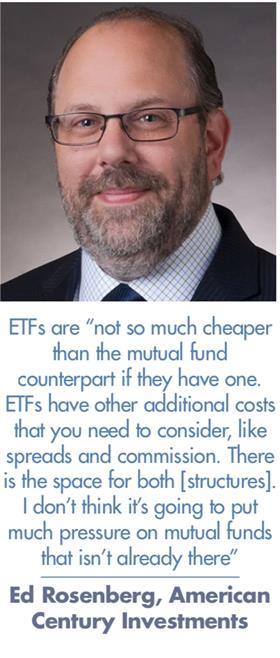 "ETFs have other additional costs that you need to consider, like spreads and commission," Rosenberg adds. "There is the space for both [structures]. I don't think it's going to put much pressure on mutual funds that isn't already there."
For HanETF's McNeil, the ETF structure could still pose a cost challenge to active managers – but one that is far healthier for investors.
"There is a downward trend in fees in the fund market, and it will be very hard for asset managers – and very transparent for investors – if they are charging high fees and not delivering outperformance," he says.
Distribution for issuers is often simpler – and therefore potentially cheaper – for ETFs than mutual funds. The same product can be listed on multiple exchanges at a single cost for investors without the need for different share classes for different client types.
Institutional involvement
Shifting portions of an actively managed portfolio will require operational changes for institutional investors. They will have to be able to interact directly with market makers and equity brokers, as well as monitor brokerage and trading costs, which can be significant if investors trade frequently.
However, many larger asset owners already manage equity and bond portfolios in house, so an ETF function could be a simple addition to existing internal infrastructure.
Some larger, more sophisticated investors have teamed up with asset managers to create bespoke ETFs. Several Nordic institutions have done this to get access to tailored strategies in a low cost, liquid, scalable structure.
"In the Wild West, no one could make money from farming until they invented barbed wire. The non-transparent structure is the barbed wire for active ETFs" - Hector McNeil, HANetf
Finland's Ilmarinen has worked with leading ETF providers including DWS, Lyxor and iShares to allocate more than €1.5bn to environmental, social and governance themed benchmarks for European and US equities.
Fellow Finnish pension giant Varma worked with Legal & General Investment Management (LGIM) on the launch of a dynamic index fund in September 2019, in a move that demonstrates the potential flexibility of the ETF wrapper.
While structured as an ETF tracking a broad index overseen by benchmark provider Foxberry, Varma and LGIM also created a governance committee – with two former AP fund executives as independent members – to allow the product to respond to investor demands. This means that, effectively, the benchmark itself could be actively managed to reflect changing views, while still providing full transparency of holdings.
After years of being the product wrapper posing the biggest challenge to the traditional world of active management, ETFs look set to welcome a whole new audience of clients and investors seeking a liquid, tradeable route to investment and allocation.
"This is just the beginning of a new phase for the ETF industry," says American Century Investments' Rosenberg. "It's just a question of how many firms decide that this is the next step for them.
"I think you're going to see that investor demand will dictate more of these products come out, and from a lot of places that people wouldn't have even expected."