Investors' approaches to engagement depend on their equity investment strategy
KEY POINTS
Large pension funds and asset managers have embedded more processes and systems into their engagement
Attitudes to divestment vary among investors
Collaborative engagement is seen as the most effective mechanism
Engagement is an appealing concept. Investors aim to persuade companies to better manage environmental risks, as well as improving governance and labour policies. But while these discussions have the best intentions, they do not always result in significant change in corporate behaviour.
That is starting to change. David Russell, head of responsible investing at USS, says: "Investors' ability to engage effectively with companies to manage ESG risk better is evolving rapidly."
To ensure their engagement has purpose, schemes now put in place a process to identify which companies are the leaders and which the laggards. Assigning clear goals to engagement, as well as measuring progress, helps to add direction to discussions.
The first stage is to develop a process for identifying with which companies schemes should engage. This strategy will depend on how the asset manager or pension scheme constructs its portfolio – does it track an index, use a systematic rules-based approach or actively select stocks?
Engagement in passive portfolios
PGGM's equity portfolio is principally passively managed, so rather than using environmental, social and governance factors to select stocks it uses a screening process to identify those which break global norms such as the UN's Global Compact.
One company that did not meet these principles was the Swiss-pharmaceutical giant Novartis. The company got into difficulties about allegations of paying kick-backs to doctors, hospitals and clinics in Greece and South Korea.
Rogier Snijdewind, senior adviser for responsible investment at PGGM, says: "We have engaged with this company for many years to encourage them to improve their corporate behaviour."
The company has taken significant steps to clean up its act. It hired an experienced chief ethics, risk and compliance officer and changed its remuneration system for sales managers to be less focused on solely increasing sales.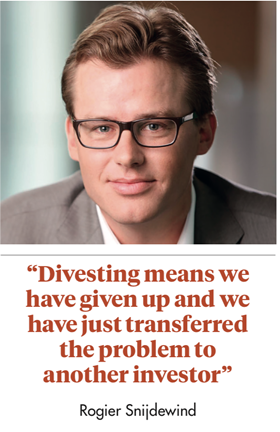 Snijdewind adds: "There now is a clawback in place if not only laws but also internal rules are broken." And over the past few months they have reached agreements with US Department of Justice to put these issues to bed.
In addition, the new leadership is changing the corporate culture. The company has enhanced its access to healthcare programmes to improve the health of millions of people in developing nations.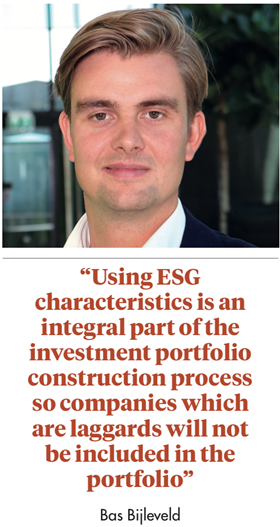 Snijdewind continues: "This was a topic of discussion for many years in our conversations with Novartis as we believed the company can have a strong positive impact. They now share this point of view."
But even though company actions can be egregious, the scheme is quite reluctant to divest. For example, with Novartis a number of investors would have chosen to divest from that stock because they were in breach of the UN's global compact," Snijdewind says.
"For us, divesting means we have given up and we have just transferred the problem to another investor who might not be as motivated to correct corporate behaviour," he adds.
Withholding votes can be an effective way for investors to sanction companies, according to Snijdewind. "We have voted against the management of companies as well as supporting or co-filing shareholder proposals," he says. PGGM has done this with Oracle and a German real estate company.
To ensure such engagements can be effective, PGGM also compiles a list of its desired outcomes. "We track these goals internally to ensure we don't just talk endlessly to companies without seeing improvement," Snijdewind says.
As one of the UK's largest providers of index products, LGIM faces a similar dilemma. Like PGGM, it combines engagement with clear sanctions. Iancu Daramus, senior sustainability analyst at LGIM, says: "We will vote against companies' annual reports and accounts as well as oppose their directors if they are falling short of our expectations."
LGIM divests from certain active and index funds if companies fail to amend their behaviour even in the face of sanctions. For example, the manager would divest an oil and gas company if it failed to disclose its emissions.
Stocks can be reinstated in funds if they make the necessary improvements. Daramus says: "Dominion Energy and Occidental Petroleum are examples of two companies which made it back in our portfolios after changing their behaviour."
Systematic construction: ATP and MN
The Danish labour market pension scheme ATP selects its portfolio systematically and then measures this portfolio against responsible investing criteria.
ATP screens its global portfolio twice a year, and once it receives the results it identifies the 10 to 20 stocks with the biggest breaches against the investment policy, according to Ole Buhl, head of ESG for ATP.
After researching the issues, ATP enters into a dialogue with companies to present its findings. If the company cannot make the changes needed to bring its investment philosophy in line with ATP's, it will – reluctantly – divest the stock.
Buhl says: "A few years ago we entered into a dialogue with two private US prison companies, Geo Group and CoreCivic over human rights allegations."
Initially ATP asked for a more detailed explanation of these allegations by e-mail and then spoke to these companies. Buhl says: "We had a targeted dialogue where we tried to influence the companies to behave better in the future."
But Geo Group did not respond to ATP's attempt to conduct a structured dialogued, which made divestment the only option.
MN portfolio construction is also systematic, like the approach used by ATP, but ESG is part of the selection process. Bas Bijleveld, engagement co-ordinator at the Dutch fiduciary manager MN, says: "Using ESG characteristics is an integral part of the investment portfolio construction process, so companies which are laggards will not be included in the portfolio."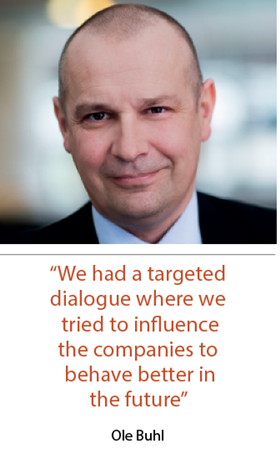 Despite this screening to remove the laggards from the portfolio, MN will still engage with 10-15% of the companies in its clients' portfolio. Bijleveld says: "For engagement to be effective, you need to know what you ask from a company and why you are asking it." For example, it is not enough to ask a company to match emissions reductions to the Paris Agreement.
Bijleveld says: "You need to explain to the management that this should be done because upcoming legislation is likely, which will force firms to comply, and if they do not plan for this, they will be exposed to material financial risk."
Active selection: APG
Investors using an active stock-picking approach rather than passive index or systematic approaches can have a different philosophy for their engagement programme.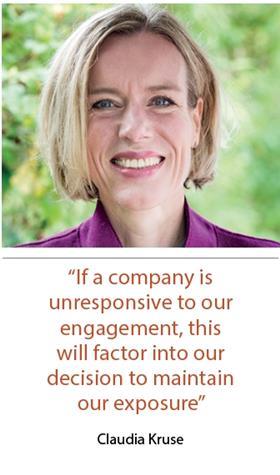 Claudia Kruse, managing director of global responsible investment and governance at APG Asset Management, says that for every company APG's portfolio manager selects, there must be an explanation as to why the manager wants to invest in terms of risk, return, cost and ESG.
Within each sector companies are divided into ESG leaders and laggards. This is achieved using the scheme's proprietary system. Kruse says: "This is aligned with the key ESG risks for each sector."
These metrics are aligned to the UN global compact and would include, for example, companies maintaining high environmental standards and respecting human rights. Firms should ensure they have robust processes to handle bribery and corruption.
Kruse says: "We expect them to have a whistle-blowing mechanism in place with an independent hotline available to both employees and external parties. Our managers can only invest in a company which is an ESG laggard if they are prepared to engage with the company against identified objectives with a realistic timetable for improvement."
A clear definition of objectives is vital to ensure engagement is meaningful process. "That enables the responsible investing team to measure the progress against these goals," adds Kruse. Once these targets have been set, the dialogue with this company can begin. This can take different forms.
Kruse explains: "It could be a conversation with management or with company specialists, if it is a technical problem which needs to be solved." APG can also team up with other shareholders who have the same objectives.
For example, APG is working with the New York City Comptroller and the New York City pension funds to persuade Amazon to be more transparent on employee health and safety measures. As of February, these shareholders had a combined holding of $9bn (€7.7bn) in the stock.
Kruse says: "The company said it would spend approximately $4bn in the second quarter of 2020 on coronavirus-related expenses."
But many media reports say employees remained fearful about coming to work and remained concerned about their safety. "We want the company to explain how these planned investments translated into improved employee safety."
Amazon recently published figures on the COVID-19 infection rates of its employees. "While we do welcome this step to increase transparency, we also want their board to engage with us on the metrics used to oversee the company's health and safety programmes for its employees," says Kruse.
Leveraging clout through Climate Action 100+
Working with other investors is the most efficient way to engage with companies. Not only do investors working together exert greater pressure, but there is more likelihood that corporates will say they have agreed to specific targets because of this engagement.
David Russell, head of responsible investing at USS, says: "Climate Change Action 100+ is the best example of how effective it can be when investors work together."
Karlijn van Lierop, director of responsible investments at MN, agrees: "This action group has been extremely effective." It achieved these aims through a number of climate-change-related shareholder resolutions, she says.
Climate Change Action 100+ has over 450 investors with assets of $40trn (€34trn). One of its recent successes was Shell, which in April committed to achieve net-zero emissions. This was the outcome of engagement lead by the Church of England Pension Board and Robeco, along with other investors including USS and APG.
The group has also had successes in influencing corporate behaviour. Iancu Daramus, senior sustainability analyst at LGIM, says: "A few years ago, executives from the oil majors were quoted as saying emissions targets are superfluous." Now these same oil majors are adopting net-zero targets not only for their own emissions but also for those of their customers.
Federated Hermes and Legal & General Investment Management led the drafting of the first Climate Change Action 100+ shareholder resolution in 2019 at BP. Bruce Duguid, head of stewardship at Federated Hermes points out that the resolution was filed by 9.6% of the company's shareholder base.
The resolution called on BP to demonstrate that its strategy was consistent with the goals of the Paris Agreement, limiting global warming to 2°C. It was supported by the BP board.
Daramus says: "This resolution was passed with overwhelming shareholder support last year." It is collaborating with other investors and using sanctions, which drives change.
One key reason why the Climate Change Action 100+ is so successful is because the investors have set targets and the performance of the engagement is being tracked against these goals.
Russell says: "Tracking collaborative engagement in this way is rare."
It has resulted in a wave of new, very ambitious targets by companies in the oil and gas sector. Bijleveld says the next stage for these companies "will be to turn these goals into strategies and for them to be executed".
Van Lierop concludes: "The next stage of our engagement process will be to ensure this ambition of companies to implement their carbon net-zero ambitions. Only when this has been achieved will the net-zero goals of the Paris climate agreement be met."
"We regularly assess the progress which has been made through our engagement. If a company is unresponsive to our engagement, this will factor into our decision to maintain our exposure."
For example, the ABP pension scheme – which is managed by APG Asset Management – sold shares of the South Korean palm oil company Posco Daewoo in South Korea in mid-2018. The company was involved, through a subsidiary in clearing jungle to turn into plantations.
After engaging intensely with the company, ABP decided the company was not changing its behaviour rapidly enough and decided to divest the stock.
Even with the best systems in place it can be difficult for an individual investor to know whether its actions are successful. Russell at USS says: "Even though we carefully track our engagements, it can difficult to prove our conversations brought about a change in corporate behaviour."
Companies will rarely say it was the actions of one particular investor that persuaded them to change their behaviour. "There are a small number of occasions where the company has told us our actions made them change behaviour," says Russell.