BaltCap is championing business integration in the Nordic and Baltic economies
Key points

The BaltCap Private Equity Fund III (BPEF III) will invest in the Baltics as well as Finnish and Swedish firms with regional connections
BPEF III will continue the 'buy-and-build' strategy of its predecessor funds
Technology will feature, but mainly in the form of traditional companies using or offering innovative solutions
In October, BaltCap, the private equity fund manager based in the Baltic region and investing in local companies, announced the successful closure of its €126m BaltCap Private Equity Fund III (BPEF III), supported by Estonia's LHV Asset Management (LHV) and SEB Pension Funds.
Other investors include the Nordic Environment Finance Corporation, the European Investment Fund (EIF) investing partially through Baltic Innovation Fund 2 (an initiative created by co-operation between the governments of Estonia, Latvia, Lithuania and the EIF), the European Bank for Reconstruction and Development (EBRD), eQ Asset Management and family offices.
Besides the Baltics, the fund will focus on Finnish and Swedish companies with a Baltic nexus, combining the region with Scandinavia under the banner of the New Nordics.
The rationale behind this linkage is the similarities between the regions. They are both made up of small countries, with shared values and politics, and open economies largely dependent on exports. All three Baltic countries boast an export-to-GDP ratio of over 60% compared with the EU average of 45%.
"In this era of global turbulence, with large countries driving their agendas, a stronger unified voice of smaller countries in certain geographical areas will carry more weight, especially if these countries have the same views," says Martin Kõdar, managing partner of BaltCap, which was founded in 1995 and has aggregate capital under management of €500m. Those same views include a common focus on technology, he says.
From the investor's perspective, since there are few public companies in the Baltics, the fund gives exposure to a segment that is growing faster than the average for developed countries, and which otherwise would be out of reach, Kõdar says.
"The Nordic and Baltic economies are increasingly forming a larger, integrated market, the New Nordics, with enhanced business opportunities. BPEF III expects to be one of the facilitators of further business integration in this region."
Indeed, the EBRD made a 'unique' decision to enable investments outside its catchment area by backing the fund, as this is aimed at integrating markets in the 'emerging' Baltics with western Europe.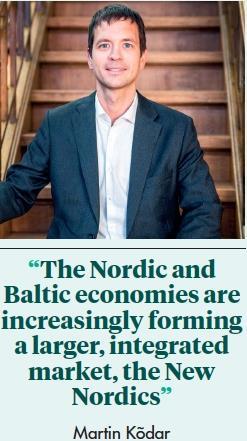 Last December, in a joint venture with JBICIG Partners, a private equity and venture capital vehicle backed by the Japanese government, BaltCap launched Nordic Ninja, a €100m venture capital fund aimed at Japanese investors in the New Nordics.
"The Japanese investors considered the Nordics and Baltics to be a single region and they wanted to invest into this larger market space," says Kõdar.
This concept has now been carried over to the new fund. BPEF III will continue the 'buy-and-build' strategy of its predecessor funds making equity investments in mature innovative enterprises to build them into 'business champions'.
Business champions are companies which go through transformational growth, becoming internationally recognised leaders in the region where they operate.
Companies will be grown both organically or through acquisitions: for instance, BPEF II made nine platform investments, of which seven are still in the portfolio, and has added 60 bolt-ons to create scale.
The ability to access resources and markets in both regions should make it easier for investee companies to scale up operations.
There has been no commitment as yet to any investment, but the new fund will aim to make eight to 10 platform investments. The enterprise values of these companies are typically €10m to €50m and the equity investment in them will total between €10m and €20m.
How BaltCap capitalises on its buy-and-build strategy
In 2011, BaltCap's BPEF I acquired 41% of the shares of Runway, the largest independent business process outsourcing (BPO) service provider in the Baltics, from from a financially distressed majority shareholder.
BaltCap completely overhauled the management structure, setting up institutional corporate governance. The company's financial situation was stabilised by add-on financing, while its operations were expanded geographically by setting up service centres in Spain and the Ukraine.
In 2015, BaltCap also broadened Runway's services offering in the fast-growing BPO industry worldwide, by acquiring Infonordic, a data collection and market intelligence provider.
Revenues rose from €11m in 2011 to €25m in 2017, while earnings before interest, taxes, depreciation and amortisation (EBITDA) rose from €600,000 to €2.2m. During the same period, both enterprise value and equity value showed strong growth.
Runway was sold in 2018 to Webhelp, the global BPO service provider.
In 2010, BPEF I co-invested with East Capital in TREV-2 – one of the leading road construction and maintenance companies in Estonia – acquiring jointly over 80% ownership.
The aim was to take advantage of expected market growth. The founders and many key employees had reached retirement age, offering the opportunity for the younger generation to emerge.
Bringing in experienced management, BaltCap streamlined the company's structure by merging 14 subsidiaries. It also divested the general construction operation, expanding into environmental construction to create a dedicated infrastructure construction group.
With BaltCap's active involvement, revenues rose from €55m in 2010 to €71m in 2017, EBITDAs from €1.7m to €5.4m over the same period, while equity value also showed strong growth.
Following a buyout of its co-investor, BaltCap exited TREV-2 in 2018 to Eurovia, part of global construction company VINCI.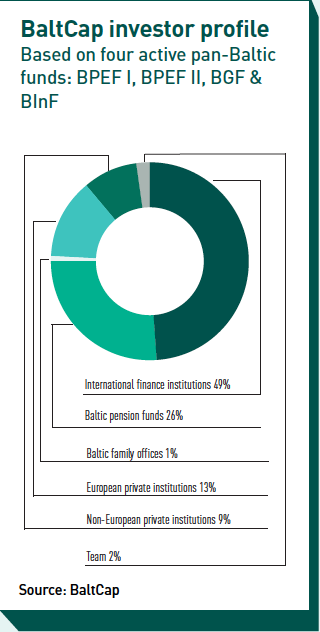 The stake will be held for a five-year investment period before it is sold, either in a public offering or to a private buyer.
The portfolio will be generalist in terms of industry sectors – the Baltic economies are too small to allow sector specialisation – but the majority of investments will be in service companies, mainly business-to-business.
No particular sector is favoured, but Kõdar says: "Private healthcare is where we see a lot of potential growth. The private healthcare sector is still very small, and more services could be provided by private clinic companies."
He adds: "The main thing is to grow these companies, so we are finding companies where we can add or create value."
Technology will feature, but more in the form of traditional companies using or offering innovative technological solutions, rather than pure technology.
"We expect to make companies at least twice as big," says Kõdar. "On average, we have been able to achieve around three times revenue and even higher profitability growth from previous investments. Often, revenue growth results in value growth."
He adds that scaling up a company often results in better multiples at exit because there are more buyers interested.
In addition to supporting the growth of business champions, BaltCap also aims to apply best practices of corporate governance, reporting and environmental, social and governance factors.
The fund, like all BaltCap's funds, is a limited partnership, created under a 2017 Estonian law introducing a fully tax-transparent and cost-efficient fund structure. Kõdar says the structure gives BaltCap a cost advantage as it reduces the need to use professional services, thus cutting administration fees.
Allan Gaidunko, portfolio manager, LHV Asset Management, says: "We see the fund as a good addition to our pension fund portfolios in order to increase exposure to the local economy and other Baltic states. It also offers an interesting concept of investing part of the capital outside the Baltics in the companies with a strong link to the region."
He says the fund offers a small amount of geographical diversification while still being driven by the Baltics.
"We have been observing BaltCap's development in the last few years and the team has shown constant improvement," says Gaidunko. "We continue to see the region offering attractive investment opportunities and historically, BaltCap has been able to find various hidden gems, successfully build up these companies, and achieve remarkable exits to several foreign investors."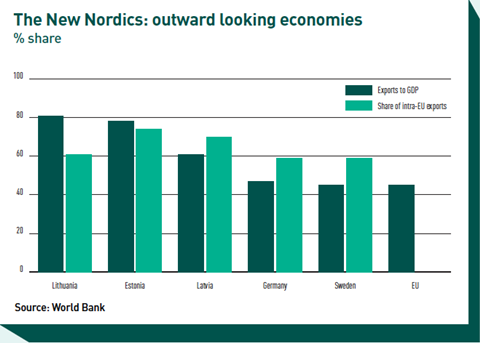 Poland: Auto-enrolment off to a slow start
1

2

Currently reading

Baltic private equity: Faith in the new

3

4

5