SDG 16.5, covering bribery and corruption, is central to other SDGs but hard to tackle in practice
Key points
$3.6trn is lost annually to corruption
SDG 16.5 (bribery and corruption) is key to achieving the other SDGs
Transparency and engagement is crucial
Corruption is a global problem
The annual costs of corruption amount to $3.6trn (€3.3trn) in the form of bribes and stolen money, according to United Nations secretary-general António Guterres, speaking on International Anti-Corruption Day last year. Put into context, $3.6trn was more than 4% of global GDP at the time.
That sum is greater than the $2.5trn estimated by UNCTAD that is needed to close the SDG financing gap to achieve the Global Goals by 2030. It is estimated that the UN Sustainable Development Goals require $5trn-7trn in annual financing overall.
Corruption manifests in ways that touch most of the SDGs – politically in impeding democracy; economically by depleting national wealth and detering external investment; by destroying the fabric of society; and leading to environmental degradation.
"Whether the focus is ending hunger and poverty, ensuring access to health, education, and clean water for all, or protecting marine environments and combatting climate change, fighting corruption is an essential pre-requisite for advancing the 2030 Agenda," says Delia Ferreira Rubio, chair of Transparency International.
As most impact investors, particularly fiduciaries, require both attractive market-rate returns and a positive measurable impact on society, the environment, or both, the hunt for yield is taking some investors into the emerging and frontier markets. These are markets where NN Investment Partners (NNIP), which in 1993 became one of the first asset managers to launch a dedicated emerging market debt strategy, has some experience.
Investing a total of €200m, Sweden's largest pension fund Alecta was the lead investor in NNIP's latest fund, the NN FMO Emerging Markets Loans fund, a collaboration of NN Investment Partners and FMO Investment Management (FMO IM), the investment arm of FMO, the Dutch development bank, which sources the loans in which the fund participates.
"It is difficult to have a proactive approach [to bribery and corruption], so typically most investors have a reactive approach. The approach focuses on risk management and most companies have codes of conduct and anti-bribery and corruption statements in place," says Faryda Lindeman, senior responsible investing specialist at NNIP.
"At NNIP we screen our holdings for controversies, look at the severity, and then assess if it is structural and how long the issues have proceeded. Once highlighted, how companies respond to address these issues is key to us. Further engagement or eventually exclusion has to be done on a case-by-case basis," explains Lindeman.
Impact multiple of money
The Rise Fund is a $5bn impact-investing platform for growth-stage companies managed by TPG. Along with the Bridgespan Group, a global social impact advisory firm, it has created a metric called the impact multiple of money (IMM) to assess social and environmental impact. This is now deployed at scale by Y Analytics, an organisation founded by the Rise Fund to help investors better understand and value social and environmental impact, and use evidence-based research to make effective impact investment decisions.
The IMM is a six-step process. The third stage estimates the economic value of the social and/or environmental outcomes to society. To do this, Maya Chorengel, co-managing partner of the Rise Fund, explains that investors need to find an 'anchor study' that robustly translates those outcomes into economic terms.
One example from the Rise Fund's portfolio is Cellulant, a regional African provider of mobile payments that turned around a programme that provided seed and fertiliser subsidies that had been losing 89% of funds because of mismanagement and corruption.
Cellulant worked with the Nigerian ministry of agriculture to develop a mobile wallet application that enabled farmers to directly receive funds from the ministry into mobile money accounts and ringfenced the subsidy monies so that they could only be used to purchase seed and fertiliser from authorised dealers.
This innovation eliminated the leakages inherent in the previous approach, which relied on transmitting subsidies through multiple layers of state and local government. This example proves the importance of engagement on a case-by-case basis. Nigeria currently ranks 146th out of 180 countries in Transparency International's Corruption Perceptions Index (CPI) with a score of 26 for 2019, down from 28 in 2016.
The UN estimates that corruption, bribery, tax evasion and related illicit financial flows deprive developing countries of around $1.26trn per year. According to the CPI, which ranks 180 countries and territories by their perceived levels of public sector corruption, more than two-thirds of countries score below 50 on the 2019 CPI, with an average score of just 43.
The bottom countries are Somalia, South Sudan and Syria with scores of 9, 12 and 13, respectively and at the top are New Zealand and Denmark, with scores of 87 each, followed by Finland (86), Singapore, Sweden, and Switzerland, all three of which score 85.
"For impact investors, it is important for them to be able to identify and mitigate corruption to be able to take advantage of opportunities in markets that might perhaps have a lower CPI," says Irem Röntgen from Transparency International's Business Integrity Programme in Berlin.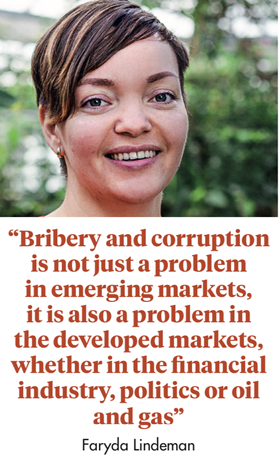 "With the CPI, we help to create a baseline that shows red flags but it should not be a cut off because some of these countries need more, not less, investment and the transparency we aim to give should help to put in place good governance and ensure business integrity," adds Röntgen.
Data driven
One way to mitigate corruption risk is data. "Our process includes looking at companies but also at the sovereign level and integrating country risks [of corruption]. For this we use a combination of public data, Bloomberg data and internal scoring of countries using research from providers like Sustainalytics," explains NNIP's Lindeman.
"We look at the issue of bribery and corruption across several of our products and services, including our flagship ESG Risk Ratings, Controversy Research and Country Risk Ratings," explains Sarah Cohn, executive director of marketing at Sustainalytics.
"Our firm's ESG Risk Ratings track how companies are managing bribery and corruption and how exposed companies may be to the issue. In Sustainalytics' Country Risk Ratings, our control-of-corruption indicator captures the extent to which public power is exercised for private gain," adds Cohn.
With the International Finance Corporation (IFC) and HSBC as anchor investors, HSBC Global Asset Management launched the HSBC Real Economy Green Investment Opportunity GEM Bond fund with $175m. "Within the framework of the SDGs, our fund, which is investing in green and sustainability bonds within a private equity-type structure with a seven-year lock-in, aims to achieve real economy impact in those markets that are most challenged," says Sandra Carlisle, senior responsible investing specialist at HSBC Global Asset Management.
"These global emerging markets typically have a poorer rule of law, leakier systems and poorer governance than developed markets, and many investors are reluctant to allocate capital in case it ends up in the wrong hands," continues Carlisle. "We will aim for a 20% allocation to Africa, which for some is seen as a higher risk area, but our investors have been positive as we are trying to create markets in the region that are robust and it helps that the IFC has boots on the ground."
Working together with development finance institutions like the IFC, which has more than 60 years' experience in the emerging markets, can provide assurance that investor capital will be directed with purpose and impact to deliver against the Paris Agreement and the SDG agenda, says Carlisle.
"What we have done is taken the IFC's framework and HSBC's sustainability risk policies to ensure the highest level of investment integrity. We also use Transparency International's CPI to set a threshold and do not invest in countries whose CPI score is less than 25," she adds.
Today, with technology, due diligence can go deeper. "We run an online searchable database of a broad number of ESG risks and are in the process of creating an SDG lens, but transparency is a key focus," says Alexandra Mihailescu Cichon, executive vice-president, sales and marketing at Zurich-based RepRisk, which evolved from a bank's credit risk department in 1998.
"We don't look at what the companies are saying about, for example, their anti-bribery policies. We use a mixture of machine learning and artificial intelligence as well as human analysts to look at how this works in practice with respect to ESG issues," Chichon explains.
"Let's be clear. Bribery and corruption is not just a problem in emerging markets, it is also a problem in the developed markets, whether in the financial industry, politics or oil and gas," says NN IP's Lindeman.
According to the EU Commissioner for Home Affairs, as much as $132bn is lost to corruption every year throughout the European Union's member states and International Monetary Fund research shows that corruption reduces global tax revenues by $1trn annually.
"SDG 16.5 focuses on eliminating bribery and corruption at public institutions and public officials. If there are no sufficient investments taking place to help societies progress due to bribery and corruption, development will happen very slowly," says Lindeman.
HSBC's Carlisle agrees. "Tackling bribery and corruption, building strong institutions and respect for the rule of law is one way of creating assurance for investors. In many ways, the targets within goal 16 underpin the whole SDG framework".
Critical now will be focus on SDG 3, where it is reported that of the more than $7trn spent on healthcare worldwide each year, $455bn is lost to fraud and corruption. As governments globally enact emergency legislation to respond to the COVID-19 pandemic, some checks and balances might fall by the wayside.
By the end of March, 13 of Transparency International's national chapters across Latin America raised alarm over serious corruption risks in the region's emergency response to COVID-19, specifically the public procurement process. Curbing corruption in healthcare now will save more than money – it will save lives.
Impact investing: Build back better
1

2

3

Currently reading

Bribery and corruption: Sustainability's nemesis

4

5

6

7

8

9