Pressure from international and domestic investors is driving an upsurge in ESG adoption by Chinese companies
China could well have made disclosure on environment, social and governance (ESG) compliance for all listed Chinese entities compulsory this year but for the outbreak of coronavirus.
The pandemic appears to have stalled such plans. Instead, the prevailing view is that ESG regulation has slipped in priority post-COVID-19, with more pressing economic matters taking precedence.
If and when regulations do come into effect, many expect Chinese companies to follow the letter of the law, although not the spirit.
Therese Niklasson, head of ESG with Ninety One (formerly Investec) Asset Management, says of China: "We see a step in the right direction, but we would expect ESG information to be vague and lacking in specific data points at the outset – and for some time."
Niklasson told IPE that mandatory reporting in China would at least provide global investors with an opportunity to engage on ESG disclosure, and the importance of harmonisation across industries.
Kathlyn Collins, ESG analyst with Matthews Asia, a US-based Asia investment specialist, hopes that when China does bring in mandatory ESG disclosure, it will leverage from existing accepted global frameworks. These include the GRI (Global Reporting Initiative) and the Sustainability Accounting Standards Board, both of which have been adopted as global standards.
In the absence of regulations, some listed Chinese companies already voluntarily publish ESG reports.
This is largely the result of the opening of China's capital market, and the inclusion of Chinese A-shares on global indices. Since 2018, A-shares have been included in the MSCI Emerging Market index, where they will eventually make up 40% of the index weight.
Collins says the fact that foreign investors are taking a closer look at their investments with a longer-term lens is a driver behind a huge uptake in ESG reporting in China.
Nikalasson says: "Generally speaking, as China opens up its financial markets and gains wider representation in global indices, we believe we will see an improvement in ESG standards and disclosure in the A-share market, albeit from a very low base.
Part of the ESG momentum is coming from domestic institutional investors, she says. "Some 22 Chinese investment managers became signatories to the United Nations' Principles for Responsible Investment (UNPRI) in 2019, a 64% increase on the prior year.
Key points
The COVID-19 pandemic has stalled plans to make ESG compliance compulsory for all Chinese-listed equities
Nevertheless, a drive towards ESG is coming from both international and domestic investors
State-owned enterprises are leading the way in the shift
There is optimism about China's emissions-trading scheme
"State-owned enterprises [SOEs] lead the way. Many have dual listings, encouraging them to adopt international standards on ESG disclosure – in fact, dual-listed companies tend to make better ESG disclosures due to regulatory progress on the Hong Kong Stock Exchange."
Niklasson adds that there is a wide variance in ESG performance in China and that most companies do not yet have targets around ESG.
Gabriel Wilson-Otto, head of stewardship Asia at BNP Paribas Asset Management, Asia (Pacific), says ESG disclosure becomes a competitive advantage for Chinese managers seeking to win mandates from foreign investors. "China began to focus on corporate governance following the 1997-98 Asian Financial Crisis," he says. "As is the case elsewhere in Asia-Pacific, crises or corporate scandals are often a catalyst for reform.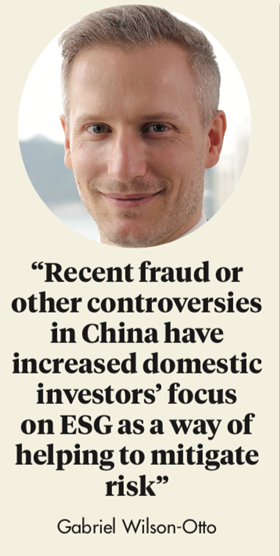 "Recent instances of fraud or other controversies in China have increased domestic investors' focus on ESG as a way of helping to mitigate risk."
He says the Chinese want to be seen to be adopting OECD best governance practices, but recent corporate governance code revision in China has increasingly taken on "Chinese characteristics".
He does not, however, see this necessarily as a retrograde move. "One could argue that, as corporate governance evolves [in China], it is shifting from global best practice to adoption of principles of global best practice within the local context," he says.
This means formalising the role of Communist Party committees in the country's corporate governance landscape.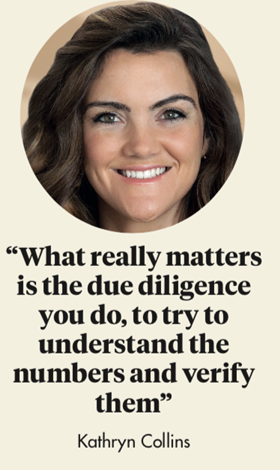 "One of the rationales is that formal involvement of the state could help increase oversight through directives on compliance, and help combat corruption," Wilson-Otto says, but he agrees that foreigners would read it differently.
He says 80% of companies on the CSI 300 index now issue ESG reports.
Shumin Huang, head of research for Greater China equities at JP Morgan Asset Management (JPMAM), says generally Chinese corporates aim to comply with government-mandated targets, rather than set ambitious internal targets.
Those who spoke to IPE agree that the content of these ESG reports is qualitative in nature, lacking hard quantitative data. "But if you look at the broader emerging market landscape, I am not sure that China would stand out any more than any other emerging market on the quality of ESG disclosure and corporate governance issues including fraud," says Collins.
"What really matters is the due diligence you do to try to understand the numbers and verify them by talking to customers, competitors and regulatory bodies."
As an example, she says that, for a long time, companies in China in highly-polluting industries have had to report to the Ministry of Ecology and Environment.
"The prime audience for that information is the regulators, and I don't know if there is incentive to fudge the numbers when the regulators have the power to fine them," says Collins.
That said, she adds, the percentage of companies that do get their sustainability report 'assured' is low. Over time, she believes sustainability reports will become "more data-centric and KPI-driven".
Asked whether foreign investors have confidence in Chinese corporate governance, Huang says: "The answer isn't as straightforward as some people may think. A-share listing requirements in China are actually stricter than those in the US.
"But when it comes to ongoing reporting, the US and A-shares exchanges are stricter in requiring quarterly reporting than shares listed in Hong Kong. Further, the level of detail required from quarterly reports is more stringent for A-shares than it is for US-listed companies.
Huang accepts that "we're on a journey here. The market capitalisation of China's A-shares totals about $10trn, and Chinese regulators are keen to attract more foreign/institutional investors into the domestic A-share market," she says.
"With that in mind, they have been trying to improve disclosure and the rule of law, step by step. For example, the new security law has raised penalties for violations, raised standards for investor protection, and lowered the bar for delisting."
Huang says some Chinese companies with dual listings on overseas exchanges comply with international governance standards.
"Some have received investment from international venture capital or private equity investors, who have imposed international principles since the early stage (before initial public offerings)."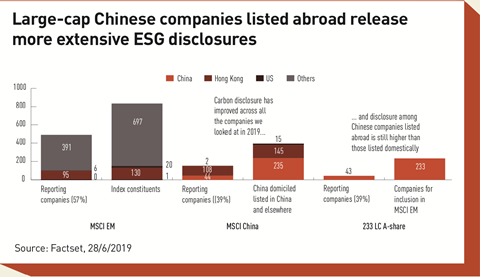 JPMAM is a significant player in China, having spent $1bn (€850m) to buy out its joint fund-management business there.
"Currently, however, we're less comfortable with SOEs, which place equity investors very differently in their hierarchy of stakeholders. That said, we've come across some positive signs of an increasing focus on corporate governance issues.
"We certainly wouldn't advocate buying all-Chinese companies, either on the basis of business models or of governance standards."
While the mandating of compulsory ESG reporting has stalled, Kathyln Collins says: "Some people are more optimistic that China's carbon emission trading scheme will be launched this year."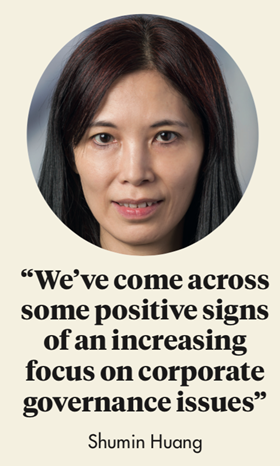 She says the scheme is in its pilot stage in 13 cities. "In the initial phase, the scheme will cover 5% of global greenhouse gas emissions, and that's only for the power sector. As it rolls out to other sectors, such as steel and aviation, the impact will be huge."
For the green finance sector, Collins says, the scheme will provide a "welcome signpost" for quality of data.
Huang says China is one of the world's largest green-bond issuers. "The Chinese government definitely wants further development in this space – so this is an area of increasing interest, supported by government policies."
In summary, Wilson-Otto says, although the desire for change varies depending on the economic climate of the day, a fundamental transition is taking place in China. For Chinese corporates the future direction is clear.
China: First in, first out
1

2

Currently reading

China: ESG with Chinese characteristics

3

4