China is focusing on a new long-term growth strategy after the success of its tough measures to contain the coronavirus outbreak
Key points
China was the first into the COVID-19 crisis and the first out
The Chinese government is also focusing on key strategic products that could come under threat from protectionist measures by the US
Analysts typically underestimate the importance of China's gig economy in creating jobs
The rise of ESG may provide further investment opportunities
China was first into the COVID-19 pandemic and first out. That would be called FIFO in accounting terms. The FIFO moniker has many implications for the global economy and for investors. The spectre of a second wave hitting China may always provide a dampener to bouts of excessive optimism in China's investment markets for some time. However, the US presidential elections in November may be the more pressing factor for potential investors in China.
China was the first country to see a recovery from the pandemic in both economic and population health terms. As a result, says Edward Evans, emerging equities portfolio manager at Ashmore, it is not surprising that the world is watching China ever more closely as a roadmap for others to follow.
But China's seemingly successful policies have been at a cost that many other countries might not be prepared to accept. "In China, when they say it's a lockdown they mean it – so nobody can leave the house beyond a short distance to a nearby supermarket," says Eng Teck Tan, senior portfolio manager at Nikko Asset Management. "If there is no supermarket nearby, the authorities will get the local community to send food to your home where you have to stay 24-seven."
If a community has a certain number of cases, the police and army are sent to basically barricade the community effectively. This, says Tan, acts as a "circuit breaker" to the spread of the virus.
China's approach has succeeded on the economic front. Exports and imports have recovered to pre-Chinese New Year levels first and manufacturing has returned to a full working week. But consumer consumption and retail spending patterns have recovered more slowly.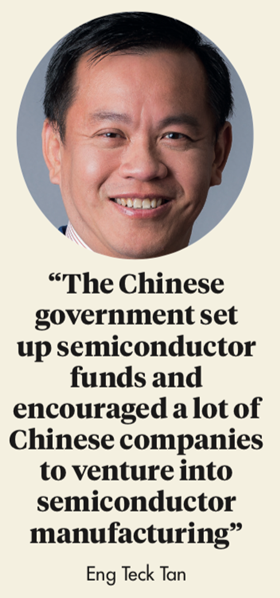 The pattern is happening in developed markets too, with an acceleration of structural trends towards more online shopping. Bricks-and-mortar retail outlets and restaurants are seeing a more gradual return of consumers.
China has also benefited, argues Tan, from the fact that when China opened up, south-east Asia was shut down because of a spike in Covid-19 cases starting in May. So many customers in the US, Europe and other parts of the world did not have anywhere else to get their goods except from China.
With the Chinese authorities confident that the pandemic is under control, they have the leeway, Tan says, to prepare for a new 'long march'. They are preparing to take on the US because of the justifiable view that going into the US elections in November severe measures will be taken against China.
That has resulted in measures such as the issuance of a large amount of special bonds usually used to finance infrastructure spending in China. "But so far, if you look at the last two months, the numbers from fixed asset and infrastructure investment are fairly muted," he says. "So it seems like they are preparing the ammunition but they are not doing much yet."
The Chinese government is also focusing on key strategic products that could come under threat, with the biggest insecure item for China being semiconductors, says Tan. "That's why they went out and set up semiconductor funds and encouraged a lot of Chinese companies to venture into semiconductor manufacturing."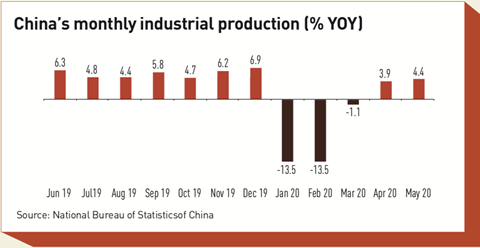 Chinese policy, Evans points out, has directed banks to lend and publicly highlighted that banks should be first and foremost focused on maintaining the solvency of businesses – including SMEs – and domestic economic stability (in keeping with long-term Communist Party aims).
Banks are therefore being pressured not to chase loan repayments until the economy recovers sufficiently. Consumers have also been given vouchers which need to be used by a certain date, ensuring the money is being spent and not saved. That acts as a confidence booster for China.
Another boost to domestic consumption has come from the effective cessation of overseas tourism. "With between 150m and 260m trips abroad by Chinese tourists, they spent probably about 4-5% of the Chinese consumption data numbers overseas," Tan says.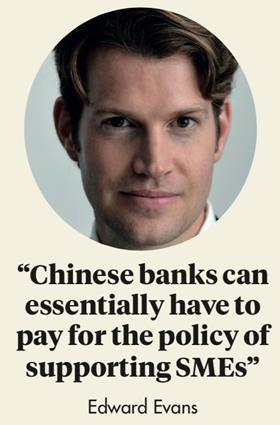 That spending has been redirected domestically. "All these Chinese that used to buy their Louis Vuitton, Chanel and Prada in Europe are suddenly all buying it locally," says Tan. On the day that Hermès reopened its flagship store in Guangzhou after two months of lockdown, the single store is said to have taken a national record of $2.7m (€2.3m) in sales. "The English translation of the Chinese description of this is 'revenge spending'," Tan says.
The new digital economy may be faring well while bricks-and-mortar companies might struggle with the inevitable large job losses. However, says Tan, analysts miss out on the reasons why the Chinese government is fairly confident that it does not need a massive support package of the type seen elsewhere to prevent unemployment. "What people underestimate is the gig economy in China," says Tan. Many people returned to their villages and home towns after the Chinese New Year. But they were able to find local jobs such as delivery riders that may pay 20% less than they were getting paid but they are close to home and they can return to the cities once the companies restart.
"To be considered a global superpower, they recognise China has to be a leader in technology" - Elaine Tse
For investors, the crash and recovery creates new opportunities as the Chinese economy adjusts to a new normal, exacerbating trends such as digitalisation that were already present.
The nature of the pandemic crisis, has highlighted the need for communication infrastructure for working from home, remote learning and e-commerce, points out Elaine Tse, portfolio manager at Wells Fargo Asset Management.
It also reinforces the recent growth strategy of moving up the value chain, with China no longer providing low-cost labour for the rest of the world. "They want to be considered a global superpower and for that they recognise China has to be a leader in technology," Tse says.So, while investing in infrastructure investment is a typical way to support growth during a downturn, the focus has been on the new infrastructure of 5G telecoms and not just roads and railways. By 2022 many provinces will have full 5G coverage, says Tse.
But some sectors under state direction can be unattractive. Evans says Ashmore has zero exposure in Chinese banks because they can essentially have to pay for the policy of supporting SMEs. SMEs in fragmented unorganised sectors are under huge pressure and hence bigger players with stronger balance sheets and earnings reserves will be able to consolidate such industries to produce outsize market share gains, he says.
Tan concurs: "While overall growth in the white spirit market has been low single digit, the top 25 or so spirit companies have been growing at more than 20% – in the last few years through consolidation of the more than 10,000 brands/companies in the marketplace, with only 25-30% of them being wiped out so far."
As Michelle Qi, CIO for equities at Eastspring Investments, argues, China has been the first country to successfully get COVID-19 under control and may become the only large economy to achieve positive GDP growth this year. "With a v-shaped recovery post COVID-19 and stabilising renminbi versus dollar exchange rate, Chinese equities are well positioned," she says.
What the COVID-19 pandemic has woken China to, along with the rest of the world, is the requirement for better governance and sustainability. "Corporate governance has continued and increasing new-economy names are getting listed in A and H-share market as more capital market reforms are being done," adds Qi.
There is certainly demand for a better focus on sustainability. The China Alliance of Social Value Investment (CASVI) launched an exchange-traded fund (ETF) in January with Bosera Asset Management investing in 100 companies that scored highly in positive contributions to the UN Sustainable Development Goals that raised nearly $212m.
For investors, it is worth remembering that the drive towards higher ESG standards in China is only just beginning. The COVID-19 pandemic may be the catalyst for much greater state and private sector support for companies that combine profits with sustainability. That could, indeed, be an attractive opportunity.
China: First in, first out
1

Currently reading

China: First in, first out

2

3

4