China has taken its foot off the pedal of its Belt and Road Initiative temporarily to deal with domestic issues and COVID-19
Key points
China is more focused on domestic matters as a result of the COVID-19 pandemic but it is likely to refocus on the Belt and Road (BRI) initiative over time
BRI economies have suffered as a result of the impact of the COVID-19 pandemic
China is likely to provide financial and economic support to BRI economies
ESG factors are becoming increasingly important to China
Perhaps no infrastructure or trade programme in modern history compares to the vast scale and ambition of China's Belt and Road Initiative (BRI). The initiative is rapidly integrating large global economies both in the developed and emerging world.
Established in 2017 to boost economic cooperation with Asia, Europe, Africa, the Middle East and Latin America, the BRI has become one of the country's signature development strategies. President Xi Jinping reaffirmed China's long-term commitment to it in the second Belt and Road forum held in April 2019, where he introduced a debt-sustainability framework to enhance debt management among participating countries. It is also designed to promote sustainable financing, a measure that many observers and market participants viewed positively.
Over time, BRI projects have become more diverse, transparent and profitable, with the US and other developed nations competing with China to invest in participating countries. In 2019, the EU and Japan signed a partnership agreement aimed at promoting high-quality infrastructure construction in the developing world.
Such broadened participation helps to secure additional resources to recipient countries, and the BRI has already improved the infrastructure networks in many of them.
According to data from the Chinese State Council Information Office, shipping routes now connect China's ports with over 200 countries and 600 large ports. There were more than 12,000 trips via railway from China to Europe across the 'New Eurasian Land Bridge' in 2018. Moreover, the BRI has created more than 244,000 jobs for workers in local markets between 2013 and 2018.
The scale of trade is remarkable. According to China's Ministry of Commerce, the total volume of trade in goods between China and the BRI countries increased from about $1trn in 2013 to $1.34trn in 2019 (figure 1). The American Enterprise Institute, a think tank based in Washington DC, estimates that China's outbound direct investment and construction contracts with BRI countries has reached over $900bn since 2013.
The impact of BRI projects around the world has continued to expand but what will the initiative look like in the post-pandemic world?
China looks set to focus on domestic matters in the short term. The immediate impact of the coronavirus on China has been substantial, with the domestic economy contracting by 6.8% year-over-year in the first quarter of 2020. Looking further ahead, though, China is likely to focus again on BRI initiatives.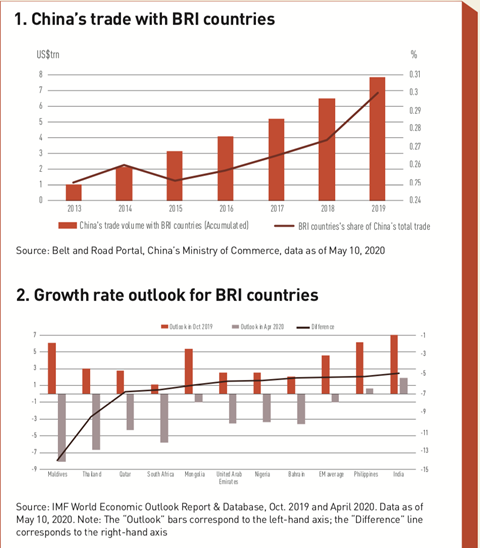 It could look a little different to how it was before. China may promote a wider range of financing options and more multilateral projects, which could improve project management and decrease dependence on Chinese capital.
Even before the pandemic, private financing and co-financing had played a growing role in BRI projects, and the current situation looks set to accelerate this trend. According to research by Refinitiv BRI Database, 27% of total funding for Belt and Road projects has come from private sector or publicly listed firms. This proportion is likely to grow amid more multilateral projects.
The economies of the BRI countries themselves have, of course, suffered in recent months. Overall, Covid-19 looks set to have a negative short-term impact on global growth and credit conditions. This is especially the case in emerging markets, which face weaker healthcare systems and debt dynamics. The IMF forecasts that emerging market growth will decline by about -1% on average in 2020, representing a -6.4% drop from its forecast last October (figure 2). Some BRI countries, like the Maldives and Thailand, are expected to suffer badly as a result of a slowdown in tourism.
There is evidence that some emerging market countries may experience short-term funding stresses, and potential restructurings and defaults cannot be ruled out. Given the pandemic's severe economic impact and pressure on funding needs, some emerging market countries may need support from international organisations and other countries, including China, to help stabilise their economies. The BRI could potentially fill this role.
As the first country to emerge from the pandemic, China is one of the better-positioned large economies to extend direct financial support to emerging market countries. Such support is also in China's interest, since most Chinese BRI loans were extended to emerging market countries.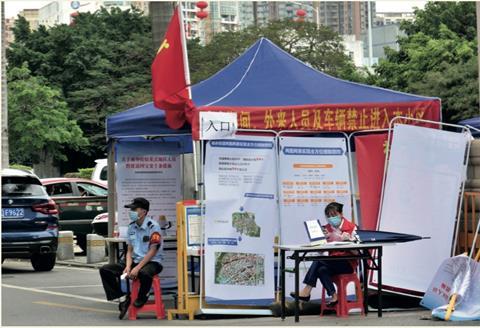 We have already witnessed Chinese direct lending, including a concessionary loan of $500m granted to Sri Lanka upon request to fight the virus. China is likely to continue to provide financial support to emerging market countries, although such support should be efficiently deployed and with sufficient governance controls.
China and other international organisations will likely provide debt relief or renegotiation to selected emerging market countries in the future. However, debt write-offs are unlikely to discourage Chinese lending activity. Most funding was conducted through Chinese policy banks and government support for investment in participating Belt and Road countries remains high.
Finally, BRI projects look set to become more economically viable as China increases its efforts to improve sustainability, transparency and governance. Measures like the Debt Sustainability Framework and the inclusion of multilateral participants will probably benefit Belt and Road countries and projects over time.
Environmental, social and governance (ESG) factors will also be critical to the long-term economic development of emerging market economies. In such countries the level of socio-economic development, degree of political stability and entrenchment of the rule of law can vary significantly.
The importance of ESG factors has been reflected in the performance of emerging market sovereign bonds. Over the last three years, the sovereign bonds of countries with higher-rated ESG factors have outperformed lower-rated peers. China's emphasis on ESG factors should be a positive catalyst for the overall development of the Belt and Road universe.
Yifei Ding is a portfolio manager for Invesco Fixed Income in Hong Kong
China: First in, first out
1

2

3

Currently reading

China: Just a pit stop on the BRI journey

4