The top 30 Chinese asset managers have a total AUM of €5.41trn, accounting for 35% of the industry total, according to IPE's research partner, the London-based ATC Initiative. Please click here for more information on ATC Initiative's recently launched China Top 30 Asset Managers

The Chinese asset management industry is relatively young but has grown rapidly. The first fund management firms in China were launched in 1998, yet by 2020, the industry's assets under management had already increased to RMB124.39trn (€15.51trn)1, second only to the US. Today, the market remains fragmented, comprising a variety of asset management entities with different regulatory statuses (figure 1) competing for retail and institutional clients.
These entities fall into eight different categories (figure 2), though the smallest of these categories, pension management companies and futures companies, account for a relatively small share of the market. Assets under management (AUM) are split broadly equally between institutional and non-institutional investors (figure 3).
The well-established fund management company (FMC) players
China's first FMCs opened for business in 1998 and by the end of 2020, 134 FMCs were active in the market2. These companies have total AUM of €3.9trn3, accounting for about 25.2% of the industry total. Some 14 FMCs have taken seats in the top 30, contributing 57.4% of the total AUM of all managers in the list.
With more than 20 years of development, FMCs are the most established manager category. Leading players have developed their brands and reputation in the market, and have achieved relatively stable market shares over recent years.
FMCs can manage both retail funds and institutional capital (through segregated accounts). About 60% of their AUMs are in retail funds, while segregated accounts take up the rest, including pension fund mandates which account for 10% of the AUM (figure 4). FMCs need a qualification to manage money for pension funds.
In the retail funds space, FMCs invest predominately in China itself. Overseas investments (through Qualified Domestic Institutional Investor funds4) account for less than 2% of net asset value5. In the domestic market investment, FMCs offer equity funds6, bond funds7, hybrid funds8 (figure 5).
In a world where passive investments have become increasingly dominant in recent times, China has been an important source of alpha in variety of asset classes through active investments. According to Morningstar's recent China Active/Passive Barometer, 85% of actively-managed Chinese equity funds outperformed passive equity funds over the last 1-3 years. Active management dominates FMCs' investment strategies. While passive strategies are starting to gain ground, they currently only account for about 10% of the market (figure 6).
FMCs have been working hard to developing their international reach, positioning themselves as China market experts for global investors. So far, 12 of the 14 FMCs in the top 30 have established asset management subsidiaries in Hong Kong to conduct their global businesses; eight of them have launched UCITS funds to attract European investors and to build their international brands (figure 7).
The rise of China's institutional asset managers
For the purposes of this report, China's institutional asset managers are defined as the insurance asset management companies and pension fund management companies that mainly manage institutional money. In our top 30 list there are eight insurance asset managers and one pension management company.
There are three reasons that these institutional asset managers are worthy of the attention of global investors and asset managers:
● Sustained fast growth: Younger than FMCs (the first insurance asset managers were established in 2003, five years after the launch of the first FMC), institutional asset managers have enjoyed faster growth rates, driven by demand from the rapidly growing insurance and pension funds (figure 8), neither of which have shown any sign of slowing growth. The 10%+ annual growth in capital available to these institutional asset managers looks to be sustainable over the coming years.
● Each player is relatively large in size: There are 28 insurance asset managers and nine pension management companies active in China9. The relatively small number of players means each individual firm is sizeable – and therefore a worthy counterpart for business discussion and transactions.
● Increasingly market-oriented: Initially, insurance asset managers acted as in-house managers for their insurance group parents. In recent years they have moved to the market and competing for investment capital from other institutional investors. Today, roughly 30% of their AUMs are from other parties10. These firms are also becoming important allocators to other managers, including global managers, for asset classes and markets in which they do not have strength.
Figure 9 shows the asset allocations by institutional asset manager, according to a survey published by the Insurance Asset Management Association of China (IAMAC) in 2020. Institutional asset managers have substantial expertise in bond and private debt investment, but more limited experience of equities and overseas markets.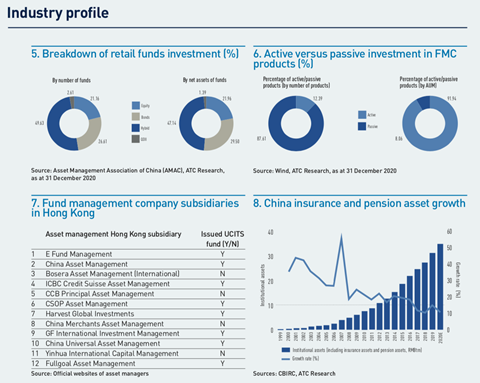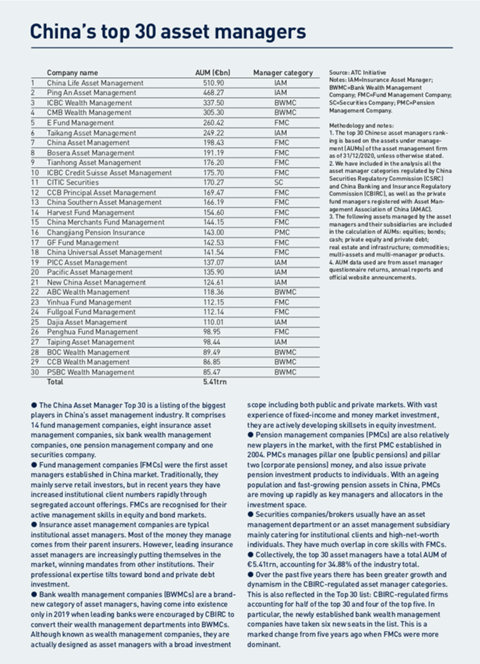 Bank wealth management companies: a new category in the making
CBIRC, the banking and insurance regulator, issued guidance in 2018 to encourage banks to set up separate wealth management subsidiaries to replace their wealth management departments. In June 2019, the first bank wealth management company – CCB Wealth Management – was established. By the end of 2020, a total of 24 BWMCs had been approved and 20 of them had begun operating. See figure 11 for the list of approved BWMCs.
Although called 'wealth management companies', businesses in this new category are set up and regulated as asset managers. With a broad investment scope covering both public and private market, BWMCs can serve both retail and qualified investors with different product offerings.
Banks have long been regarded as the most important distribution channel for investment products in China. BWMCs are well positioned to leverage the distribution network of their parent bank, which is a valuable competitive advantage over other type of asset managers.
However, there are also some serious challenges for this new category, including firms' lack of equity investment experience. According to China Wealth (Asset) Management Registry and Custody Co, at 2020 year-end, 92.26% of existing investment products managed by BWMCs were fixed-income vehicles. As figure 10 shows, direct equity exposure accounted for just 2.31% of total assets.
As a result, BWMCs are keen to form partnerships with equity asset managers. Such partnerships include joint ventures with international players. Examples include the September 2020 joint ventures (JVs) between BOC Wealth Management and Amundi Asset Management. In Aug 2020, a joint venture application by BlackRock Financial Management, CCB Wealth Management and Fullerton Management (a subsidiary of Temasek Holdings) was approved.
Global asset managers' journey to China
Global asset managers started their journey in China's asset management industry some time ago. In 2003, the first FMC JV – between Pacific Asset Management and Allianz Group, was established following regulatory approval. By the end of 2020, there were 44 FMC joint ventures in China. Six of them are included in the top 30 list (figure 12).
Until 2020, foreign partners were only allowed to have a minority shareholding (up to 49%) in the FMC JVs. Most of these ventures have proved to be profitable financial investments for global asset managers as shareholders. But the ventures are generally regarded as local brands and many global managers have been seeking to have their wholly-owned or controlled entities in China to execute their global strategy. In October 2019, CSRC issued a statement pledging to allow 100% foreign ownership in FMCs by 2020 and in August 2020, BlackRock Financial Management Inc was approved to establish its 100% owned FMC.
Prior to this relaxation, there was another breakthrough in 2016 when global asset managers were given the right to apply to operate wholly-owned private fund managers (PFMs) in China. Following registration with the Asset Management Association of China (AMAC), PFMs can raise funds from qualified investors (mainly high net worth individuals) by launching private funds. Many global firms have taken this route and by the end of 2020 there were 31 foreign wholly-owned PFMs in China (figure 13). However, while some are doing well, capital raising has been a major challenge for many foreign PFMs.
More recently, global asset managers have also gained market entry into CBIRC regulated asset management categories via:
● JVs with bank wealth management companies. In September 2020, Amundi Asset Management Company established a JV with BOC Wealth Management Company, with a 55% shareholding11;
● JVs or wholly-owned subsidiaries in insurance asset management. In January 2021,
Allianz Group was approved to operate a wholly-owned insurance asset management company in China. Early in 2019, four global institutions, through their Chinese insurance JVs, set up insurance asset management businesses in China;
● JVs in pension management companies. In January 2021, Hengan-Standard Life, an insurance joint venture between Standard Life Aberdeen and its Chinese partner, established a pension management company in China.
In summary, global asset managers now have various options for entering China's asset management market either through JVs or wholly-owned subsidiaries. JVs usually benefit from the Chinese partner's fund-raising support in the local market, while the wholly-owned subsidiary route ensures the manager has total control of the strategy and operations of its business in China.
ESG gaining momentum
ESG investment has been a significant theme for the global asset management community in recent years. Although there is still a development gap, ESG is quickly gaining momentum in China.
By the end of 2020, 52 Chinese organisations had become signatories to the United Nations' Principles for Responsible Investments, including 39 asset managers12. Of the Top 30 list, 10 asset managers are PRI signatories (figure 14). The past year has seen significant ESG-related activities among leading Chinese managers, including the hiring of ESG analysts, the construction of ESG analytical frameworks and the launch of ESG themed investment products.
In developed markets, asset owners with a commitment to responsible investment have been key drivers of the ESG agenda and have exerted substantial influence upon asset managers. In China, with a few exceptions, most asset owners have been much less likely to request ESG investment practices from their managers. However, as global asset owners increase their allocations to China, they have provided a substantial cross-border 'ESG push' to the leading Chinese asset managers, who have been actively seeking investment mandates from global investors.
There is an increasing supply of ESG data from securities issuers in the market. In September 2020, both Shenzhen Stock Exchange and the STAR Board (technology board) of Shanghai Stock Exchange published guidelines to encourage listed companies to disclose ESG information. At that time, a total of 1,021 13 Shanghai and Shenzhen-listed companies had already disclosed their ESG data.
Elsewhere, the China Central Depository & Clearing Co, China's bond market infrastructure, has recently started a project to build a Green Bond Environmental Benefit Disclosure Indicator System, aiming to quantify the environmental benefits of green bonds in China.
In September 2020, China pledged to reach carbon emission peak by 2030 and carbon neutrality by 2060. This will provide further impetus to Chinese ESG investment.
Footnotes:
1. Source: AMAC, banking wealth management registration and custody centre, Insurance Asset Management Association of China (IAMAC), China Trustee Association, ATC Research; 2. Source: CSRC; 3. Source: AMAC; 4. QDII (Qualified Domestic Institutional Investors) funds invest in overseas markets; 5. Source: Wind; 6. Equity funds are required to invest no less than 80% of assets into equities
7. Bond funds are required to invest no less than 80% of assets into bonds; 8. Hybrid funds are funds not classified as equity funds or bond funds. In China, most of the hybrid funds invest more than 70% assets into equities; 9. Source: CBIRC; 10. Source: IAMAC; 11. Source: CIBRC;
12. Source: PRI; 13. Source: Eastmoney Choice terminal.
Sun Wei is founder of the ATC Initiative
Allocate to China (ATC) Initiative is a research-based communication and solution platform bringing together global investors, asset managers and other stakeholders to share insights about China's capital markets, to build business relations and to form partnerships.
www.atcinitiative.org
Top 500: Beyond the beauty parade
1

2

3

4

5

6

7

8

Currently reading

China's asset management industry