In May 2020, BlackRock, State Street Global Advisors, Invesco, Charles Schwab Investment Management and Fidelity Investments set out a new idea that would, they said, re-classify certain types of exchange-traded products and benefit investor transparency.
The proposal set out four potential buckets with which to classify exchange-traded products: ETFs, exchange-traded notes (ETNs), exchange-traded commodities (ETCs), similar to Europe, and a new bucket altogether, exchange-traded instruments (ETIs). The latter would apply to inverse and leveraged products, and any product not covered by the other three categories.
The five largest US ETF providers, plus Fidelity, also sent a letter to the main stock exchanges in the US, asking them to "implement a solution". In the press release announcing the naming convention, Samara Cohen, co-head of iShares global markets and investments at BlackRock, said: "The presence of multiple product structures can be confusing and through this initiative we want to introduce a shared language to help investors know what they own."
Can't please everyone
Over the last few months, criticism has been fired back from industry commentators and ETF providers who were not included in the working group.
Dave Nadig, chief investment officer and research director at ETF Trends and ETF Database, was part of the team that set up a classification system at ETF.com, which became that of FactSet.
"Our system required us to track dozens and dozens of metrics – is it index based or active? Is it leveraged or not? Is it synthetic or not? All of these have to be separately categorised as they bring their own risks and pattern of returns," he says. "So, trying to shove things into four clean buckets will inevitably lead to some cases where you put boring, less risky funds compared to their peers and label them as 'toxic' and let other riskier things slide through into the bucket that people associate with safety."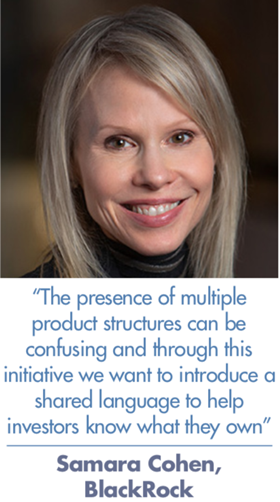 Bruce Bond is CEO and co-founder of Innovator Capital Management in the US. His company's ETFs are 100% derivative based and would fall under the ETI category.
"The reason I think it's a slippery slope is that, as new innovations come out under the ETF structure, I don't think you want to categorise them on the edges as an ETF this or an ETI that," he says. "The new entrants are bringing these novel and compelling ideas to the market, but the big guys want to move them to the edges and claim their funds are not ETFs."
Yet Invesco is a proponent of this proposal and the provider has 12 US ETFs that would fall under the ETC category and nine ETFs that would be classified as ETIs, as the latter are invested in currencies and are structured differently to ETFs, rather than being inverse or leveraged.
"We are not trying to create 'good ETFs' or 'bad ETIs,' we just feel it is important that our clients understand what they are buying to try and ensure that their expectations are aligned with their investment results," said Anna Paglia, managing director, global head of ETFs and indexed strategies at Invesco. "As an industry, it is our job to take the lead on explaining our products to investors."
A few bad apples?
As the working group's press release stated, the vast majority of ETPs in the US – 96% – would fall under the ETF bucket, leaving 550 funds that remain "unclassified".
So why would the largest providers be concerned about a relatively small number of ETPs in a total US ETF market worth over $3.6trn (€3.1trn)?
The answer can be found, at least in part, on Monday 5 February 2018, when equity markets tanked and the Dow Jones Industrial Average plummeted more than 1,500 points, the biggest one-day fall in six years. Simultaneously, the Cboe Volatility index, the market's main gauge of turbulence, spiked. As a result, several US-listed ETPs that were designed to provide investors inverse returns to the VIX saw declines of more than 90%.
Some commentators argued these products had reacted as designed, while others worried they were not able to recover quickly enough, and they might even exacerbate market volatility.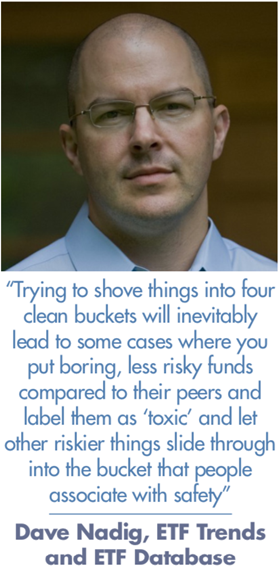 One of these funds was the VelocityShares Daily Inverse VIX Short Term ETNs (ticker XIV), which fell 93% by the following day, Tuesday 6 February, and traded its last day just two weeks later after Credit Suisse decided to liquidate the security, citing its right to do so due to an "acceleration event" in the market. The fund contained around $1.9bn in assets at the time. Although the majority of ETF assets are held by retail investors in the US, CNBC reported in 2018 that banks and institutional investors appeared to be the top holders of XIV – but they most likely traded in and out frequently.
Another fund hit hard in February 2018 was the ProShares Short VIX Short-Term Futures ETF (SVXY). Later that month, it reduced exposure to one half the inverse daily return of the VIX. It is still trading today and has, at the time of writing in July, $521m in assets.
More recently, the largest ETF providers in the working group also pointed to the steep drop-off in crude oil in April this year, which led to a 3 × leveraged ETN, the iPath Series B S&P GSCI Crude Oil Total Return Index ETN (ticker OIL), being delisted.
Interestingly, both funds mentioned above that were delisted were ETNs, not ETFs.
A long history of debate
Despite both the volatility and oil-linked events happening in the last couple of years, a debate how to name and classify ETFs has been going on for more than a decade.
Cohen says the market volatility in 2018 "renewed efforts" to push forward their proposal but adds: "BlackRock has long advocated for ETP classifications and [has] written and spoken about this topic since 2008."
Indeed, in 2011, Noel Archard, who was then managing director at BlackRock, said at a hearing with the Securities and Exchange Commission that "[Leverage and inverse] products make up less than 10% of ETF assets in the US, but have created concern about all ETFs", adding that leveraged and inverse products should be re-named.
At the time, providers were probably right to be concerned that the SEC was turning increasingly on ETFs. In 2010, for example, the SEC stopped issuing exemptions for ETFs that were primarily based on derivatives, and in August 2011 suggested that derivatives were allowing ETFs to go above the legal limits on leverage.
The ETF rule changed everything
It would seem that with so many topics to discuss over the years – including the definition of 'smart beta', 'ESG' and synthetic versus physical replication – an industry group representing all ETF providers would be apt. Yet there is none; attempts over the years, according to sources, have failed. The nearest, some say, is the ETF Committee at the Investment Company Institute; additionally, while the six ETF providers who rallied together in May are referred to as a "working group", they have since held more meetings including other providers to become more inclusive, sources say.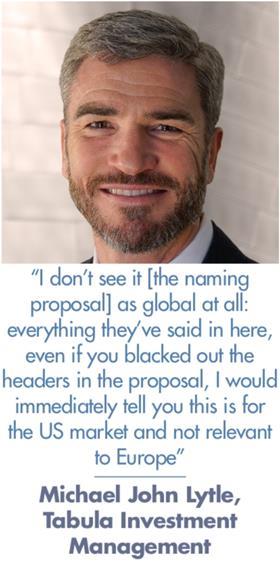 But there have been moments of strong industry unity, with most ETF providers rallying around the so-called 'ETF Rule', known as 6c-11, which was passed by the SEC in September 2019. It allowed providers to launch new ETFs quickly and without applying for an "exemptive relief" as they had to do before. The rule applied to all new ETFs unless the fund was structured as a unit investment trust, or was leverage or inverse.
Looking across the pond?
The future of the naming convention proposal is uncertain, with little reaction from the SEC or the stock exchanges. But the working group had a big ambition: to make it global.
"Although there may not be a 'one size fits all' method of implementation, we believe that this initiative can be adapted for regional markets," says Cohen. "We are having similar conversations to those of our working group with trade associations and other market participants in Europe."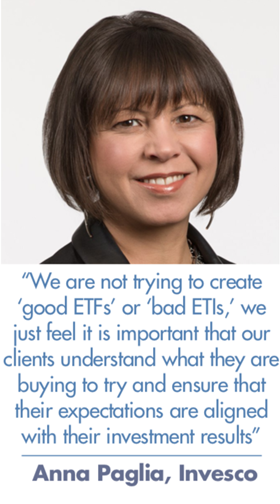 But critics say Europe is a different kettle of fish, with multiple regulators, stock exchanges and funds which are cross-listed in different currencies. And unlike the US, according to Morningstar, around 80% of Europe's ETF assets are held by institutional investors, who are generally understood to be more confident and knowledgeable about what they are buying.
"I don't see it [the naming proposal] as global at all: everything they've said in here, even if you blacked out the headers in the proposal, I would immediately tell you this is for the US market and not relevant to Europe," comments Michael John Lytle, CEO of European passive fixed income provider Tabula Investment Management. "But usually, the US sneezes and Europe catches a cold. We're often forced to discuss what they're doing ad nauseum, even if it's not relevant."