Brown to green - Index providers are making the first steps towards adoption of the new EU climate benchmarks
Key points
The EU has proposed two climate benchmarks for equities and corporate bonds
The Paris-Aligned Benchmark (PAB) must achieve a 7% year-on year reduction in CO2 emissions plus a 1.5°C limit to global temperature rises by 2050, and excludes fossil fuel companies
The Climate Transition benchmark (CTB) has similar targets but permits fossil fuel investments as part of a transition process
Index providers have already shown interest
A single benchmark in a continuously diversifying market of more than three million individual products might easily fade into insignificance, like an unidentified star in the night sky. There is every possibility that the new European Union climate benchmark labels could experience this fate.
Last June, the EU technical expert group on sustainable finance (TEG) proposed two types of climate benchmarks: an EU Climate Transition Benchmark (CTB) and an EU Paris-Aligned Benchmark (PAB). It had been mandated by the EU to "devise minimum technical requirements for both climate benchmarks and technical advice on ESG disclosures".
The benchmarks do have a bright future, according to Andreas Hoepner, professor of operational risk, banking and finance at University College Dublin, and a member of the TEG mandated by the European Commission to devise the benchmark label. The model for the PAB, he says, is unprecedented and therefore remarkable, as no-one has built a climate-based benchmark with an absolute target.
"We were the first to build an absolute target of net-zero carbon emissions by following the Intergovernmental Panel on Climate Change goals," Hoepner says.
Unlike previous benchmark models, these are overseen by a regulator, and only benchmarks incorporating year-on-year reductions of 7% in carbon emissions to 2050 are entitled to use the PAB label. It excludes fossil fuel companies and is matched with a 1.5°C cap in global temperature rises. Currently, the planet is on track to warm by between 2.5°C and 4.5°C.
The companion to PAB, the CTB has similar restrictions but permits fossil fuels and concentrates on the transition away from them.
In contrast to these new benchmarks, some existing climate benchmarks do contain an overall carbon reduction target but do not incorporate a long-term plan or end goal. "Existing benchmarks measure deviation. They are relatively more sustainable than the investable universe, but not absolutely," says Hoepner.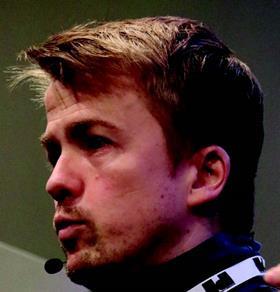 As overall greenhouse gas (GHG) emissions have been increasing, such indexes do not achieve outright reductions. "They are relatively below the investment universe but continue on that trajectory," Hoepner comments. The EU benchmarks start at -30% and -50% GHG intensity compared with the investable universe.
Adoption plans
Investors adopting the benchmarks – which apply to equity funds and corporate bonds from 30 April 2020 – act in two ways to meet the targets. Benchmark administrators reduce constituent weights of sectors with high greenhouse gas intensity (emissions per unit of output) while simultaneously increasing constituent weights of low-intensity sectors. They also identify firms likely to reduce their intensity by at least 7% in the upcoming year.
The aim is to put pressure on high-intensity companies to act on emissions with the message that their weightings will be lowered unless they achieve the relevant reductions.
Helena Viñes Fiestas, head of stewardship and policy at BNP Paribas Global Asset Mananagement, likens the benchmarks to food labels. "Previously, we knew how much salt we were consuming but we didn't know the recommended daily intake," she says. The benchmarks' year-on-year reduction target creates those limits.
"Benchmarks now have to disclose how they are aligned with the Paris targets, and we now have a description of what that means" - Helena Viñes Fiestas
Together with the EU green taxonomy, and new EU ESG disclosure rules for all benchmarks from 2021, the CTB and PAB should create a shift in awareness.
"Benchmarks now have to disclose how they are aligned with the Paris targets, and we now have a description of what that means, although they can opt out from the EU PAB or CTB," says Fiestas. The taxonomy will help define the extent of the green share in the opportunity-based (as opposed to compliance-based) characteristics of funds adopting the benchmarks – which can vary according to benchmark provider.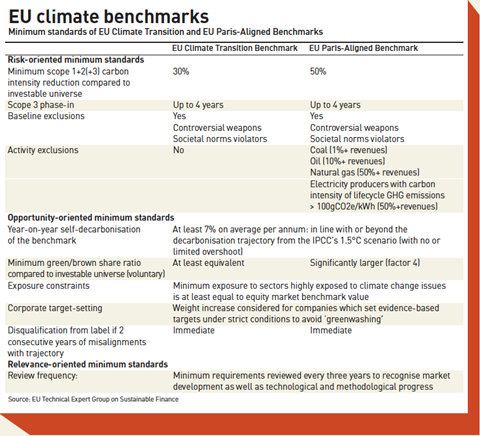 First movers
There have been early movers, with providers eager to look ahead of the curve. MSCI says it may transition the methodology of its existing MSCI Climate Change indices to reflect that of the Provisional Climate Change EU Transition index, subject to consultation following publication of the final regulation. The firm launched two series of provisional climate indices last November that were designed to meet the minimum standards recommended by the TEG for the CTB and PAB benchmarks.
Reid Steadman, global head of ESG at S&P Dow Jones Indices, says: "We are on track to launch a new series of indices that will align with these proposals." The firm will use proprietary datasets and analytics from Trucost, a S&P subsidiary.
But for both providers, the need to serve a range of client requirements takes priority. MSCI sees the EU benchmark label as one among many choices for asset managers integrating climate risks and opportunities into funds. It will continue to offer three relevant indices: one compliant with the CTB; its legacy low-carbon indexes optimising carbon footprints; and its Global Environmental index, comprising securities of companies deriving at least 50% of their revenues from environmentally beneficial activities.
Meanwhile, new opportunity-based indexes have been introduced dedicated to climate change, such as Euronext CDP Environment World, launched by the non-profit carbon disclosure organisation CDP and Goldman Sachs. This selects stocks based on corporate performance across climate change, water security and deforestation.
As Hoepner points out, the existence of the EU benchmarks containing a single 30-year decarbonisation trajectory does not suit the business models of many benchmark providers. Nor does it incentivise them to converge.
"Companies create benchmarks to maintain a competitive edge; they make them extra complicated to create intellectual property rights," he says. The 7% year-on-year decarbonisation requirement is "too simple; it is quite easy to just reweight your universe".
Instead, the CTB and PAB, and any benchmarks aligned with them, should act as a beacon devised and promoted by the most demanding investors, who have already requested new decarbonisation benchmarks. These include institutional investors such as Nordic, Dutch and French pension funds, and institutions belonging to the Net-Zero Asset Owner Alliance, formed in 2019 and representing assets of $2trn (€1.8trn).
Hoepner says climate-related disclosures and reporting should improve as investors will estimate emissions if they do not. Pressure from European institutional investors could also have an effect on corporates in the fossil fuel sector, influencing other indices – perhaps increasing the cost of capital for the oil and gas sectors. "The EU benchmarks lead to better protection of tail risks unless you believe oil and gas are a fantastic investment for the future," Hoepner says.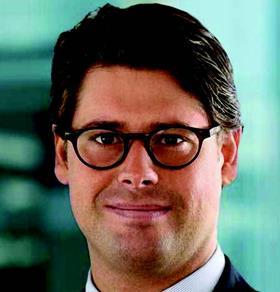 Carlo Funk, head of ESG investment strategy at asset manager State Street Global Advisors (SSGA), envisages further acquisitions of data companies by index providers. He says: "One important element is that the benchmark trajectory is forward-looking, hence big third-party providers are reaching out to asset managers such as us. A subset of clients, especially in the Nordic region, is looking for better data capacity to deal with this."
Smaller managers, he suggests, might also be attracted to the benchmarks. "This makes it easier because it enables asset managers to track this who don't have the capabilities or data platform in house," he says. SSGA will continue to offer proprietary tools to help clients decarbonise.
As the shape of decarbonisation emerges through competing corporate and investor disclosure, it will be easier to grasp, thereby attracting other asset managers, Funk suggests.
"It will increase the comfort of many institutional investors to say 'why not do this?' These labels lower the obstacles towards moving more money towards such benchmarks, build the narrative or help explain why not. If people are comfortable with the underlying methodologies, the rate of adoption could be high."
This article was amended following publication with clarification on the status of the MSCI Climate Change indices.
Climate benchmarks: Brown to green
1

Currently reading

Climate benchmarks: Brown to green

2

3