Dashboard technology like Moneyhub has the potential to prompt consolidation in UK DC pensions
Key points
The Moneyhub platform allows users to view all their financial information in one place
Open banking legislation has created conditions which allow customers to connect all these accounts
Moneyhub can be installed around existing legacy systems
"We are heading towards an era where pensions become sexy," says Sam Seaton, chief executive of financial management platform Moneyhub.
That is a bold claim, and if not quite 'sexy', then the industry is on the cusp of a technological revolution that will radically change it.
UK-based Moneyhub has been a key technology provider in the aggregation of financial information. The platform allows users to view all their financial information in one place, from current accounts to pensions, providing a complete overview. It also uses artificial intelligence (AI) to 'nudge' users towards certain actions, or to move money around their different asset buckets, in line with their specified requirements.
This has been catalysed by UK Open Banking legislation, which was passed just over two years ago. Open Banking rules mean that the nine-largest banks have to share their current-account holder data through integration technology called an application programming interface (API), so as to share information across the market. Regulators demand this "to be an open standard so as to enable it to be widely accessible".
This legislation has created a new generation of financial services, allowing people to make better use of their account and transaction data. According to UK Finance, Britain's banking and financial services trade association, this "could help open up new markets and encourage new market entrants, some of whom will offer services that will assist people who are currently financially excluded. There are a whole host of opportunities that it may not be possible to fully anticipate which could hugely benefit customers."
Moneyhub has been one such market entrant, and now has the most live Open Banking connections via API in the UK.
The platform has been at the forefront of the transformation. For example, explains Seaton, before implementation, Moneyhub's chief technology officer, Dave Tonge, a HSBC account holder, got a letter from the bank saying he was contravening its terms and conditions by using MoneyHub as an aggregating tool – at that time, done through web-scraping technology as, pre-Open Banking, the data itself was not available. "Which, if you think about it, is pretty outrageous: it is the individual's data, the bank is simply the custodian of it," says Seaton.
Over the intervening years, as a result of Open Banking, there has been a radical shift: for example, with HSBC now allowing customers to connect all accounts, and Barclays letting people pay from other accounts. Moneyhub itself has developed a Personal Financial Management Tool for Lloyds Bank, a machine-learning algorithm that analyses a user's accounts and transactions, and proposes actions on that basis.
The standardised data that this legislation has made available, run through AI and machine learning (ML), provides an insight to pension providers while maintaining data security for clients.
"Moneyhub enables pension providers to interact with their customers in a way that they've never done before" - Sam Seaton
Pension providers are now set to undergo the same process as banks. Seaton says: "The pensions industry is about to go through the same sort of transformation as the banking industry, and there will need to be a shift in mentality by pension providers. They will go through the phases of denial, through reluctant compliance, to realising that this legislation creates a lot of opportunities."
She adds, while there will be legislative compliance issues, with defined benefit (DB) schemes in particular struggling with the cost burden, "providers will cotton on to the opportunities".
Seaton herself sits as an industry specialist on the Money and Pensions Service's Pensions Dashboards Steering Group, set up to work on the practicalities of establishing pension dashboards and making them publicly available.
One effect of this transition, she expects, will be to drive pension consolidation, as people will not want seven pensions in seven pots, but instead hold them in one place. "So there will be one gainer, six will lose out, and we'll see a lot of movement of assets," she says, but with the result that "customers who have traditionally been passive and sticky will become a lot more engaged."
An example of this engagement, according to Moneyhub, is that one of its corporate clients reported that less than six months after adopting the software, 45% of employees using it had increased pension contributions.
"Moneyhub enables pension providers to interact with their customers in a way that they've never done before," says Seaton.
The platform uses a ML categorisation engine to sweep payments into the right accounts: so, when you get a pay rise, you can get a nudge to sweep a given portion of this into your pension account. If you underspend on your entertainments budget, the same thing can be done with the surplus. "While it's possible to do this at the moment, by setting up agreements with Visa or Mastercard, the pension provider has to pay 2% to the card companies, so no one does it," says Seaton. "When this legislation gets enacted, it'll be possible without that cost. Then a scalable growth pattern by pension investors starts to develop, and becomes a habit."
An added benefit for schemes is that Moneyhub can be installed around existing systems, without requiring modifications. This works on the same principle as navigation app Waze, which sits on top of Google Maps, and can tell you were the potholes – or police – are on your route.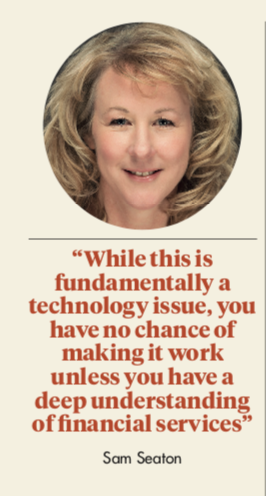 The pension industry has been wary of ceding any control to outside technology providers, but Seaton counters: "While this is fundamentally a technology issue, you have no chance of making it work unless you have a deep understanding of financial services. I've got a degree in computer science but have spent my entire working life in finance."
Moneyhub, and similar financial technologies, demonstrates that this is more than a nifty interface, but something that has the potential to transform both the industry, and the individual savings patterns on which it depends.
To read the latest IPE Digital Edition click here
Pensions tech: Fine-tuning the options for multinationals
1

2

Currently reading

Dashboard tech: How AI can transform pensions

3