The Callaghan report on Australia's universal superannuation system has rekindled a row between the government and the labour movement
In what was meant to be a review that would answer questions around the equity and adequacy – or otherwise – of Australia's retirement income system, the federal government's Callaghan report has sparked intense debate. As a result, it seems to have reaffirmed the political fault lines across Australia's retirement income system.
The review's goal was to gather information on the country's current system for providing retirement income. It made no recommendations despite running to 638 pages. At least that way it could avoid partisan bickering.
KEY POINTS
The Callaghan report on retirement income has sparked intense debate in Australia between the conservative government and the labour movement
The expected 2.5 percentage points in the superannuation guarantee levy by 2025 has sparked controversy, with the report saying it would disadvantage low earners
A vocal minority objects to superannuation being compulsory
The Callaghan review offers observations rather than recommendations
Since the release of the Retirement Income Review (RIR), issues ranging from future increases in the superannuation guarantee levy to whether the family home should become the fourth pillar of the retirement system have become key discussion points.
The superannuation industry review, headed by Michael Callaghan, a former Australian Treasury official and director of the International Monetary Fund, handed down its landmark 646-page report in November, after 10 months trawling through some 426 submissions from interested parties.
Australia, the review says, was one of the first countries to adopt a retirement income system with three pillars – a means-tested age pension, compulsory superannuation, and tax incentives to encourage voluntary contributions. And Australia's compulsory, privately-managed super system, it says, is unique and flexible.
"The most closely comparable schemes in the US and Canada are not compulsory," the review says. Instead, they encourage participation through tax incentives or behavioural 'nudges', such as automatic enrolment when starting a new job. "Australia's superannuation system provides more flexibility in retirement than most schemes," the review says.
"Retirees can access lump sums to pay for large one-off expenses (for example, to finalise a mortgage or buy a car) or access an income stream over the longer term." It adds: "European pension schemes typically provide an income stream, but do not offer access to a lump sum."
Super system growth
Seven in 10 working Australians aged 15 and over are now covered by superannuation guarantee. Strong investment returns and increasing contributions have nearly doubled assets under management as a percentage of gross domestic product (GDP) since 2005.
Today, about 16m Australians collectively own close to A$3trn (€1.85bn) in superannuation assets.
The super guarantee is due to increase from 9.5% to 10% in July 2021, and to 12% by 2025 in annual increments of 0.5%. The current 9.5% rate has been in place since 2014.
Here, the report is controversial. The 2.5 percentage points increase in the superannuation guarantee levy, it says, would disadvantage low-income earners and cut workers' lifetime income by 2%.
More efficient use of savings in retirement could have a bigger impact on improving retirement income than increasing the superannuation guarantee, it says. It adds that an unforeseen outcome of the compulsory super scheme is that it has become a means of wealth creation, with retirees dying without touching their superannuation.
"It appears they see superannuation as mainly about accumulating capital and living off the return on this capital – rather than as an asset they can draw down to support their standard of living in retirement," the Callaghan report says.
"The purpose of superannuation is to provide income in retirement. Drawing down superannuation assets throughout retirement is consistent with its policy purpose. Superannuation is not intended to provide significant bequests through a concessionally taxed environment."
As of June 2018, more than 11,000 Australians had a superannuation balance in excess of A$5m. At this level, the contributor receives annual superannuation tax concessions of about A$70,000.
By about 2050, the total cost of superannuation tax concessions is projected to exceed the cost of age pension expenditure as a percentage of GDP, the report says (see figure 1).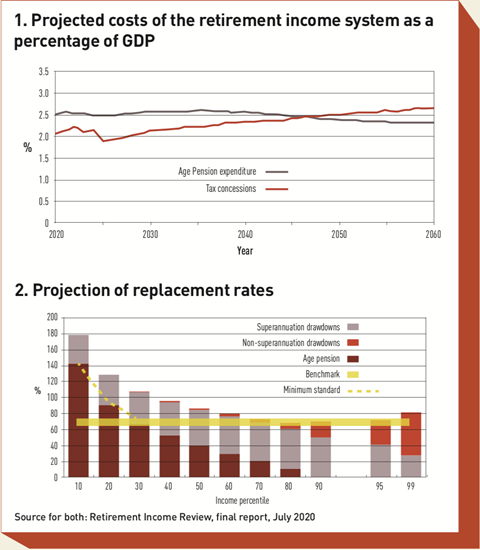 This observation plays into the hands of a vocal minority who object to superannuation being compulsory. This group continues to challenge the premise on which a Labor government introduced universal superannuation in 1992, which was to offset future age pension liabilities.
The group says the system has become a "union gravy train", benefitting the labour movement and industry super funds, by extension the Labor side of politics.
The Callaghan review says superannuation makes up a small share of Australian retirees' net wealth, although this will change as the superannuation system matures in 2040. By then, the Australian workforce will have experienced mandated superannuation guarantee rates of at least 9% for 40 years.
The bulk of Australia's household wealth resides in the family home rather than super savings. The panel raises the prospect of retirees accessing what it calls "under-utilised" equity accumulated in family homes to supplement retirement income.
The family home is sacrosanct in Australian culture. The principal residence is exempt from asset tests for both age pensions and other government benefits that support older Australians – including healthcare concessions. "Around 15% of retirees on the age pension own homes worth more than A$1m," the Callaghan report says.
The report finds that preferential treatment given to home ownership leads to inequity in the retirement income system, saying it disadvantages retiree renters. It suggests that rental subsidies to this group should be raised to boost retirement incomes.
Pillar one
For those with inadequate savings, the fall-back is the age pension. At June 2019, about 71% of people aged 65 and over received an age pension or other pension payment.
The Callaghan report says the age pension, combined with other support provided to retirees, is effective in ensuring that most Australians achieve a minimum standard of living in retirement. Retirees receive health, aged care and other government services worth more than the maximum rate of the single age pension (A$24,552).
"Compared internationally, the cost of Australia's age pension at 2.6% of GDP in June 2016 was much lower than the OECD average of public expenditure on pensions (of 8.% of GDP in 2015-16). In future, the cost of [Australia's] age pension is expected to fall slightly as a percentage of GDP, while the OECD average is projected to rise. In some countries, mainly in Europe, public expenditure on pensions is projected to rise well above 10% of GDP.
"Even after taking into account the cost of earnings tax concessions retirees receive, the total cost of Australian government support as a proportion of GDP is projected to remain much lower than the OECD average of public expenditure on pensions," the report says.
Australia's age pension is equal to 27.8% of gross earnings, placing Australia eighth out of 36 OECD countries. And, unlike most other countries, Australian government expenditure on the age pension as a percentage of total government expenditure is projected to fall over the next 40 years – from 2.5% today to 2.3% in 2060.
The Callaghan review offers observations, not recommendations. But when releasing the report, Australia's treasurer, Josh Frydenberg, signalled that some of its findings could become the foundation of future government retirement policy.
-That could see political warfare break out between a conservative government and the labour movement.
Defined contribution: The engagement fallacy
1

2

Currently reading

Defined contribution: Australia's super review re-opens old battlegrounds

3