The idea that successful defined contribution (DC) pension solutions require a high level of member engagement is being questioned
In 2017 the Swedish government gave Stefan Lundbergh, director at Cardano Insights, just 10 weeks to review the Swedish Premium Pension System (PPM) and provide advice on its potential reform.
The PPM is one of three components of the Swedish state pension system. It is essentially a defined contribution (DC) scheme that allows savers to choose mutual funds out of a platform of 486 funds. The default provider is the state-backed Sjunde-AP Fonden (AP7).
At about that time, the PPM was mired in a scandal as rogue providers were taking advantage of savers. Politicians rushed to a review and Lundbergh was called to action on account of his all-round experience in pensions.
Despite the limited time, Lundbergh carried out extensive interviews with stakeholders and enlisted Richard Thaler, the Nobel prize-winning behavioural economist, among his academic advisers.
The PPM data set consisted of all investment choices of the Swedish working population since the introduction of the system in the late 1990s. One of the most relevant results from his study was that Swedes are financially literate and know what is important when selecting funds. However, when asked about their own choices it was clear there was a difference between knowing what to do and actually doing it.
That result, combined with subsequent observations, has led Lundbergh to come up with the idea that an 'engagement fallacy' lies at the heart of DC pension design.
His argument is that DC pension solutions are modelled on the incorrect assumption that members are inherently interested in being involved in investment decisions concerning their workplace pension.
Lundbergh's argument is not just based on the abundant evidence that individuals tend to be uninterested in pensions. Another premise is that making correct investment decisions is notoriously difficult.
In that sense, the current concepts of member engagement and financial literacy should be of second-order importance.
The argument questions the orthodox approach, whereby DC solutions are thought to require a high level of engagement for their outcome to be successful.
KEY POINTS
Engagement levels among members of DC pension schemes tend to be low
Experts argue that choice architecture in DC pension solutions should be simple
There are doubts that engagement and financial literacy matter for DC success
Financial literacy arguably helps promote financial well-being
According to Lundbergh, the evidence instead suggests that mandatory workplace pensions are seen by end-users as a utility, akin to electricity. They are viewed as something useful but that does not deserve as much thought as policymakers or pension industry professionals would expect.
Lundbergh says: "There is a lot of emphasis on member engagement, but it is often measured as an activity for the sake of it, including how often a member visits a pension fund's website or opens emails sent by the pension fund.
"The question is whether members are to be considered really engaged just because they interact a lot with their pension fund. What matters is what they do during the interaction and how that will improve their retirement situation. It is the quality of the interaction that matters, not the quantity – but the former is difficult to measure.
At the same time, Lundbergh says that policymakers' efforts to increase financial literacy are intrinsically positive. However, they are unlikely to make a material difference in terms of helping DC savers to make correct investment decisions.
"Savers need to understand that their retirement income will be higher if they save more and/or work for longer. As far as their investment portfolios are concerned, they are no more likely to make the correct decisions than investment professionals," he says.
Lundbergh's conclusion, which builds on Thaler's work on choice architecture, is that policymakers should focus on building strong default options for those who are uninterested. His recipe for DC success involved limited choices within funds and institutional competition where employers do the procurement, rather than retail distribution.
"DC providers have a fiduciary responsibility of making good choices on behalf of members, rather than focusing on growing their engagement levels.
"Default solutions should be built using investment techniques that individuals cannot easily use, starting from scenario analysis. This is how DC providers can best serve members, by building trust in the default as a very good alternative," says Lundbergh.
Such an approach may be considered paternalistic but Lundbergh contends that it fits human nature.
He says: "Rational decision-making by individuals is the basic assumption for much of financial economics, but the truth is that most of the really important decisions in life are not rational ones – from getting married, to having children.
"Why not build systems according to what we are like? Our behavioural biases make it difficult to make long-term economic and investment decisions. Since we are not going to change that, the better approach is to fit pension systems to our nature."
In support of this argument, Lundbergh can point to a large body of academic work. Among those who broadly share his view is economist Zvi Bodie, a professor emeritus at Boston University and former Harvard Business School and a MIT Sloan School of Management professor.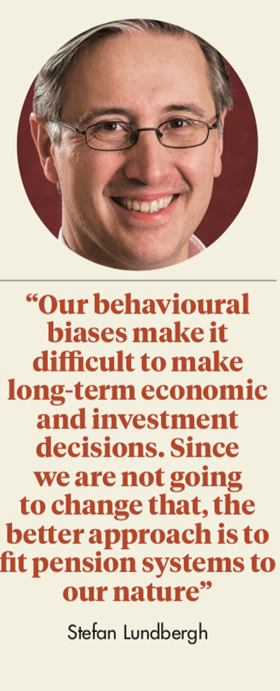 Bodie has studied retirement savings portfolios extensively and has a long-term collaboration with Nobel laureate Robert Merton. He is known for advocating the use of inflation-linked instruments, such as US Treasury Inflation-Protected Securities (TIPS) and inflation-linked annuities, as part of DC solutions.
He says: "I totally agree that it is nearly impossible to educate ordinary people to the point where they will be able to make successful investment decisions.
"The participants of a DC plan should be seen as customers. It is unrealistic to think that producers or sellers of a product should require their customers to educate themselves about the product to the extent that providers of DC plans are asking participants to do."
"The whole premise of making investors out of ordinary people who just want to have a decent retirement is something the investment industry came up with. People want an insurance product, they don't want to become investors."
Bodie points to the empirical evidence on this topic. "Every empirical study has found that participants of retirement plans totally lack the ability to really understand the nature of the risk that they face and make good decisions. All the attempts at education have been dismal failures", he claims.
"The whole premise of making investors out of ordinary people who just want to have a decent retirement is something the investment industry came up with. People want an insurance product, they don't want to become investors" - Zvi Bodie
For these reasons, Bodie argues that DC plans should be made as close as possible to DB plans. Yet he says there is one area where financial education is necessary and that is inflation.
"Individuals tend to choose nominal annuities over inflation-protected ones, despite the fact that the cost is the same, because nominal ones start higher," says Bodie.
But there are those in academia who strongly oppose these views. Among them is Annamaria Lusardi, professor of economics and accountancy at the George Washington University (GWU). She has spent her career fostering the efforts to increase financial literacy globally.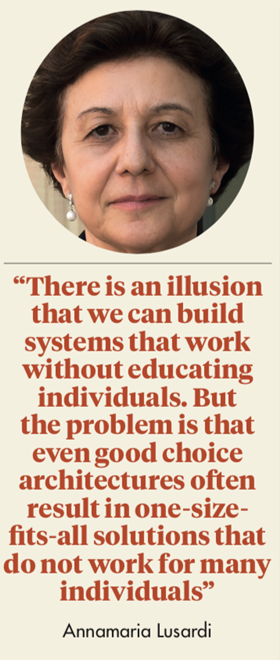 Lusardi is also the founder and academic director of the Global Financial Literacy Excellence Center at GWU and holds several institutional roles, including director of the Italy's Financial Education Committee. The committee was created by the country's finance ministry in 2017 together with the ministry of education and the ministry of economic development.
"We are not asking people to become Warren Buffett. But basic financial literacy is necessary for financial well-being" - Annamaria Lusardi
She argues that the policy drift towards DC pensions makes financial literacy essential. "Since we are asking individuals to become more responsible for their own retirement future it is critically important that they know the basic mechanisms by which DC pensions work," Lusardi says.
Lusardi is critical of the idea that a good choice architecture alone will be enough. She says: "There is an illusion that we can build systems that work without educating individuals. But the problem is that even good choice architectures often result in one-size-fits-all solutions that do not work for many individuals.
"The systems we have created are by no means crisis-proof. One example is the recent crisis. Policymakers in many countries have allowed people to cash in on their pensions, and people have done that. That does not look like a good architecture and shows people should have been educated on what was best for them to do.
"The idea that simplifying the structure of choices in DC pensions is always conducive to better results is optimistic."
Lusardi also raises the point that financial literacy should be viewed in the larger context of personal financial management, rather than simply a means for successful DC pension outcomes.
She points to two other examples. One is the growing burden represented by student loans in the US. This is in part being dealt with by parents, who are using their DC savings to help students pay off the debt. The other is the COVID-19 crisis, which caused people who are automatically enrolled in pensions to end up having little or no liquid savings to deal with the unexpected shock.
Lusardi says there is ample academic evidence that financial literacy helps towards overall financial health. In the context of DC savings, for instance, it equips people with an understanding that selling when markets plunge is detrimental to achieving long-term objectives.
The lack of financial literacy also represents a large cost at overall societal level, Lusardi points out.
"On the one hand," she says, "poor financial choices can lead people towards poverty, which then has to be dealt with by the welfare state. At the same time, there is an opportunity cost, in that growing pools of individual savings could be channelled towards more productive investments if people were more knowledgeable about investing."
The debate is bound to continue both at academic and policy level, but international organisations including the OECD and the European Commission are clearly promoting financial education. Lusardi points to the OECD's Programme for International Student Assessment (PISA).
Since 2012, the programme has included financial literacy among the list of topics that high-school students need to be familiar with to be able to participate in society. More recently, the OECD has issued a Recommendation on Financial Literacy.
"We are not asking people to become Warren Buffett. But basic financial literacy is necessary for financial well-being. For instance, individuals should become familiar with the importance of time when saving and learn to use time in their favour. That would prompt them to start saving for a pension at a much earlier age than they do at the moment," says Lusardi.
Defined contribution: The engagement fallacy
1

Currently reading

Defined contribution: The engagement fallacy

2

3