The European banking sector is moving into positive territory as the tough regulatory pressure of recent years levels off
The outperformance of US stocks relative to European counterparts has been one of the defining characteristics of global equity markets in the years since the global financial crisis. Despite a strong run for European equities in 2019, the US market has outperformed by more than 120% since 2010. The US has delivered superior earnings growth and a large factor for this has been the different sector weightings. Two sectors alone – US tech and European financials – account for close to half of this gap.
Key points
European financials have faced a decade of headwinds
Banks in Europe face a more hostile environment than US banks
There are clear distinctions between winners and losers
The European insurance sector has fared better than banking but its future may be tougher
Financials form a much higher weighting in Europe than the US, while Europe lacks a technology sector comparable to the US FAANG (Facebook, Amazon, Apple, Netflix and Alphabet, formerly known as Google) stocks.
Yet the worst may be over in terms of headwinds for the European financial sector, according to many managers. That could potentially bode well for investors in European equities as a whole.
The US is priced more expensively than Europe but, argues Kasper Elmgreen, head of equity at Amundi, technology stocks account for 24% of the US market compared with 6% in Europe. After adjusting for the different sector compositions, the valuation differences for many sectors such as consumer staples are not so pronounced.
The different environment for financial institutions in the two regions is one of the reasons Europe has underperformed the US, says George Barrow, a fund manager at Polar Capital. The relative underdevelopment of capital markets in Europe has proved a key hurdle for European banks compared with those in the US. Europeans have a more limited ability to securitise assets and there are consequently different balance sheet structures between the two banking systems.
In the US, mortgages are securitised off the balance sheet while higher margin loans are kept on. As a result, US banks' risk-adjusted margins are double those of European banks. That feeds through to higher multiples for US banks, which is combined with higher GDP growth leading to higher loan growth. "Europe needs to make progress in areas such as delivering capital markets union and a deposit guarantee fund which would help free up the balance sheets," says Barrow.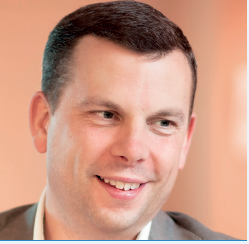 Europe's financial sector has been facing three powerful headwinds, says Maarten Geerdink, head of European equities at NN Investment Partners (NNIP). First, is the negative-interest-rate environment.
Second, is high regulatory pressures.
Third, there is the difficulty in cutting costs. IT systems still require investments to make banks future-proof and able to prosper in the new digital economy. These have led to low returns on equity below the cost of equity for the European financial sector.
However, the future looks more attractive for Europe's banking sector. The regulatory environment, which for years has been systematically increasing requirements for core capital requiring increases in equity risk capital, appears to have levelled off. "Regulations now seem to have reached a steady state cruising speed for banks," says Geerdink.
Negative interest rates are still around, so making money out of lending books is difficult but the trend is moving towards positive interest rates at the longer end of the yield curve. "Ten-year Bund yields like those of Japanese bonds, are inching into positive territory, which, while not enough, would be a clear improvement for the banks. European fund managers are still underweight banks and waiting for interest rates to hit 2% may be too late," Geerdink says.
Moreover, Elmgreen sees earnings growth between the US and Europe as converging while political risks are shifting from Europe to the US.
For bondholders, European banks look much better than before the crisis. As Elmgreen points out, solvency is about twice that pre-crisis, core tier-one equity capital is about 13%, banks have more deposits than loans. The regulatory environment for European banks is forcing them to take on a much more cautious approach. This means that balance sheet strength is strong for the sector. The converse of that, however, for equity holders is that bank profitability is extremely low. Does that make them a bad investment? Not necessarily so, Elmgreen argues. "A lot of the negative background is already reflected in share prices."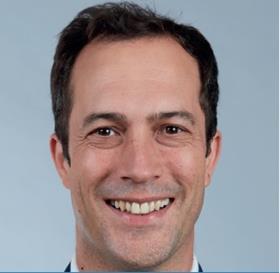 Kevin Thozet, a portfolio adviser at Carmignac agrees. The European bank universe does appear to be trading on relatively depressed multiples. "Price-earnings ratios are less than 10, while the price/book is below one, with 0.7 for financials in general and between 0.5 and 0.6 for banks," he says. "It is quite unusual to see companies and sectors trading below book value. Attractive valuations are also reflected in dividend yields above 5%."
The operating environment remains difficult, with negative interest rates and flat yield curves. However, Thorzet argues that the extent of pessimism means there is potential for upgrades on specific institutions. That is, not only interest rates potentially rising but also lesser regulatory pressure and a decrease in the cost of capital and the cost of credit in a low-default-rates environment. "Even though European banks are seeing low earnings growth, some could also see a lower cost of capital," Thorzet says.
Business models
If overall prospects for the European banking sector are improving, there are clear distinctions to be made between potential winners and losers in a world of low interest rates, low growth and increasing digitisation of economies. European banks are generally moving their business models towards less capital-intensive activities. Jaime Ramos, global equities portfolio manager at Aviva Investors, points out these generate better fees and are less affected by negative interest rates.
Additionally, and with varying degrees of success, banks have focused increasingly on efficiency to offset negative interest rates. "Success depends mostly on having the right business model and being present in markets that are structurally more profitable, which tend to be more concentrated," says Ramos. Adapting to the new world can be done but can raise immense political challenges. Nordic banks have managed to perform well but some have been troubled by scandals arising from operations in the Baltics have fallen foul of anti-money-laundering rules. Future success may require drastic changes.
Polar Capital is keen on Norway's DNB bank which has maintained its market share despite cutting its branch network by 80%, leaving only 60 branches in Norway: "They recognise that their value lies in their distribution capability and having the best app available. They see open banking and PSD2 (Payments Service Directive 2) as real opportunities," says Barrow.
Few other banks seem to have the same sense of urgency. New challenger banks are appearing with banks such as Monzo and Revolut, staring alongside older players such as Atom Bank and Metro Bank in the UK. It is unclear as yet whether any will achieve sufficient profitability to challenge the incumbents. "There is much disruption going on in the banking space, but I would not discount the ability of the traditional banks to counteract the appeal of their new competitors – some of the traditional banks are also very strong at digital as well," says Elmgreen.
But, as Barrow points out, most banks are still only going so far as to comply with regulations – the future winners will be those who see these developments as opportunities. By contrast, universal banks across multiple geographies such as HSBC have found that their requirements to improve their IT and compliance have offset cost savings made elsewhere.
Insurers less challenged
The European insurance sector has performed better than the banking sector since the global financial crisis. "While ROE [return on equity] has fallen for the banking sector it has been flat for P&C [property and casualty insurance] companies despite the low-interest-rate environment," says Elmgreen of Amundi. Low interest rates have proved to be a particularly severe challenge for life insurers, whose products in the past had relied on guaranteed minimum returns.
Regulators appear to be trying to mitigate the problems but, as Thozet argues, there are no good solutions for the time being for relieving the impact of low bond yields, notably on long-dated bonds.
The industry is facing existential issues relating to setting future strategy but there is no clear consensus as to what direction to take. They have a future and there is a place for their products as people need to have some kind of investment opportunities available to help them face the future in a more uncertain world," says NNIP's Geerdink.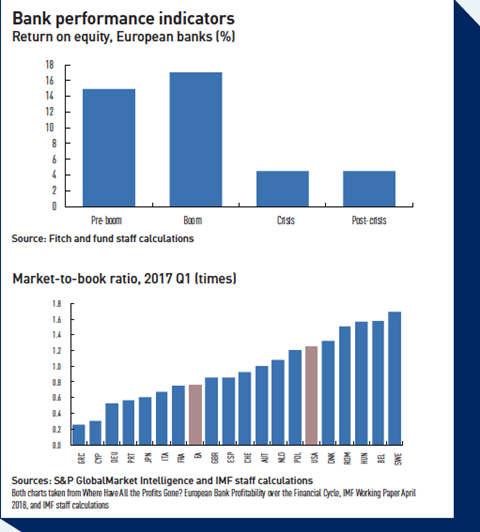 P&C companies generally, by contrast, have been able to adapt better by adjusting premiums and focusing more on generating underwriting profits without having to make investment gains on top. Reinsurers have also suffered as, in the search for yield, investors have piled into alternative risk-transfer structures such as catastrophe bonds, driving down returns on capital in the sector, says Amundi's Elmgreen.
It is telling, though, that Polar has much higher exposures to US insurance companies than European, and Carmignac has no European insurance companies in its equity portfolios at all. "We believe on the European banking side that we could see lesser headwinds, and we can find some specific investment opportunities, but there it is less the case in the insurance sector," says Thozet at Carmignac. The US financial sector as a whole, it appears, might not be as exciting as the US tech sector but it still looks able to outperform its European competitors.
Equities: Innovation frenzy in race for survival
1

2

Currently reading

Equities: European banks see light ahead

3