The first ETF in Europe that focused on environmental, social and governance (ESG) factors was launched by iShares in 2006.
But with European legislation requiring asset managers to disclose how they integrate ESG into their risk management and investment processes from 2021, the sector has exploded. The number of ESG ETFs has grown nearly tenfold in the last five years, with 288 ESG ETFs by the end of June 2020, compared with 32 in 2015. Assets under management in these funds have also grown from 0.23% of the total European ETF market to 5.19% (€43bn) over the same period, according to data from Lipper.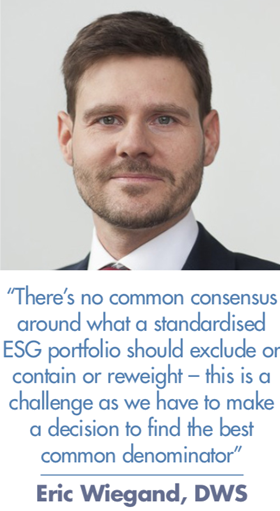 "A lot of companies are building towards integrating sustainable or ESG criteria within their investment processes – and so is the ETF industry," says Detlef Glow, head of Refinitiv Lipper EMEA research.
More products does not equal good stewardship
iShares outlined in its latest sustainability commitment report plans to expand its global ESG ETF range to 105 products by the time this supplement is published, branching out into newer segments of the market like Mexican equities and minimum volatility.
More competition means prices have lowered, too. Lipper also found that the average annual fee of an ESG ETF in Europe is just 0.18% for bonds and 0.24% for equities, which is 0.03% and 0.11% cheaper than their non-ESG counterparts respectively.
However, cheaper and more prolific doesn't always mean better stewardship. A recent report from ShareAction found that 89% of the 75 largest asset managers in the world offer a range of ESG products, which includes ETF providers, but states: "No significant correlation has been found between asset managers' overall responsible investment performance and the breadth of their ESG product suite".
Asset managers ramp up corporate engagement
That is not to say that the larger asset managers are not doing good things. For example, increasing staff in their stewardship teams, increasing engagement with the companies they invest in and even voting against management. BlackRock revealed it had taken voting action against 53 companies in the year to 30 June, which equates to 22% of the portfolio companies it found to not be "adequately managing and disclosing sustainability-related risks". It has also bulked up its investment stewardship team from 26 to 45 people since 2017.
"As a provider of index funds and ETFs, our clients are long-term investors and investment stewardship is how we use our voice as a shareholder on our clients' behalf," says Amra Balic, head of BlackRock investment stewardship, EMEA. "Through company disclosures and engagement, we seek to understand a company's strategy, business model and performance including how they are managing and reporting on material ESG risks."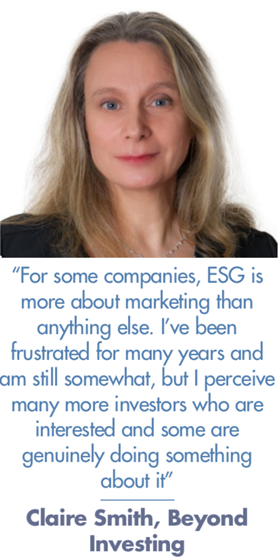 UBS, which has, according to Morningstar research, Europe's largest range of SRI ETFs, voted on more than 10,000 meetings in 2019, as well as over 100,000 resolutions, and voted against management in 17% of cases. Using a voting proxy firm allows an ETF provider to vote automatically at countless AGMs, in line with its own policies, and sometimes a particularly important or controversial resolution is analysed in-house before the vote is cast.
The right to vote has been aided by the largest index providers. If companies want to be listed on FTSE Russell indexes, they have to give 5% voting rights to public shareholders by 2022. S&P Dow Jones decided in 2017 to no longer allow any new stock to be listed on any index within its S&P Composite 1500 index family if it had limited voting rights. And in 2019, MSCI created a set of mirror indices which specifically included voting rights.
Indeed, ShareAction's report emphasised that being a passive investor was not a barrier to responsible investment. It also stated that passive fund providers could cultivate their credibility on stewardship as a key competitive differentiator.
Eric Wiegand, head of passive sales strategy Europe & Asia Pacific at DWS, emphasised how a large asset manager can use its weight to bring about change.
"If an investor buys a share, it doesn't matter in which portfolio that stock sits [active, passive or ESG]. The same stock will have the same voting rights, and we pool across all our portfolios to vote," he says.
He said DWS also plans to up its current number of half a dozen ESG ETFs in Europe, but they have taken a more "cautious, wait and see" approach so far. In the meantime, he said DWS was one of the first signatories of the United Nations' Principles for Responsible Investment.
"We've always had corporate governance at the heart of what we do but we've not always shouted about it," he says.
The 'S' in ESG
While research shows over half the sustainable funds in Europe are focused on climate change, ETF providers are paying more attention to social issues too, such as gender diversity, equal pay and sexual harassment. State Street Global Advisors' 'Fearless Girl' campaign in 2017 identified 1,350 portfolio companies that did not have a female director, and as of June 2019, 43% of them have added a woman or committed to doing so.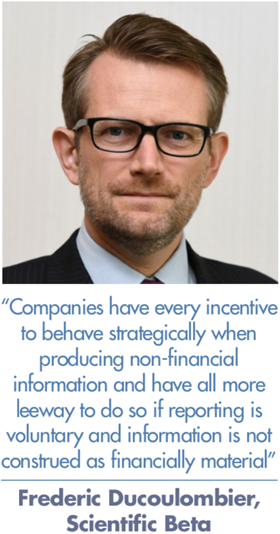 A corporate policy to tackle sexual harassment is also one of 19 criteria which social enterprise Equileap analyses and which contributes to the Solactive indexes that underlie ETFs such as the UBS Global Gender Equality ETF (GENDER) and the Lyxor Global Gender Equality ETF (ELLE), which have over $220m (€187m) AUM between them.
Stewards need better data
One issue that has always plagued ETF providers, no matter their size, is a lack of concrete definition for ESG, which may partly explain why ESG ETFs remain only around 5% of total Europe ETF assets.
"There's no common consensus around what a standardised ESG portfolio should exclude or contain or reweight – this is a challenge as we have to make a decision to find the best common denominator," says Wiegand. "If you can't do that within an ESG product, as every client wants a different angle, you can't build a scalable product."
In recent years, a plethora of ESG ratings have sprung up, allowing investors to make their own decisions – and not just for an ESG ETF, but also judging, say, the carbon footprint of an S&P 500 ETF.
One critic of ESG ratings is Frederic Ducoulombier, ESG director at Scientific Beta, who questions how much we can really know if we rely on companies to disclose data, which is the traditional model.
"Companies have every incentive to behave strategically when producing non-financial information and have all more leeway to do so if reporting is voluntary and information is not construed as financially material," he says.
The statistics validate his concern. According to a recent report from the Global Sustainable Investment Alliance, 59% of industry respondents were either "very" or "somewhat" dissatisfied with the level of climate-related disclosure from publicly traded companies. A worrying 87% of respondents believe that markets are not consistently or correctly pricing ESG risks into company and sector valuations.
The future of ESG
Some ETF providers are building a business from the bottom up with ESG in mind. One example comes from the US: a company called Beyond Investing aims to avoid all fossil fuels and animal exploitation, and it launched the world's first vegan ETF (ticker VEGN) in 2019.
"Our fund scores well on greenhouse gases, waste generation and fresh water utilisation, which is about 5% that of the S&P 500 index," says Beyond Investing co-founder and CEO Claire Smith.
The VEGN ETF has $22m in assets at the time of writing and invests in just over half the number of stocks compared to the S&P 500.
"With the best will in the world I'd love there to be multi-billion-dollar market cap vegan product companies, but you have to work with what you've got," says Smith.
She adds: "For some companies, ESG is more about marketing than anything else. I've been frustrated for many years and am still somewhat, but I perceive many more investors who are interested and some are genuinely doing something about it."