Proposals designed to strengthen the Estonian first pillar are proving controversial
Key points

Legislation making the second pillar voluntary is going through parliament
Members would be able to withdraw funds before retirement
Critics predict higher taxes and a shrinking pensions industry
In December 2019, the Estonian parliament (Riigikogu) passed the first reading of a pensions reform bill designed to reduce the second-pillar pension system.
The proposals were included as part of the coalition agreement between the Centre Party, Conservative People's Party of Estonia (EKRE) and Isamaa. They are intended to boost the state pension system while making the second pillar more competitive in order to improve returns and cut fees.
The second pillar, with over 700,000 participants, is funded by mandatory employee contributions of 2% of salary, together with 4% from Estonia's employer-funded social insurance tax.
The proposals make the second pillar voluntary, a move which has provoked criticism.
Participants will still be able to invest into second-pillar funds if they wish, but those in the system can choose to leave, keeping their existing savings in the fund. People not in the system can still join.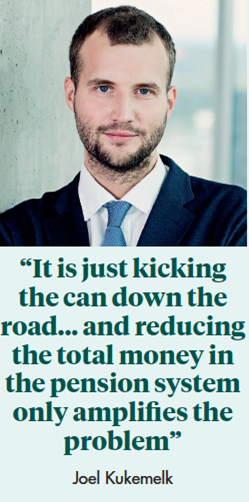 It will also become possible for second-pillar participants to transfer existing savings to a personal investment account (PIK), in which returns are reinvested tax-free. Under this arrangement, savers can choose their own investments, becoming their own fund manager.
Meanwhile individuals will be able to withdraw their accumulated savings from the fund. They then have the option of rejoining the scheme after 10 years.
Those who rejoin may leave the scheme for a second time, but only after contributing for a further 10 years. They will not be able to rejoin a second time.
Individuals who choose to withdraw funds have to take out the entire amount. If this is below €10,000, it will be paid as a single lump sum. For larger amounts, there will be three instalments over a year.
Withdrawals before retirement will be subject to 20% income tax. The government has said the reforms could, over the long term, add to state revenues, as well as creating a short-term boost in income tax and value-added tax revenues.
They are also intended to bring about an increase in state pensions for those individuals leaving the second pillar, since the corresponding 4% social insurance contribution will be channelled into the first pillar.
The bill is scheduled for its second and third readings in January or February. The proposed timeline is to enable people to apply to withdraw from July 2020, with funds to be paid out from 2021.
Criticism of the changes has been fierce. The Bank of Estonia found that making funded pensions voluntary could mean a reduction in the future state pension, and therefore pressure to raise taxes.
Meanwhile, the OECD has called for reconsideration. Its Economic Outlook published in November said: "A significant share of households, notably those with relatively low incomes and high propensity to consume, are expected to tap into pension savings, supporting consumption from 2021, but this risks feeding macro-economic volatility in the short term and increasing old-age poverty from already high levels in the long term."
Several surveys suggest that between 25% and 50% of second-pillar participants would leave if the changes were enacted, although these figures are not reliable, since the exact shape of the planned system has not yet been determined.
Based on these numbers, some guesstimates suggest that about €2bn-worth of equities, bonds and exchange-traded funds (ETFs) would have to be sold in the course of three to four months sometime in 2020 or 2021, as a result of withdrawals.
"This will not have any effect whatsoever on financial markets," says Arnolds Čulkstēns, head of life and pensions in the Baltic region at SEB. "But, local Estonian and Baltic companies will be affected, when future financial backing from pension funds is reduced significantly. Pension funds will restructure their investments into more liquid assets in order to meet the demands of people taking out their money."
He also warns of the potential negative effects on future pensioners and the system in general: "According to research, most people planning to take out the money would use it for consumption, creating considerable social budget challenges going forward, as it will lower pension savings for future pensioners."
As for pension savings in total, he says the overall effect will be negative: a significant part of pension assets will be sold, with a high risk that second-pillar savings will not migrate to other investments.
"Pension funds and the industry are likely to be downsized, and development plans slowed down or put on hold," says Čulkstēns. "Downsized pension funds and those sensitive to client outflow will not be able to afford illiquid – mostly domestic – investment opportunities to the extent they did before. As a result, a larger portion of the portfolios will be invested in liquid global markets."
He suggests this could possibly strengthen the role of Latvian and Lithuanian pension funds in local Baltic capital markets. And he adds: "We estimate that the reforms will reduce the chances of new competitors entering the second-pillar funds market."
"Pension funds are essentially the only institutional local investor in Estonia," agrees Joel Kukemelk, member of the management board, LHV Asset Management. "This will have a negative effect on Estonian pension industry and the capital markets."
Furthermore, he does not see the reforms boosting local businesses, saying they could create swings in economic growth. "When people take out their pension money in 2021 and consume it, then this will benefit the economic climate," he warns. "But next year there will be a hangover."
He doubts the reforms will make the first-pillar system more sustainable. "Essentially, it means that future pensioners' money is being used to pay out larger pensions today," he says. "It is just kicking the can down the road. Demographic challenges are looming, and reducing the total money in the pension system only amplifies the problem."
But it is possible the reforms will not reach the statute book without substantial revisions.
Once passed by parliament, they must be enacted by the president. And at present there are multiple legal opinions in circulation claiming that significant conflicts still exist between the proposals and the Estonian constitution.
Poland: Auto-enrolment off to a slow start
1

2

3

Currently reading

Estonia: Reforms face opposition

4

5