Sponsored content from Nikko Asset Management
The Japanese economy has been experiencing significant and positive change since the election of Prime Minister Shinzo Abe in 2012. After a sustained period of economic stagnation, Japan's return to growth is being fuelled by Abe's transformative economic policies.
ETFs can provide a cost-effective and efficient way of capturing this growth. However, investors may wonder how an index-tracking ETF can take environmental, social and governance (ESG) considerations into account.
To answer this question, it is important to understand Japan's corporate governance history and culture, and a particular push for change in recent years.
Japanese Corporate Culture
During the post-war era, Japan's economy was largely led by corporate banks under protective measures such as cross-shareholdings, and the repayment of debt was traditionally prioritised over returns on equity (ROE) and dividend pay-outs.
Japanese companies tend to have significantly more cash on their balance sheets than those in other countries, and they are more reluctant to distribute this cash to shareholders. When coupled with the cross-shareholding culture, where companies (particularly in financial services) hold the shares of other firms for reasons of business relationships, this can lead to management complacency.
An example is when Japanese companies uniformly set a dividend payout ratio of 30% and a total payout ratio (including buybacks) of 50%, regardless of an individual company's earnings growth. In aggregate, this results in lower ROE and a less attractive investment case.
Stewardship Code and Corporate Governance Code
To help improve companies' attractiveness to outside investors, Abe introduced the Stewardship Code and Corporate Governance Code, in 2014 and 2015 respectively.
These codes have the dual aim of altering company behaviour and boosting the Japanese equity market. The aim is to ensure that shareholder returns are prioritised by reducing cross-shareholdings, enhancing capital efficiency, increasing governance and distributing excess cash on balance sheets. The Stewardship Code has since been revised to strengthen it further, with companies now urged to disclose details of proxy votes.
According to a survey conducted by METI (Ministry of Economy, Trade and Industry), approximately 78% of Japanese companies had soudanyaku or komon (senior adviser) positions as of June 2016.
We believe CEOs should have ultimate responsibility in making decisions, not advisers (ie, former CEOs) working behind the scenes. Since the revision of the code, there has been a focus on the unwinding of cross-shareholdings, enhanced board committees and greater engagement by corporate pension funds. Figure 1 shows how the overall cross-shareholding ratio in Japan has fallen since 1990.
The revised Stewardship Code focuses on five key points:
● Effective oversight by asset owners;
● Asset managers' governance and management of their conflicts of interest;
● Engagement in passive management;
● Enhanced disclosure of voting records;
● Self-evaluation of asset managers.
The engagement policies of passive (index-tracking) asset managers deserve particular attention, for a few reasons. The Bank of Japan (BoJ) is now the largest holder of Japan-domiciled ETFs as part of its ETF purchasing programme. Many believe that this in itself has distorted the governance of Japanese companies. However, it's important to note that asset managers continue to manage the proxy voting rights for the ETFs owned by the BoJ.
Active engagement in passive holdings
Choosing the right ETF provider is of great importance when it comes to corporate governance and active engagement. ETFs will in many cases be chosen by investors as a cost-effective means of gaining exposure to a particular asset class or sector over the long term.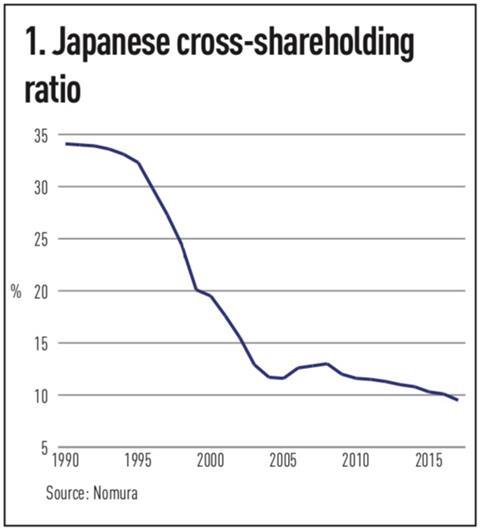 While it is easy for an active manager to dispose of a stock if dissatisfied with a company's management, this is not an option if a fund tracks a market index.
So passive funds require a deeper level of due diligence and it is important to choose an ETF provider that has a transparent policy when engaging with firms and exercising voting rights. Whether conducted in-house or through proxy voting agencies, there must be a clear policy.
Nikko Asset Management has addressed this by forming a team of in-house analysts (the Active Ownership Group), who are responsible for engagement with the companies Nikko AM holds in both active and passive funds.
The goal is to engage with all the companies held and also to enhance the shareholder value of these companies. The analysts in the Active Ownership Group specialise in determining how to exercise voting rights. They conduct governance meetings with the companies currently held, but also with those companies which are not covered in the core research universe.
Proxy voting rights are an important means through which shareholders can increase investee companies' medium to long-term corporate value. They should be exercised independently and solely in the interests of clients and beneficiaries in order to fulfil fiduciary responsibilities.
If an ETF provider conducts voting in-house, it is important to understand how the provider has voted historically. One that consistently votes in favour of management's proposals should be approached with caution and questioned.
A Japanese Index with strong corporate governance
The JPX-Nikkei 400 index, introduced in 2014, selects and allocates larger weightings to Japanese companies showing good corporate behaviour, based on quantitative and qualitative governance factors.
Stocks are given a score based on ROE (40%), three-year operating profits (40%) and market capitalisation (20%). The qualitative score takes into account the number of independent directors, the adoption of IFRS reporting standards and earnings being reported in English.
The JPX-Nikkei 400 has developed the nickname 'the shame index' and it has gained traction as companies not included during index constituent reviews feel public pressure to improve their corporate behaviour.
The future for Japanese equities and governance
Whilst there is still room for improvements in Japanese corporate culture, there is growing evidence that governance has significantly improved and this change is driving an increase in profitability. We believe that this transformation will lead to a global recognition and a larger portfolio allocation to Japan by investors worldwide.