Sponsored content from Amundi
ESG investing – the incorporation of environmental, social and governance (ESG) factors into investment criteria – has grown rapidly in recent years.
With it, approaches to ESG investing have also evolved considerably. In the past, investors and asset owners viewed ESG as a constraint to portfolio performance. Now they see it as a way to enhance performance and add alpha.
Banks and asset managers have created a wide range of passive ESG solutions for investors of differing sizes, maturities and risk appetites. The early adopters may have been in Europe and North America, but there is also considerable growth now in Asia.
Why are investors taking a more responsible approach to investing?
Investors have a number of reasons for integrating ESG factors into their portfolios. Some are motivated by a sense of responsibility, and deploy their assets to encourage companies to adopt responsible business practices. Others believe this approach could help enhance performance by reducing the impact of climate change or poor governance.
Whatever the motivation, professional investors around the world are increasingly committing to ESG. Some 1,900 institutions worldwide have signed up to the UN-backed Principles for Responsible Investing. This represents over $70trn of assets under management.
Why data provides the key for further growth
While the relationship between higher ESG scores and better performance sounds plausible, proving it requires high-quality and consistent data. Traditionally, ESG data has been fraught with inconsistency as the defining characteristics were too new, or were not clearly defined.
However, the amount and quality of data has improved dramatically over the last five years. Amundi, for example, has a long history in responsible asset management, and is keenly aware of how a particular ESG risk can translate into a long-term financial risk for a company: for example, managing carbon emissions for a utility company, or governance issues for a bank.
To better assess ESG risk, we have analysed more than 5,500 global companies and hold data going back to 2010. By marking each company according to each ESG characteristic, we can provide an overall ESG score for every company in its database. This gives us a robust platform to assess the true impact of ESG criteria on the performance of a portfolio.
Positive relationship between ESG factors and performance
Our analysis (see figure 1) found that between 2010 and 2013, tilting a portfolio towards stocks with a high ESG rating had a slightly negative impact on performance, whatever the region. However, from 2014–17, ESG factors were a source of outperformance in both Europe and North America.
If an investor had bought the top quintile of ESG stocks and sold the bottom quintile, they would have generated an annualised return of 3.3% in North America and 6.6% in the euro-zone during this period. But between 2010 and 2013, they would have underperformed by –2.7% and –1.2%, respectively.
The data also shows that the environmental factor was most responsible for outperformance in North America and the governance characteristic performed the strongest in the euro-zone. In general, ESG characteristics were a greater contributor to outperformance in the euro-zone than in the US.
The analysis shows ESG has become a risk factor, particularly in Europe. In other words, those companies with high ESG scores tend also to be characterised as 'high-quality' stocks. Over the long run, these stocks tend to deliver excess returns. At the same time, there has been increased allocation of capital in recent years to equities with a high ESG score, so this could also help to explain the strong performance of these stocks.
Integrating ESG into a passive portfolio
While investors have often preferred an active approach to ESG, as they believe it is better at selecting the required investment characteristics, research from Amundi shows that a passive approach can be just as effective.
There are two options available to investors in passive funds or products: they can either buy a product which tracks an index that is specifically designed around ESG criteria, or they can ask a passive manager to integrate ESG screens into a standard index. In other words, the index manager will tilt the portfolio towards a specific ESG outcome. This allows the client to take a bespoke approach to these factors.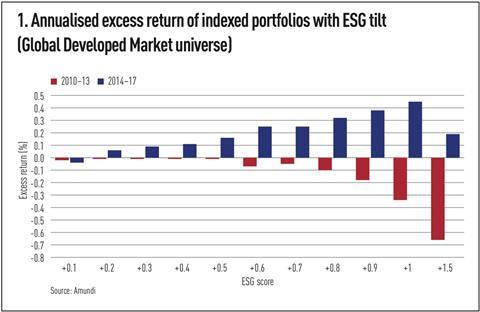 For example, the portfolio could exclude certain stocks to reflect the investor's stated philosophy when replicating the index. Or it could have a more complex objective, such as, for instance, improving the overall ESG score while also reducing the carbon footprint of the portfolio and improving the overall exposure to green technologies.
The bespoke ESG approach to passive investment
Improved accuracy and increased datasets give Amundi and other asset managers the ability to offer more customised solutions to clients. However, investors need to be aware that the more complex they make their requirements, the greater the tracking error to the benchmark market index will be. If the goal of the passive portfolio is to match the performance of a particular index, then investors will want to match the benchmark as closely as possible.
It is, however, possible to achieve a significant improvement in the ESG characteristics of a passive portfolio. With limited additional tracking error, investors can improve the portfolio's overall ESG scores, reduce its carbon footprint and increase the influence of green technologies.
Some investors have specific ESG requirements to ensure their portfolios fit with their individual strategies. Amundi's approach to this is to gradually layer ESG criteria into the passive elements of the portfolio.
For example, this involves the phased implementation of an exclusion policy towards companies that produce prohibited anti-personnel mines and cluster bombs. This usually adds a small amount of tracking error. The next step is to incorporate other layers of ESG. We can either work with the client's list of companies it wishes to exclude or we can use Amundi research to analyse the client's ESG policy, excluding companies on that basis.
As an additional layer of customisation, Amundi can work with the client's own tracking error budget. We will work within this range to help the client reach its ESG targets. The latter may involve reducing the portfolio's fossil fuel footprint by removing coal mining companies, for example. A social target could be the exclusion of tobacco firms or arms producers. There are many optimisation techniques that we can apply using the ESG data now available.
Taking a more off-the-shelf approach
For those who do not have their own specific criteria to follow, the off-the-shelf approach may be more suitable. The breadth and quality of ESG data in the market means that index providers can now respond to investor demand by producing more sophisticated indices.
For example, MSCI has used its large ESG data services to develop its socially responsible investment (SRI) index range, which was selected by Amundi as the benchmark for its equity (MSCI US SRI, MSCI Europe SRI, MSCI World SRI and MSCI Emerging Markets SRI indices) and fixed income SRI ETF range.
The methodology of the MSCI SRI index excludes stocks which are known as 'ESG controversies'. That includes those firms which are in breach of international norms, such as the UN Global Compact. The benchmark also excludes stocks participating in 'controversial activities', such as firms involved in the manufacturing of civilian firearms, conventional weapons, gambling, genetically modified organisms, nuclear power, tobacco, alcohol, thermal coal or adult entertainment.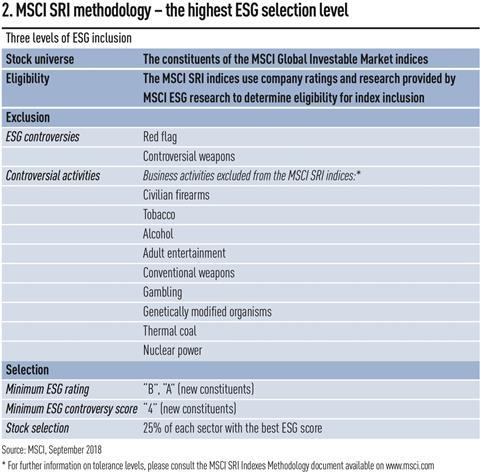 The remaining stocks are only included in the index if they meet the minimum ESG rating criteria. Taking the remaining stocks, each sector is then built using only the top scoring 25% of stocks. As a result, the index narrows the investable universe to around 400 stocks with the highest ESG ratings, from a starting total of 1,600 in the case of the MSCI World index.
A more responsible approach to bond investing
It's possible to apply similar investment criteria to corporate bond indices. Not only does this make sense as it helps to identify more specific factors which could impact a company's credit risk, but it also allows investors to take a consistent approach across their portfolio.
Amundi's SRI ETF range includes three bond ETFs using the Bloomberg Barclays MSCI US Corporate SRI, Bloomberg Barclays MSCI Euro Corporate SRI and Bloomberg Barclays MSCI Euro Corporate ESG BB+ Sustainability SRI 0-3 indices. These benchmarks combine Bloomberg's and Barclays' expertise in corporate bonds with MSCI's ESG research capabilities, offering investors a way to invest responsibly in the corporate bond markets of Europe and the US.
Like their equity counterparts, these indices do not invest in companies involved in alcohol, civilian firearms, gambling, military weapons, nuclear power, tobacco, thermal coal, adult entertainment, and genetically modified organisms. They also use a 'controversial activities' filter and a minimum ESG score to filter out unwanted companies. Despite excluding companies, MSCI's approach has a very low level of tracking error compared to reference benchmarks. This makes it possible to use these ETFs as a core allocation.
Is passive just too passive?
In the different passive solutions it provides, Amundi has found that voting and engagement are two important levers it can use to deliver both ESG adherence and portfolio growth. In passive investing, a portfolio manager does not have the same power as an active manager to influence how the companies they invest in are managed. Voting is one of the opportunities passive managers have to exert such influence.
Amundi's approach is to have a dedicated team to manage voting and engagement in both active and passive portfolios. Managers of invested companies become more open to outside views when they see Amundi bringing both active and passive teams into the discussion.
All these developments – especially the ability to incorporate ESG data into portfolios – mark a turning point in passive approaches to ESG investing. When we see how passive investing has grown in the US and Europe, it's clear what's ahead. We've proven that we're able to significantly improve the ESG score of a portfolio, while reducing the tracking error. This is helping to create a virtuous circle of ESG investing.