The first investors are already applying the EU's green taxonomy but there are questions about the applicability of the Ecolabel to ESG funds
Key points
New EU green taxonomy can be employed to screen, engage and build new funds
German government uses taxonomy to raise awareness
5% of EU insurance investments are aligned with taxonomy
Many ESG fund managers are wary of over reliance
Further definitions for less sustainable industries will complete the taxonomy
An intriguing nugget can be unearthed from the EU insurance supervisor's recent financial stability report. Released in July 2020 by the European Insurance and Occupational Pensions Authority (EIOPA), it reveals that 13% of equities invested by insurance companies match the European Commission's new 'green' taxonomy, which first classified climate-friendly assets in March (see figure).
When other types of insurance assets are considered, the proportion aligning with the taxonomy falls to 5% owing to the lower share of climate-friendly bond investments, which amount to 6%. EIOPA analysed 213,495 individual reported assets with a combined value of €11.4trn.
Should these findings ring alarm bells? Nobody knows yet. Perhaps – since EIOPA's comparable figure for the automotive, coal, oil and gas, and power generating industries is three times as high, at around 15% – they show a worrying shortfall for investment in cleaner industries.
However, EIOPA's designation for carbon-intensive sectors differs from those excluded by the taxonomy, requiring further investigation; the amount the insurance industry should be investing in cleaner sectors to reach EU climate targets is not defined. Nevertheless, the assessment at least sets a baseline using metrics that can be compared with other financial sectors to track the advance of investors as a whole in greener industrial activity.
Assessing taxonomy alignment for climate change mitigation
• Company's products and services meet the climate mitigation objective
• Eligible activities meet the technical screening criteria
• Company or issuer meets 'do no significant harm' criteria
• Company or issuer meets ILO Core Labour Practices
With its standardised definitions across the economy, the green taxonomy provides a single beacon from the regulator for such comparisons in a sea of previously shifting parameters. Discoveries such as these set clear milestones for financial sector progress because of the taxonomy's consistency.
As Steffen Hoerter, global head of ESG at Allianz Global Investors, points out, such comparisons have previously been obstructed by differing assumptions. "The taxonomy avoids excessive reliance on third-party data providers using diverging ESG models to analyse portfolios," he says.
By eliminating controversial segments such as nuclear and hydropower, the technical expert group charged with advising on the taxonomy had to make nuanced judgements. Nevertheless, agreement between investors on the least efficient fossil fuel sectors ought to be easy on the basis of carbon emissions. This is not the case, according to Steffen Hoerter. "I don't think everyone knows what is unsustainable. Involvement of academia and neutral experts is key to ensure a science-based approach to trajectories" he says.
Using the green taxonomy, governmental organisations and public investment banks can set an example by reducing exposure to industries that do not qualify, thus providing clear signals to private investors pitching for public/private projects. "If used for the EU recovery packages such as the European Commission proposal published in May 2020, the taxonomy can be employed to guide public investment in line with the Paris Agreement on climate change," notes Alyssa Heath, head of EU and UK policy at advocacy group Principles for Responsible Investment (PRI).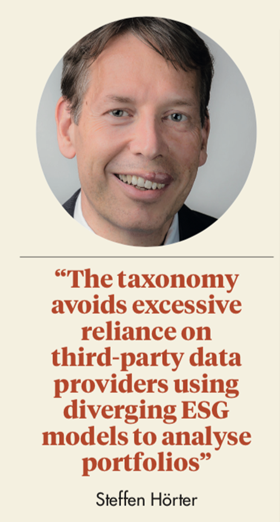 The German government is an obvious leader here. Just as the German cabinet approved a law phasing out coal by 2035, the environment ministry was surveying German assets aligned with the green taxonomy as part of a due diligence exercise prior to its EU Council presidency. Ministry sources draw attention to several objectives achieved by the survey.
"We wanted to show to what extent company activities already correspond to the EU taxonomy and to highlight the challenges and solutions in the further development of the EU taxonomy. Financial companies will be asked, for example, to indicate how many of their products are aligned with the EU taxonomy, and what financing they offer that supports mitigation or adaptation to climate change," a ministry spokesperson says.
However, the ministry also indicated another benefit, as the survey aims to strengthen "awareness in businesses and banks of the need for capacity building for the EU taxonomy".
Finance tackles the taxonomy
Meanwhile, the taxonomy provides a good opportunity to show off. For example, private equity firm Foresight Energy Infrastructure Partners (FEIP), based in Sweden, announced in July that it had obtained independent third-party EU taxonomy validation for its 231 MW onshore wind project at Skaftåsen, central Sweden. The company says it aims to be one of the first fully EU taxonomy-compliant investment funds.
Plenty of fund managers are also screening the current ESG credentials of their funds using the first generation of the taxonomy, which concentrates on climate-friendliness. Running through a list of possible stocks, Morgan Stanley identified 94 corporations out of a sustainability database of almost 1,300 that are potentially eligible, with revenues that meet the current taxonomy guidance for climate change mitigation.
Its list includes a range of industrial manufacturers in the automotive, chemicals and electricals sector, for example, as well as sectors such as real estate and ICT, and one oil and gas company.
Likewise, the Frankfurt School of Climate and Finance carried out a test run for the European Commission, considering the draft EU 'Ecolabel' for financial products. The aim was to apply the draft criteria to a sample of 101 'green' equity funds domiciled in the EU 27. Using the EU climate change mitigation environmental objective, the analysts examine the share of revenues of these funds' constituents that is aligned with the taxonomy.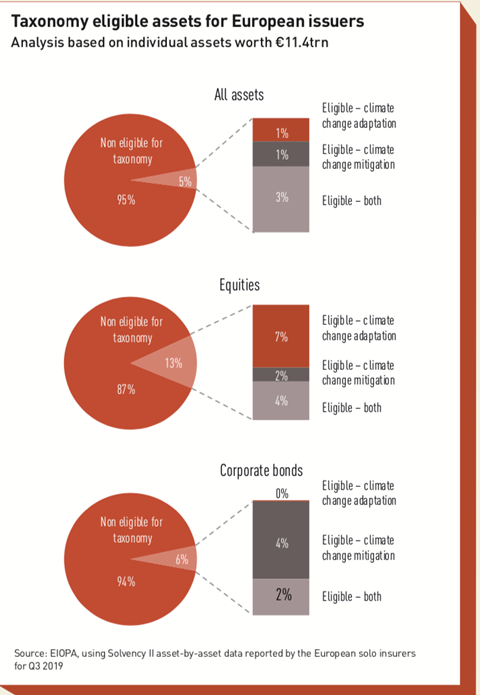 The results, released in June 2020, show that just three 'green' equity funds from the sample qualified under draft Ecolabel criterion I. ESG fund managers across Europe have derided these findings, claiming the taxonomy is too strict to be of use. Such assessments are still at an early stage. As the researchers point out, many such equity funds are not yet disclosing sufficient facts allowing comparison against the criteria because relevant disclosure rules have not yet taken effect.
But the taxonomy plays another key role, as Steffen Hoerter points out. "Most corporations are not on the net-zero pathway. One of the major applications of the taxonomy is as a broader portfolio-transition tool to engage with stocks on compliance, disclosure and transformation," he says.
The new taxonomy means re-assembling existing data in predictable form, while also providing an opportunity to build funds from scratch once new data emerge from improved disclosures.
The uniform definition of green may currently restrict asset managers promoting ESG funds, reducing the range of funds that qualify. However, the emergence of better-performing technologies to improve efficiency, for example, could provide new opportunities. "There are thresholds in the taxonomy but how you reach them is not specified. You set absolute performance benchmarks but any innovative technology that meets these can qualify," says PRI's Heath.
"If used for the EU recovery packages such as the European Commission proposal published in May, the taxonomy can be employed to guide public investment in line with the Paris Agreement on climate change" - Alyssa Heath
Many asset managers have been warning against over-reliance on the tool, however. It has to be used alongside conventional risk-based analysis and stewardship, says Bill Hartnett, ESG investment director at Aberdeen Standard Investments. "Taxonomy criteria including revenue thresholds based on carbon intensity tell an incomplete story," he says.
EU sustainable finance: Impact uncertain
1

2

3

Currently reading

EU sustainable finance: Tentative steps on green classification

4