New EU sustainability reporting requirements for investors could drive companies to improve disclosures. But making the new standards useful for end-investors could still be a challenge
Key points
European supervisors have proposed a template for harmonised reporting on adverse sustainability impacts arising from investment decisions
Mandatory templates are also in the pipeline for pre-contractual and period disclosures for two types of sustainability-related funds
There is widespread support for the goals behind the rules on sustainable finance disclosure (SFDR)
But there are concerns about data gaps, excess disclosure, and misleading retail investors
It may well work out brilliantly, but as it stands the regulatory package that is emerging from the European Commission's sustainable finance action plan can seem a bit of a mess.
It is certainly complex. Institutional investors are most directly affected by the disclosure regime that is being put in place, although there are concerns that two separate regimes are developing. Pensioenfederatie, the Dutch pension fund association, for example, has called for the rules for the so-called sustainable finance disclosure regulation (SFDR) to build on the EU taxonomy, rather than create a parallel system.
Adopted last year, the SFDR is trying to establish harmonised investor ESG disclosure standards with a view to combatting 'greenwashing' and holding financial intermediaries to account on what they do for the planet.
One of the most notable features of the SFDR is the introduction of a requirement for investors to disclose "principal adverse impacts of their investment decisions on sustainability factors".
Verena Ross, the executive director of EU financial markets watchdog ESMA, has described this as "a ground-breaking transparency initiative".
ESMA and the other two European supervisory authorities (ESAs) are responsible for setting the rules about the detail of the disclosures required by the SFDR. These are known as regulatory technical standards (RTS) and define "the content, methodology and presentation" of the disclosures, which are at entity and product level.
The ESAs unveiled the draft RTSs in April and the consultation on them was set to close on 1 September. More than 1,200 people signed up to attend an online public hearing about the proposals in early July, with ESMA's Ross saying the registrations showed "just how important this topic is in Europe".
Of particular interest are the proposals about principal-adverse impact reporting. The ESAs have proposed a template for harmonised reporting, which foresees mandatory reporting on 32 indicators, 16 of them environment- and climate-related and 16 relating to social and employee matters, that the ESAs have said always represent adverse impacts. There are also 18 'opt-in' indicators from which at least two must be chosen to report against, one environmental and one social.
Under the SFDR, financial market participants – a broad range of entities including asset managers and pension funds – with more than 500 employees will have to provide this adverse-impact reporting. Financial market participants with fewer than 500 employees do not have to provide these disclosures if they do not consider these adverse impacts, but then they have to explain why not.
One concern about the disclosure requirements has to do with the misalignment with the data that is available about companies' ESG performance.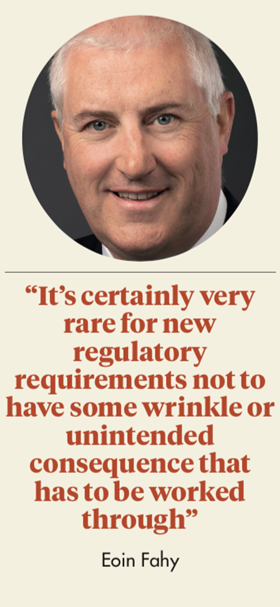 In joint advice on ESG, EIOPA's insurance and occupational pension stakeholder groups wrote in July: "Whilst we support and sympathise with the spirit of this proposal, the practicability and current capability to meet them needs to be given further consideration.
"All disclosures should be technically feasible and adequately consider existing issues with ESG data quality and availability." Specifically with regard to the adverse-impact indicators, they suggested "as a fall-back option" to limit these, for example to five or 10.
Data mismatch
The issue of a misalignment between what investors face having to disclose and what is available in the way of data about companies' ESG performance has been raised at regular intervals throughout the implementation of the Commission's sustainable-finance action plan by trade associations such as EFAMA, which represents the European investment management industry.
"Compliance with both of these regulations will be very challenging especially due to the insufficient availability of comparable, reliable and public ESG data," EFAMA said in feedback to the Commission about the next phase of its sustainable-finance strategy in July. The two regulations it is referring to are the SFDR and the taxonomy regulation, under which there are also disclosure requirements.
PensionsEurope has called for the mandatory indicators to be used under adverse-impact due diligence under the SFDR to be reported by companies and stored in a central European database.
How do pension funds stand in relation to SFDR?
Where do pension funds sit in all this? The SFDR – and the taxonomy regulation – refers to a broad range of "financial market participants", including asset managers and pension funds (IORPs), but there are questions about when the SFDR can apply to pension funds. Generally speaking, it seems that because of the 500-employee threshold, pension funds would not have to provide the envisaged principal adverse-impact reporting.
EIOPA has, however, floated the idea of amending the EU's pension fund legislation to mandate IORPs to take into account the long-term environmental and/or social impact of their investment decisions. This could lead to IORPs becoming subject to more extensive adverse impact disclosure requirements.
Another question is whether pension funds are in scope for the disclosure requirements linked to the so-called article 8 products.
PensionsEurope has argued that the application of an investment policy that takes into account ESG elements from a governance, prudential or risk perspective "should not be seen as promoting environmental or social characteristics or having environmental or social objectives and should therefore not lead to excessive disclosure requirements under the SFDR".
Noting the SFDR's aim to promote greater transparency for end investors, the association has said that in some situations, "the IORP itself is the only end investor".
Perspectives on how difficult it will be for investors to comply with the new requirements vary.
At KBI Global Investors, Eoin Fahy, head of responsible investing and chief economist, says: "It's certainly very rare for new regulatory requirements not to have some wrinkle or unintended consequence that has to be worked through, with some degree of inconvenience, so we won't be surprised if this isn't an entirely smooth path for us.
"But on the whole, for a firm such as ours which takes sustainability issues very seriously and has done so for many years, we expect the disclosure requirements to be manageable."
On the taxonomy, Fahy agrees that companies currently do not publish enough data to allow investors to accurately implement it.
"I would not despair about this, at least not yet. We are hopeful that the revised Non-Financial Disclosure Regulation (NFDR) will incorporate this information. In addition, we are already beginning to engage with companies, informing them that we need certain information from them in relation to our own disclosure requirement, and therefore we, in turn, need them to provide that information to us.
"I know that we are not alone in this and that many other investment managers are giving the same message to investee companies. So companies will increasingly be under pressure from regulators and from their shareholders to provide the required information.
"That doesn't mean that we are sure to get it soon, or for all companies, but it does allow me to be 'reasonably' hopeful that much of the data we need will be available – though not necessarily from day one."
Messy timeline
Pensioenfederatie in the Netherlands and many other trade associations have pointed out that incongruent timelines for different sustainable finance regulations are creating timing gaps. With regard to the NFDR, for example, the Commission has indicated that a legislative proposal for its revision could be tabled in the first quarter of next year, but this would mean that any new data from company reporting would probably only be available after investor disclosure requirements kick in.
The investment pressure group ShareAction believes that while the RTS would lead to "a considerable organisational effort", the indicators are built around common indicators in corporate disclosures.
"We don't deny that there clearly is a data availability constraint but the upcoming review of the NFRD and the implementation of SFDR should lead to more comprehensive and comparable corporate disclosures," a spokesperson says. "Additionally, this process might actually also increase internal awareness of sustainability impacts and a rethink of processes and strategies – even before disclosing this information, financial market participants should have a good understanding of their exposure to sustainability factors as these become so relevant."
The ESAs are well aware of the data constraint issue and said as much in their public hearing on the RTSs. They have separately urged the Commission to take "timely action" to address the current shortage of high-quality sustainability data. At the same time, during the public hearing they defended their proposals, noting, for example, that these allowed investors to explain their "best efforts" to source data where they were not readily available.
"In all honesty, we are trying to drive availability of data," said Patrik Karlsson, policy officer at ESMA, during the public hearing.
Misleading for end investors?
Questions have also been raised about the effect of the SFDR-linked disclosures. In a consultation response, the Principles for Responsible Investment (PRI) called for "urgent reconsideration" of the ESAs' proposals. It said it strongly supported the aims of the RTS, including harmonisation of impact disclosure obligations, but that the proposals "would create a substantial reporting burden while actively misleading end-investors as to the likely impact of the investment product or service they are procuring".
Alyssa Heath, head of EU and UK policy at the PRI, says the crux of the issue is that the indicators focus on the characteristics of the underlying companies and don't really factor in how the investor is acting in relation to investee companies.
"The indicators they've proposed don't accurately reflect the impact of an investment product," she says. "This could result in greenwashing, but, equally, it could put end investors off products that could be a really good fit by making them look worse than they really are from a sustainability perspective."
Another issue from the PRI's perspective, Heath explains, is that the concept of alignment-based reporting is missing from the RTS. The carbon emissions metric, for example, she says, is more about a static assessment of the portfolio, rather than connecting it with an end goal.
"We just don't really think it's a meaningful way to talk about performance if you're not factoring in the major policy commitment the EU has made to achieve net-zero by 2050, for example," she says.
ShareAction believes that for the RTS to be a useful tool in fighting climate change there should also be a requirement for the disclosure of forward-looking information, such as alignment with the Paris Agreement, and not just a focus on carbon footprinting.
A particular issue for the organisation is that the current RTS proposal asks investors to disclose exposure to 'solid' fossil fuels but that there is no indicator for either overall fossil fuel exposure or liquid fossil fuel exposure – oil and gas. It is calling for, at a minimum, the proposed indicator to be replaced with one for overall fossil fuel exposure.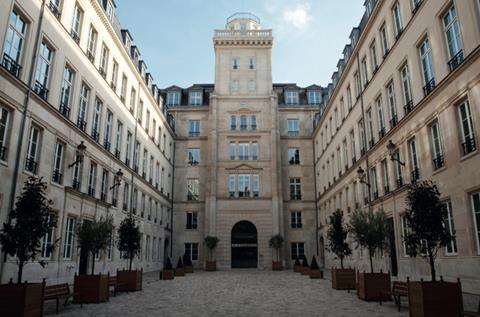 As well as introducing requirements for entity-level reporting as well as investment marketing disclosures (product-level), SFDR also distinguishes between two types of products – those that "have sustainable investments as their objective" (article 9) and those that "promote, among other characteristics, environmental or social characteristics or a combination of these characteristics" (Article 8).
The PRI's Heath explains that "the RTS are starting to treat them as a deep-green and a sort-of-light-green category." This, in her view, is problematic because it does not accurately reflect the role stewardship can play in influencing corporate behaviour and stewardship-based funds would fall under Article 8.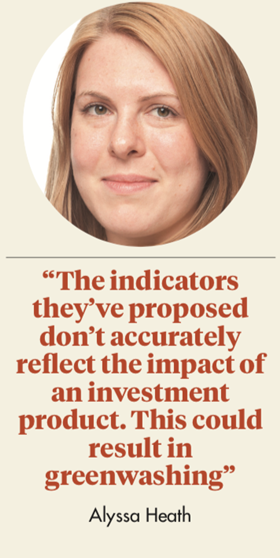 According to the draft RTS, the pre-contractual information for this category of product would have to contain the statement: "This product does not have as its objective sustainable investment".
"I just think that's misleading," says Heath.
The ESAs have said they see merit in providing mandatory disclosure templates for pre-contractual and periodic disclosure for Article 8 and Article 9 SFDR products. A keenly anticipated survey on these is due to be launched this month.
Questions have been raised about whom the proposed mandatory disclosures are intended for. During the ESAs' public hearing in July, one such question came from an attendee from Aviva Investors, who asked: "Given the known limits of financial literacy among consumers and lack of engagement with existing disclosures shouldn't this level of disclosure first be tested on retail investors to assess if they really want and need such detailed information to make informed decisions? Is this really intended for the retail consumer?".
ESMA's Karlsson says the disclosures were intended for retail as well as professional investors, but not only investors.
"There is a market value in understanding the principal adverse impacts and a societal value of understanding the principal adverse impacts," he says.
EU sustainable finance: Impact uncertain
1

2

3

4

Currently reading

EU sustainable finance: The promise of disclosures