Investors are having to play a complex game of market guesswork
Today's situation is so unprecedented that you can throw most of your standard toolkit out of the window," says Ewout van Schaick, head of multi asset at NN Investment Partners (NNIP).
Signals in this environment are difficult to interpret using standard financial approaches, he says. That is not only because of the size of the rescue packages injected by EU institutions to combat the economic collapse threatened by covid-19, but because many indicators are at levels never seen before. As a result, he adds, "companies that were doing well before the crisis may now also face collapse, not just the ones who were already performing less well".
Nevertheless, he says, "a crisis can have benefits", as years of low interest rates and the search for yield kept many inefficient companies going. "This crisis could deal with that," he says.
That will likely depend on two main factors: the depth and duration of the crisis, and the level and nature of government intervention over its course. With respect to the latter, van Schaick is concerned that governments will turn off the life support too early: "For example, what support does a restaurant get that is open for 30% of its capacity or is only getting 40% of its customers as a result of covid-19?"
Key points
Investors are having to factor in political decisions in their measures to counter the economic collapse
Some asset allocators are cautioning against chasing the current equity-market rally
Asset-purchase schemes are making some investment-grade and high-yield credit attractive
Supply-side shocks could lead to reduced capacity, threatening a return of inflation
U, V or W?
While this has been a much bigger rescue package than during the 2008 global financial crisis, "we now need new, forward-looking data to determine whether we will see a continuation of market recovery, or consolidation", says Jeroen Blokland, portfolio manager within the global macro team at Robeco.
Determining the duration of the crisis will be a key component of any investment decision, he says, and he is sceptical about the likelihood of a swift recovery. "We don't expect to see a v-shaped recovery, but more of a 'u'. There will be lag in the recovery because of the magnitude of job losses and the uncertainty of the supply-side effects."
Van Schaick agrees: "A sharp v-shaped recovery has been priced in, and that is better than our best-case scenario." 'U' will be the best likely situation, and he contends markets are also neglecting the danger of a w-shaped recovery, as a second wave of the virus hits.
Blokland warns: "We don't believe that investors should chase this rally."
Rifts reopen
The crisis has reopened the core-periphery divide that beset the EU during the 2008 global financial crisis. In March, the EU announced it would support member states "where possible in alleviating the employment impact for individuals and the hardest hit sectors", and that contingent liability arising from those loans would be made compatible with the EU budget constraints by guarantees from member states to the EU budget.
In May the German Constitutional Court ruled that the ECB's earlier bond-buying programme failed a proportionality test. The European Court of Justice has, in turn, stated that the EU's legal order would be jeopardised if national courts diverged from its rulings. How this pans out, says Colin Harte, head of research, active asset allocation, for the multi asset solutions team at BNP Paribas Asset Management, will "be an important test of both how quickly growth returns and the stability of the EU longer term". He expects something of a fudge, rather than a clear decision one way or another.
Place your bets
Given the circumstances, politics has an important role in shaping investment decisions. "Since the [2008 global financial crisis] politics have been more to the forefront as a factor in investment, and we expect that state intervention will matter more," says Harte.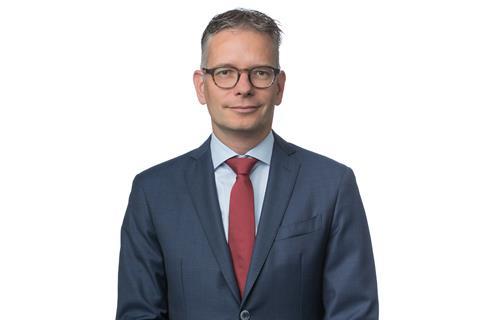 In such an environment, Robeco prefers investment-grade and high-yield debt to equities because of the support from the ECB (see figure). "There is more downside with equities, and earnings have been hit heavily," says Blokland.
Van Schaick says: "In such a situation, it's important to focus on what you know." He adds that ECB purchases "are here to stay" across high-yielding government bonds, investment-grade, high-yield corporate and mortgage-backed securities and, while there are still issues over spreads on Italian and Spanish government debt, the ECB is providing liquidity support.
Harte says BNPP AM is cautious on government bonds, given the state of public finances: "It's hard to get excited about government bonds with yields in negative territory. Do central banks keep buying, or do they back off?" As spreads widened, BNPP AM moved out of government bonds and into investment-grade, and some financials – again, because of the degree of security from government backstops. "Governments will step in to protect strategic industries, such as Rolls Royce," says Harte.
Equities – a falling knife
All of this makes for an uncomfortable game of market guesswork, with stimuli skewing valuations. There is also the question as to whether the equity rebound is sustainable, as indices continue to climb from their mid-March lows while the European PMI for April is at an historical low. "We are neutral on equities and waiting for an appropriate time to go underweight. European equity markets have corrected a lot, but not as much as some others," says van Schaick. He prefers US and emerging-market equity markets because of their larger stakes in the relatively buoyant IT sector.
Harte notes that price-earnings ratios have expanded massively "and, with equity markets recovering but earnings plummeting, you don't need to be a maths genius to work out why". He says analysts will be focusing on third and fourth quarters and if growth returns, looking through to the corporate level to determine who has a viable business model and who does not.
"We are not targeting any particular sectors," says Blokland, adding that, when the recovery is under way, heavily cyclical sectors such as banks will be attractive – "but it is too early for that call as yet".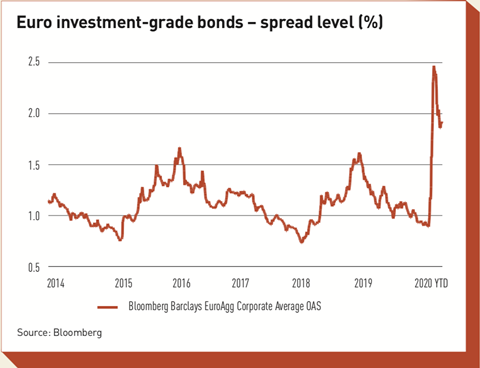 He adds that, in the event of a full-blown recovery, Germany becomes more interesting. "That said, correlations between members of the euro-zone are relatively high."
One result of the crisis could be a return of inflation, warns Harte. "This has been both a supply and demand shock, and it's still uncertain how big the former is." It might result in capacity being written off, which could lead to more inflation than the market expects.
He adds that this will put pressure on yield curves, which should help financials. "We are beginning to think that this may make banks attractive," he says.
Elsewhere, it is no surprise that there is general scepticism over the prospects for airlines, with van Schaick warning that demand could take years to recover. "Before the crisis, the industry was running on wafer-thin profits and suffering from oversupply. Which ones are at most risk of default depends on particular corporate profiles." He adds that car manufacturers, too, will see their existing problems amplified by the crisis.
While Harte expects airlines to consollidate, with investors needing to be very stock specific as a result, he adds, "if a viable vaccine comes onto the market, there could be a rebound in this area faster than the market expects".
While traditional fundamental analysis may be challenged in this environment, van Schaick says NNIP is "looking at companies that score well in sustainability factors, as the importance of looking at ESG factors will only get stronger as a result of the crisis". He is therefore focusing on those that have the strongest sustainablility profile within sectors.
Euro-zone: A crisis like no other
1

2

Currently reading

Europe's investment outlook: The complex game of market guesswork

3