What are the prospects for factor-based portfolios after the recent market crash?
Key points
Equity factors behaved mostly as expected during the first quarter of 2020
Managers are cautiously optimistic about the value factor
There is no consensus on whether factor-timing works
Controlling unrewarded risks is seen as a priority
Factor investing is said to be a strategy for long-term investors. It follows that any consideration of how factor portfolios behave in response to discrete events is irrelevant, as investors should focus on long-term performance.
But the recent stock market crash, that saw some of the main market indices fall by more than 20% during the first quarter of the year, was no ordinary market event. In a sense, it is precisely the kind of event from which factor-based investors aim to protect themselves.
Inevitably, factor-based investors will be assessing whether their portfolios have shown resilience during the crash. The evidence suggests that although different factors performed differently during the first quarter of 2020, the vast majority of portfolios recorded negative returns.
"During the last week of February, there was indiscriminate selling of both low-beta and high-beta stocks," says Ray Carroll, CIO at Neuberger Berman Breton Hill, a quant asset manager. "Investors were simply taking risk down."
It is likely that some long-term-focused investors would have contributed to that widespread sell-off, according to Carroll. "Many long-term investors have volatility targets, so when volatility spikes, they have to rebalance. We should also acknowledge that there is an underlying fundamental problem. The global economy has largely been shut down, so de-risking may be a perfectly rational response."
Momentum surprises
The good news is that factors have been performing mostly as expected during the first quarter of 2020. Mark Carver, global head of factor index products at MSCI, says: "The more defensive factors have been performing well, whereas the more procyclical factors like value or size have been relatively weak, and that is pretty consistent across all regions."
The outperformance of the momentum factor was perhaps a surprise, according to Hitendra Varsani, MSCI's director of equity core research. He says: "During turning points in market cycles, especially as volatility spikes, momentum is one of the first factors that typically suffers. But momentum has worked very well throughout the first quarter of this year.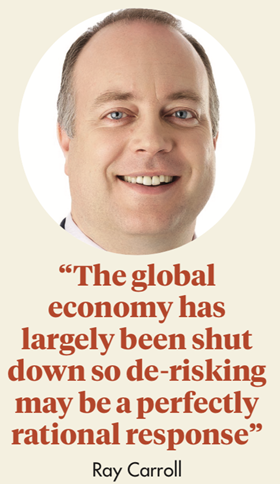 "However, given the long positioning of many investors towards high-quality and low-volatility stocks over the last few years, momentum has latched on to that trend and has had exposure to low beta. That low-beta exposure has helped momentum become one of the best-performing factors year to date."
Value comeback
Factor investing experts are open to the possibility that structural changes in factor premia will take place.
One of the key questions is whether value will stage a comeback. The factor, as traditionally defined, has consistently been among the worst-performing factors since the 2008 financial crisis.
Two main sets of reasons are given for this. First, is that the post-2008 bull market, propped up by aggressive monetary policy, was not conducive to value investing.
Then there is the argument that the traditional and still popular ºvalue proxies, such as book-to-price, no longer capture the factor efficiently. This is because company features such as research and development (R&D) levels and intangibles are not reflected in such measures of value.
Leaving that aside, managers point out that value tends to outperform during recovery phases, and they seem to agree that this time is not going to be different.
"We saw value perform strongly in both 2000 and 2009, as the markets were coming out of a recession," says Mustafa Sagun, CIO for global equities at Principal Global Investors.
"The environment for value to outperform has been set up, since the dispersion between the valuations of the most expensive and the cheapest stock has grown to nearly four standard deviations. This represents an anomaly and a signal in favour of value."
Vitali Kalesnik, partner at Research Affiliates in London, holds a similar view. "Before the crisis, the gap in relative valuations was very wide, with growth stocks trading at high levels compared with value stocks," he says. "As a result of the market crash, growth companies are trading at reasonable valuation levels, and value companies often trade at bargain multiples.
"There is a lot of risk attached to individual stocks. Think of airlines, which are trading at a trailing price to earnings level of three. But assuming we eventually return to business as usual, patient value investors should get significant compensation for the risk attached to these sectors."
Healthy debate about how to define value
Although managers tend to agree that the fortunes of the value factor may be about to change, there is a lively debate about how value should be defined.
Several factor-investment experts have argued against using value proxies other than those verified by the academic literature. The major one remains book value to price, which was used by Eugene Fama and Kenneth French in 1993 as part of their seminal contribution to the academic study of factors.
Proponents of different approaches argue that book-to-price does not take into account the economic transformations that have taken place during the years that followed. With the rise of new technologies, elements of stock valuation such as R&D or other intangible assets have become increasingly important. As their argument goes, the book-to-price proxy does not reflect those aspects.
Ray Carroll, CIO at Neuberger Berman Bretton Hill, says: "We are big believers in using different proxies for value. I think there's a difference between what mattered in the past and what matters now. As a quick example, Amazon shares have risen year to date, but the stock's P/E ratio [price-earnings ratio] is 100, which would rule it out from value portfolios that use traditional value metrics."
Amazon invests massive amounts in R&D, and this reduces profits in the short term, but it benefits future shareholders, Carroll argues. "Adjusting for R&D has been a very helpful way of avoiding the trap of shorting all the FAANG stocks," he says.
"There are also other ways to think about valuation. We look at historic ratios, including stressed earnings yield or stressed cashflow yields. This is particularly relevant during recessions. There may be companies that are cheap because the market is pricing in the fact that they are highly cyclical," adds Carroll.
"The point is that while we still think value matters and will always matter, we also believe that the way you decide and recognise what value is, that has to be related to the current market."
Using alternative data sets is thought to help investors better understand value in the current context. Carroll says: "In the near future, it will be really valuable to be able to see near real-time sales data, for instance using credit card company data."
Damian Handzy, chief commercial officer at Style Analytics, says: "The point is, the markets fell materially and across the board. That means every single measure of the value of a stock now needs to be reassessed. Some stocks that were clearly overvalued prior to the crisis, today are no longer. And once we hit the bottom, whenever that is, the entire universe of value stocks needs to be examined very closely.
"After such a shock to the system, the value play is a very compelling one," Handzy adds.
Questions of timing
On that basis, investors might be tempted to rebalance their portfolios to take advantage of a repricing of the value factor, or other factors. However, there is a lack of consensus among managers and academics on whether factor timing is worthwhile.
A recently published academic paper titled 'Factor investing for the long run', authored by Abraham Lioui of the EDHEC Business School and Andrea Tarelli from Catholic University of Milan, made a positive case for using "dynamic weighting schemes that account for the market exposures of the portfolios and their time-variation". The authors found that dynamically changing the weights of factor exposures improves the Sharpe ratios of portfolios.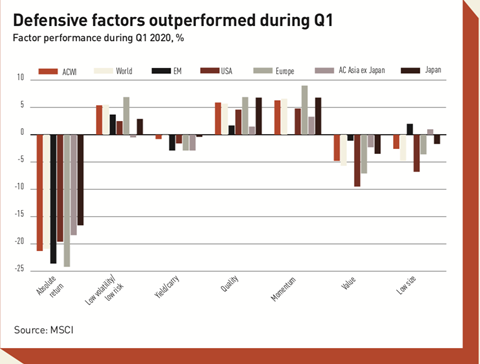 Managers' opinions can differ significantly on this topic. Antti Ilmanen, global co-head of portfolio solutions at AQR, says: "Overall, we favour strategic factor diversification and we emphasise the often underappreciated pitfalls of factor timing. That said, we also study carefully any modest benefits one might achieve from factor timing. Our summary view on both market and factor timing is: if timing is a sin, then only sin a little."
It is logical to expect that when markets shift from bearish to bullish, pro-cyclical strategies get hurt while contrarian strategies benefit, as happened in 2009. But these observations are based on hindsight, because market turning points can only be observed in hindsight. This potentially creates a dangerous bias towards positive-beta strategies that can hurt investors that do not identify the market trough correctly.
Ilmanen says: "Risky positive-beta strategies and reversal strategies outperformed after the March 2009 market trough, but it is far harder to identify the bottom in real time than looking at a past crisis with the benefit of hindsight."
PGI's Sagun argues that investors need to look for potential catalysts that can determine a repricing of factors. "As an example, while energy companies are trading at compelling valuations, the catalyst for a revaluation would be the end of the oil war between Saudi Arabia and Russia, or signs that fiscal policy is driving global GDP growth," he says.
Lessons learned
Keeping in mind how different factors behaved during and after the 2008 crisis is undoubtedly useful. But there may be more useful lessons from that crisis that do not relate to any single factor that can be applied today.
Michael Hunstad, head of quantitative strategies at Northern Trust Asset Management, says: "A lot of research carried out since after the crisis has focused on the question of what risks investors get paid to take within equity markets. One of the most important lessons is that it pays to try to control unrewarded risks in factor portfolios."
"We have to break apart the market into the various drivers of risk and analyse which ones are compensated and uncompensated, and absolutely do our best to rid portfolios of uncompensated risk. I think most systematic and non-systematic strategies are guilty of having a lot of uncompensated risk today.
"First, it is important to be as sector-neutral as possible. In this recent crisis, as in the previous one, there has been a lot of sector volatility that has added a lot of unnecessary risk to factor strategies that are not sector neutral. That is why we design all of our factor strategies, especially our low volatility ones, to be sector-neutral."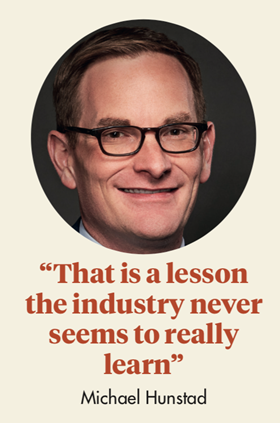 But again, controlling beta exposure relates to an old way of thinking about equities in asset allocation, according to Hunstad.
"A lot of the macro risks, such as interest rates, inflation or growth, haven't played out well in terms of their level of compensation," he says.
A recent example is interest rate risk. "Rates have been volatile during the recent crisis. Portfolios with large exposures to defensive sectors like real estate and utilities, which carry a high interest rate sensitivity, have been hurt," he says.
The other fundamental lesson, according to Hunstad, is to focus relentlessly on quality. "That is a lesson the industry never seems to really learn. You do not want to own just low-quality stocks. For some reason, when things are relatively calm, everybody forgets that and they tend to gravitate toward companies that are not profitable, do not necessarily have good cash flows or good balance sheets.
"We saw that come back in a very negative way in the last few weeks. Companies with high financial leverage and operating leverage, had tremendous volatility, many multiples in excess of the market itself." he
Such lessons may help investors navigate the next phase of the crisis. After the fastest crash in history, the markets rallied during the last week of March and first two weeks of April, claiming back some of the lost ground.
As the economic impact of the pandemic becomes clear, heightened volatility is the likely new persistent feature of the markets for the months to come. There are many open questions about systematic factor portfolios, but the main one remains whether they will keep their promise of outperforming in long-term.
To read the latest IPE Digital Edition click here
Factor investing: Crisis factor
1

Currently reading

Factor investing: Crisis factor

2

3

4