Sustainable indexing gives pensions the clarity they need to build more sustainable portfolios, for the following reasons:
1. Indexing puts you in control of what type of sustainable investor you want to be
Sustainable investing is not one size fits all. It means different things to different people depending on their specific sustainability and financial goals.The broad range of indices available, and the transparency they offer, allow you to pick the approach that's appropriate for your portfolio, from simple exclusion of controversial businesses to a more targeted approach to selected environmental, social and governance topics.
2. Sustainable indexing aims to help provide a consistent approach across a portfolio
As investors transition to sustainable investing, an indexing approach may help to ensure sustainability is expressed in a consistent way across the entire portfolio. Indices are inherently rules-based, so the ESG screening risk and ESG integration they deploy are repeatable, regardless of asset class or exposure.
3. Sustainable indexing drives industry standardisation, promotes disclosure and seeks to help motivate better corporate behaviour
We believe that indexing is bringing clarity to the sustainable investing space by providing transparency and accelerating the adoption of new market standards. Sustainable indices will play an increasingly important role in directing capital flows to companies with the best sustainability practices and the most comprehensive sustainability disclosures. Companies that are dedicated to prioritising sustainability efforts aim to be better positioned to attract long-term shareholders, as they will have a higher weighting in the market's new mainstream ESG indexes

4. Sustainable indexes have shown resilience in difficult times
During this year's market dislocation, a majority of sustainable indexes exhibited resilience relative to broad market benchmarks.1 We believe this is because sustainable indices are generally comprised of companies with higher profitability and lower levels of leverage than the broader market.
A common misconception is that sustainable indexing works for equities but not for fixed income exposures, and fixed income ESG data will continue to lag behind equities. Today MSCI's sustainable data covers 94% of the issuers in the Bloomberg Barclays US Credit Index, versus 75% in 2013.2
Over 90% of sustainable indices outperformed their parent benchmark during this period of the heightened market uncertainty and drawdown.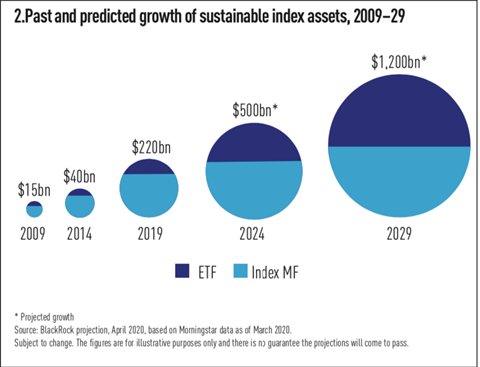 5. Index fund asset managers with active investment stewardship seek to drive long-term change
Indexing amplifies the impact of company engagements because index investors typically take a long-term view. Investors can exercise influence with companies through engagements across ESG topics.
These are among the many reasons why we believe investors will choose to put an extra $1trn into sustainable index assets in the next decade.
1 Source: BlackRock with Q1 2020 data from Bloomberg and Morningstar as of 7 May 2020.
2 Source: MSCI ESG Research, as at 31 May 2020.