Over the past decades, European pension funds have experienced many changes and challenges. Through it all, the European DB market has continued to de-risk, while DC systems have become the new normal.
During this time, the relationship that pension funds have with fixed income markets has become more entwined, with fixed coupon and long-term inflation linked income streams remaining the backbone of pension fund asset allocations. That said, the bond market itself has evolved significantly, both in composition and market structure. Keeping up with those changes and harnessing them to achieve long-term funding ambitions will likely be key to funding many of Europe's thousands of pension funds. Of all the developments the global bond market has experienced, fixed income exchange-traded funds (FI ETFs) are arguably one of the most significant. Global FI ETF assets accounted for $1.3trn (€1.1trn) at the end of June 2020 after growing 30% in just 12 months; still, ETFs represent only about 1.3% of the $100trn global fixed income securities market.1
Institutional investor adoption of ETFs will be one of four key growth drivers that will help expand global fixed income ETF assets to $2trn by 2024.2 So far in 2020, over 60 asset owners and asset managers were first-time buyers of iShares FI ETFs in the first half of 2020. We estimate this group collectively added about $10bn in assets.3 We will take a more in-depth look institutional adoption of FI ETFs later in this article.
FI ETFs have practical uses for European pension funds
Many European pension funds have adopted FI ETFs to help achieve their long-term funding goals, allowing them to become increasingly tactical, nimble and precise in their fixed income allocation. Three key uses have emerged:
l Tactical asset allocation/derivative substitute. FI ETFs are an efficient tool to implement tactical market views, allowing pension funds to capture attractive market entry points, gaining access to asset classes including investment grade, high yield and emerging market debt in one single low-cost trade. Often ETFs are considered an alternative to credit default swap indices to take tactical short-term views.
l Strategic asset allocation/pension fund de-risking. As de-risking continues, DB pension funds shift from equities to fixed income. FI ETFs are being used to provide liquidity along the rotation journey and access many different markets for the longer term, such as China and US mortgages.
1 BlackRock, Bloomberg (as of 26 June 2020). Global fixed income assets were $1.322trn as of 26 June 2020; they surpassed $1trn for the first time in June 2019.
2 BlackRock, 'Primed for Growth: Bond ETFs and the Path to US$2 Trillion', June 2019.
3 BlackRock (as of 30 June 2020).
l Liquidity management. Cash can be required for several reasons, eg, paying member benefits or ready for deployment into private market strategies. Short duration FI ETFs are being used alongside traditional money market funds to help minimise cash drag on investment performance. FI ETFs also allow investors to replicate their strategic asset allocation, while adding liquidity and reducing transaction and re-balancing costs.
FI ETFs shone in 2020 market volatility
While the transparency, liquidity and efficiency of on-exchange trading had already proven valuable to fixed income investors during periods of market stress over the past decade, certain market participants continued to theorise about what might happen should fixed income ETFs be tested by a large market shock. They asked whether ETFs could withstand the pressure of continuous selling, and whether they might exacerbate price declines in the underlying markets. The results were clear: fixed income ETFs not only held up under stress, but they also became important tools for market participants, with three key benefits emerging:
l When volatility struck, FI ETF trading surged. Investors have tended to use FI ETFs even more during times of uncertainty because they are efficient and effective tools for rebalancing holdings, hedging portfolios and managing risk. This was the case again in Q1 2020 when trading in US FI ETFs surged to $1.3trn, half the total for all of 20194, while between 21 and 27 February average trading volumes in UCITS domiciled FI ETFs increased by nearly 200% versus the 2019 weekly average of $7.8bn.5
l Amid increased trading, FI ETFs were indicators of real-time, actionable prices. On 12 March 2020 shares in a single US dollar investment grade 40 Act and UCITS ETFs traded over 100,000 and 1,000 times respectively, while their top five underlying holdings traded an average of only 37 times each, and during March more than half the bonds in the index the ETF follows traded between zero and five times per day on average.6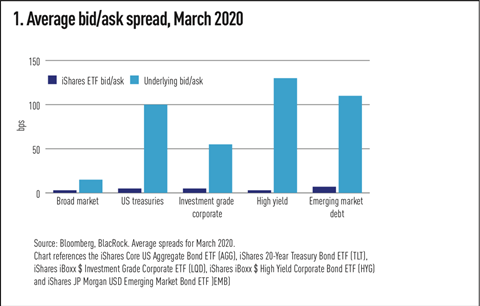 High trading volumes support the notion that FI ETFs provide actionable prices for investors at a time when the underlying bond market is challenged. The on-exchange market prices for FI ETFs reflected both absolute and relative values and helped enable investors to understand rapidly changing market conditions.
l ETFs were more efficient to trade. Market volatility creates pricing uncertainty and often translates into wider bid/ask spreads for all securities. Investors who turned to FI ETFs during the volatile early months of 2020 found lower transaction costs than were available in individual bonds.
While bid/ask spreads for FI ETFs did increase during this period of market volatility, they remained lower than for individual bonds and bond portfolios across sectors.
FI ETFs provide a means of reducing complexity and streamlining portfolio construction and risk-management practices. In 2020, FI ETFs have reached a turning point.
4 BlackRock, Bloomberg (as of 31 May 2020).
5 Bloomberg (as of 20 March 2020). $17.5bn on average uses period from 21 February–20 March 2020.
6 BlackRock, TRACE (as of 24 March 2020).