Sponsored content from JP Morgan Asset Management
In recent years, fixed income ETFs have been grabbing a larger slice of the ETF market as investors look to capitalise on the enhanced diversification, tradeability, price transparency and liquidity they can provide to bond portfolios. According to the latest research by Citi Business Advisory Services, fixed income ETF assets have increased at a robust 25% annual compound growth rate over the last decade, hitting more than $870bn by the end of 2018.
The growth in fixed income ETFs means that investors can now use ETFs to gain exposure to a wide range of bond markets, including emerging market debt (hard currency and local currency), investment-grade credit and global government bonds, using either market cap-weighted, strategic beta or actively managed investment strategies.
Passive fixed income at the forefront
As with equity ETFs, passive index funds have been at the forefront of fixed income ETF growth. Much of the demand for passive bond ETFs has been driven by the factors that have underlain the success of passive equity funds – namely, they allow investors to quickly and efficiently add low-cost and scalable bond market exposure to their portfolios.
However, while passive fixed income ETFs provide highly effective portfolio building blocks for investors looking to gain exposure to government bonds, or similar market segments where it is challenging to add value through active management, traditional debt-weighted bond indices suffer from well-publicised limitations when it comes to investing in riskier and less liquid bond markets, such as high-yield credit and emerging market debt.
Active fixed income driving future growth
As investors become more aware of the uncompensated risk exposures provided by pure passive index funds, actively managed and strategic beta fixed income ETFs are growing in popularity. Active and strategic beta ETFs seek to reduce the risk concentrations and biases inherent in traditional index funds by selecting bonds based on various criteria, such as credit risk, liquidity or maturity profile – while maintaining the cost, liquidity and trading advantages of the ETF structure.
Research also suggests that active managers are able to capitalise on the many inefficiencies in bond markets to deliver alpha on a much more consistent basis than in equity markets. According to PIMCO research, more than two thirds of active bond managers (mutual funds and ETFs) have successfully beaten the median passive fund in their peer group over the last five years, compared to just 43% of active equity funds.1
Therefore, while passive fixed income ETFs will continue to provide a highly effective tool for investors looking to gain efficient, scalable and cost-effective exposure to global bond markets, we would expect active strategies to play a much more prominent role in the future growth of fixed income ETFs.
Confronting the challenges of bond market liquidity
Global bond markets present huge opportunities for investors but they can be tough for even the most sophisticated investor to navigate.
For example, the over-the-counter trading venues used for fixed income securities make it difficult to evaluate liquidity and fair pricing, while the complexity and relative illiquidity of parts of the bond markets themselves present particular challenges to investors looking to replicate bond market exposure in their own portfolios.
Fixed income ETFs provide a potential solution to these challenges, offering an attractive option for any investor requiring liquid, tradeable access to global bond markets – through a variety of market conditions.
Trading and pricing
The first challenge faced by investors when participating in the global bond markets is the fragmentation of bond trading. Unlike equity markets, bond markets have no centralised trading venues. Instead, fixed income securities are mostly traded over-the-counter via a network of independent bond dealers, presenting operational hurdles for investors looking to run diversified bond portfolios.
Over-the-counter trading with multiple dealers means that liquidity can be spread across trading venues, making it difficult for investors to assess the full liquidity profile of a bond or to execute programme trades featuring multiple securities at the same time.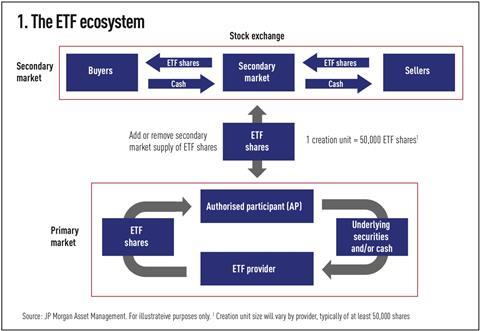 Over-the-counter trading also means that prices may often need to be negotiated with several dealers rather than at a single quoted price. Furthermore, many bonds are relatively illiquid, while prices may not be up to date, making it hard for investors to know the fair value for the bond they are buying or selling. Particularly in times of market volatility, the last traded price may well diverge significantly from current fair value.
Fixed income ETFs can help investors overcome these trading challenges as the ETF vehicle brings together bond baskets that investors can trade easily and efficiently on exchange throughout the day. While the stock exchange that a fixed income ETF is listed on is open, investors can buy and sell shares just like they would for an equity stock, at a single, transparent price that is kept in line to fair value – even through volatile markets.
To find out how fixed income ETFs achieve this level of tradeability, we need to look at how ETFs work, starting with the ETF creation and redemption mechanism in the primary market – which is the ultimate driver of an ETF's valuation and liquidity.
The ETF creation and redemption mechanism
Fixed income ETFs can increase liquidity and achieve efficient fair value pricing by utilising two 'levels' of liquidity: the primary market, where authorised participants (APs) are able to create or redeem ETF shares to meet demand; and the secondary market, where buyers and sellers of an ETF's shares can be matched directly, negating the need for APs to create or redeem shares in the primary market.
The first level of liquidity is provided by the primary market ETF creation and redemption mechanism, through which APs can exchange ETF shares for the ETF's underlying basket of securities. This mechanism incentivises APs to create new shares, or cancel shares, whenever a fixed income ETF is trading above the value of its underlying investments (at a premium) or below (at a discount), thereby preventing the price of an ETF from deviating too much from the value of its underlying investments.
If a large buy order comes in, new shares can be created to meet the demand. If a large sell order comes in, shares can simply be removed from the market to reduce supply. In both cases, the dozens (or hundreds) of different securities inside the fixed income ETF's basket will be bought or sold to handle large transactions.
Secondary market liquidity
Although primary market liquidity is robust, some investors are concerned about the ability of fixed income ETFs (and mutual funds) to sell securities to meet demand for redemptions at times of market stress. These concerns have risen as banking regulations introduced in response to the 2008 financial crisis have reduced the ability and appetite of banks to hold bonds on their balance sheets – reducing an important source of liquidity for the market.
Fortunately, significant liquidity remains in the bond markets, with other non-bank actors stepping in to supplement the banks, while evolving market dynamics (including the growth of bond ETFs) and the development of new trading technologies by sell-side firms (such as fixed income programme trading) are all helping to maintain adequate levels of underlying market liquidity in various market conditions.
Furthermore, while it is prudent to assume that the liquidity of an ETF may need to be derived from the liquidity of the underlying market in which it invests, fixed income ETFs don't always need to access bond market liquidity to be actively traded themselves. If an ETF suffers a redemption or receives inflows, it can avoid trading in its underlying securities if an AP or market maker is able instead to find a willing buyer or seller for the ETF's shares on the secondary market. In certain instances, an AP or market maker may also choose to hold the ETF as inventory instead of redeeming in the primary market, again avoiding underlying trading of the ETF's constituents.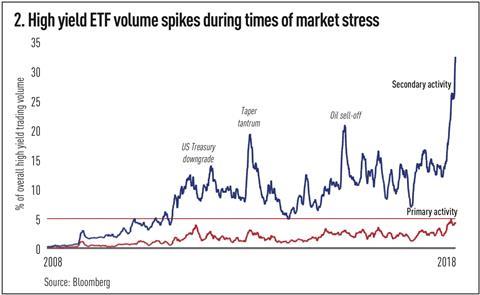 When buyers and sellers are matched, the ETF secondary market offers a significant additional liquidity venue through which to transact either on exchange or over the counter – often at lower bid-ask spreads than through the primary market – helping to maintain the liquidity of fixed income ETFs through various market conditions.
By way of contrast, an investor looking to create or divest a diversified portfolio of the same underlying bonds as an ETF would need to trade each bond individually – a process that would not only be time-consuming but also potentially challenging in volatile markets.
Such is the importance of the secondary market that it's not exceptional for an ETF's secondary market trading volume to be significantly higher than the trading volume of its underlying holdings. Take high yield ETFs as an example. Over the past 10 years, secondary market activity has been consistently higher than primary market activity. Most trading in high yield ETFs has therefore occurred between investors and only a relatively small proportion of trading has resulted in the creation or redemption of shares in the primary market – even in volatile markets.
In fact, investors are often likely to find a deeper secondary market in times of market stress as buyers and sellers use ETFs as price discovery tools. This is because the ETF secondary market may provide a more accurate picture of the value of the underlying basket of bonds.
Ultimately, however, it's the trading of bonds and ETF shares in the primary market that drives an ETF's valuation and liquidity. If the ETF market price deviates too far from the NAV, the ETF creation and redemption mechanism kicks in. When APs exchange ETF shares for the ETF's underlying basket of securities, they ensure that fixed income ETFs remain close to their 'fair' price.
The secondary market provides a significant liquidity cushion, providing greater pricing transparency that can help to alleviate episodes of market volatility. Furthermore, thanks to the secondary market, the ETF manager is less likely to be a forced seller, avoiding the need to sell high quality, liquid assets at low prices into market weakness. It's also worth noting that banks and investment institutions are not allowed to own ETFs as part of regulatory liquidity buffers, further reducing the pressure on ETFs to sell assets. When there are macro or systemic shocks, the liquidity and diversification benefits of fixed income ETFs really stand out.
Diversified exposure to complex markets
Bond indices are far more complex than equity indices, making them much more difficult to replicate or track effectively. Whereas equity indices may contain a few hundred equities, bond indices can contain thousands of issuers, and each issuer can issue multiple securities, each with different coupons and maturities – and each requiring a separate price.
To complicate matters further, many bond indices hold a large number of smaller, illiquid securities. A recent study by rating agency FitchRatings2 into the underlying holdings of five major US corporate bond ETFs revealed that bonds with an issuance between $250m and $499m only traded on 28% of the days covered in the review period. Many bonds will never be traded but are simply held to maturity.
Fixed income ETFs have the ability to optimise their portfolios to overcome these challenges, while still benefiting from the additional liquidity of the primary and secondary markets. Active bond ETF managers will tend to employ a liquidity screen and a quantitative research screen to filter out illiquid securities when selecting bonds. Passive bond ETFs will look to invest in a subset of their chosen bond index that has the lowest tracking error, and then screen securities to maximise the liquidity of the index subset while maintaining the lowest possible tracking error.
The aim at all times is to build portfolios that provide exposure to the bond markets and provide high levels of underlying liquidity. By investing only in liquid and tradeable underlying securities, the bond ETF can be easier to trade than the basket of bonds that it represents, allowing the cost of creating and redeeming shares to be minimised – even in volatile markets.
Investors should therefore ensure that the bond ETF provider has the resources in place to optimise ETF tracking error and liquidity, and the strongest trading resources to secure the best possible pricing and drive down trading costs. It's particularly important to choose a bond ETF provider with robust and proven investment processes and strong portfolio construction.
Furthermore, ETF managers should also be able to demonstrate robust liquidity risk management across their fixed income portfolios, ideally including regular independent review of the liquidity of fund holdings to provide investment teams with clear guidelines.
Conclusion: Fixed income ETFs provide liquid bond market access
The complexities of fixed income markets can make building and maintaining diversified bond portfolios challenging, even for the most sophisticated of investors. However, the ETF structure, when combined with robust investment processes and liquidity management, can help provide investors with liquid, easily tradeable access to bond markets.
By bringing together liquid bonds in an ETF format, and by accessing the valuation mechanism of the primary market and the additional liquidity of the secondary market, ETFs are able to maintain levels of liquidity across a broader portfolio of bonds (and at lower cost) than it would be possible for investors to achieve by trading the same bonds individually. It's these attributes that have helped maintain fixed income ETF liquidity, even in times of market stress.