When ETFs first broke up the active management party in the fallout of the financial crisis, it was equity funds that bore the brunt of the impact.
Ten years on, it is fixed income ETFs that are shaking up fund management – and potentially changing the bond markets at the same time.
June 2019 was a standout month for fixed income ETFs. They dominated sales in Europe, with seven of the top 10 selling ETFs tracking bonds, according to data monitor Lipper.
A net €6bn flew into bond ETFs in June, while investors withdrew a net €3.5bn from equity funds over the month. iShares' euro-denominated euro-zone corporate bond ETF drew 60% of net inflows to the ETF universe as a whole.
In Europe, bond funds now make up 27% of all €747bn in total ETF assets under management, according to Lipper – a huge jump from even five years ago.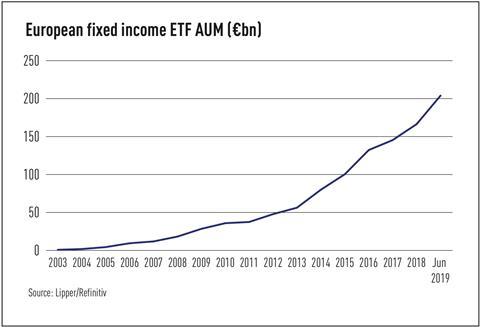 With global trade tensions reaching boiling point and geopolitical uncertainty reigning supreme, it might not be a surprise that investors are heading out of volatile equity markets. But global markets have seen stress before – and bond ETFs have never seen inflows like this.
Antoine Lesné, head of SPDR ETF strategy and research at SSGA, said fixed income ETFs may have started later than their equity-based peers, but they are rapidly catching up.
"Fixed income flows have been almost growing in a straight line," says Lesné. "It's very rare to see such regular growth. There have been just 11 months of outflows since 2008, and in June, there were the highest flows ever."
For Nicolas Fragneau, head of ETF product specialists at Amundi, flows of this magnitude demonstrate how many institutional investors are using fixed income ETFs, whereas few were doing so just a little while ago.
"ETFs have been a true game-changer for fixed income, on two levels," Fragneau says. "ETFs have given better access to fixed income as an asset class. Traditionally, fixed income is more complicated than equities. To trade bonds, you need to be equipped and have specific relationships with market makers, which makes it more complex."
Buying a share in a well-diversified basket is clearly easier and more efficient than navigating through the bond markets for investors of all sizes.
"It also gives access to specific types of bonds, which are more complex to source and trade," says Fragneau.
"Local currency emerging market debt, for example, has to be sourced and the currency has to be dealt with – this can be complicated and risky. With ETFs, you can get this covered off in one transaction and there is no exposure to currencies. There is a currency exposure through the ETF, but there is no need to trade the currency."
This access to potentially complex underlying assets means fixed income ETFs now offer investors a way to diversify their bond portfolios at a relatively low cost.
Bryon Lake, head of international ETF at JP Morgan Asset Management, who is spearheading the asset manager's European push, says: "A basket of ETFs gives immediate diversification as an investor does not need to take a whole bond, but just a share in many. That tailors their exposure and can give them extremely targeted exposure."
Breaking it down
This targeted exposure comes from being able to drill down into a wider range of fixed income securities than ever before, as managers and providers expand their horizons. This also means a bond ETF can also give wider diversification than a traditional bond fund, says Fragneau.
"The Global Aggregate index has more than 15,000 bonds in there," he says. "It is not possible for an investor to have exposure to and trade all these bonds – but with an ETF they can. There are a lot more options than there used to be."
While there are still many more equity-focused ETFs, the number and variety of bond options using the wrapper is creeping up.
"The initial exposure from fixed income ETFs was fairly broad. Now they are much more granular – it's the next level," says Paul Syms, head of EMEA ETF fixed income product management at Invesco. "Investors can get exposure to bonds of different ratings, different maturities – it's allowing a much more precise exposure to fixed income."
But one of the reasons why fixed income ETFs may have lagged their equity cousins may be down to this inherent granularity.
"There are many more benchmarks in fixed income than in equities," says Syms. "There are some standard equity benchmarks, but there are not necessarily the same standards in fixed income."
Low yields pressure fees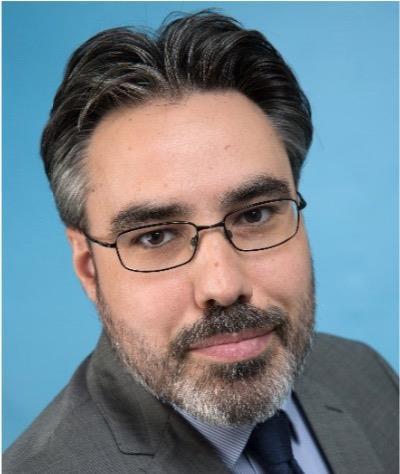 In the low yield world – with major central banks forcing down interest rates once more – the returns on fixed income are still suffering. However, the yield environment may give a boost to ETFs.
"Across the board, yields used to be higher, allowing investors to pay higher fees," says Invesco's Syms. "Now, even paying 25bps on something that is yielding very little – or even has a negative yield – will make people think twice about active funds."
It has also become more difficult to pick up alpha from some sectors – like core government bonds, given economic policies – so ETFs are a good option to act as building blocks for beta, freeing up fees to access alpha through active funds elsewhere.
Investors are also starting to use ETFs to access liquidity as they can get in and out quickly, according to SSGA's Lesné.
"Fees are also relatively attractive compared to active funds, ETFs can diversify and are easy to trade. Equity ETFs received a lot of assets as it was hard for active managers to outperform," he says. "For fixed income, it has become a similar story."
Managing liquidity
ETF advocates point to the central role of these funds as a bond market price barometer.
"By their nature, bonds have been traded over-the-counter so you have a lack of pricing data," says Lake at JP Morgan. "That is already a challenge, but also there are hundreds more bonds than equities. Trading bonds through ETFs helps with price discovery as the price of an ETF is helpful input into the pricing of fixed income overall. Most investors meet at exchanges to see pricing and this is happening in real time with ETFs."
Fragneau agrees. "When you are concerned about the liquidity of the bond market, there is little data available to look into it," he says. "But when there is an ETF on that market, it functions as a measure of the underlying liquidity. Also, gathering data on 3,000 bonds one by one takes time. With an ETF, you instantly have the information available on the underlying bonds. It is a very efficient proxy for liquidity."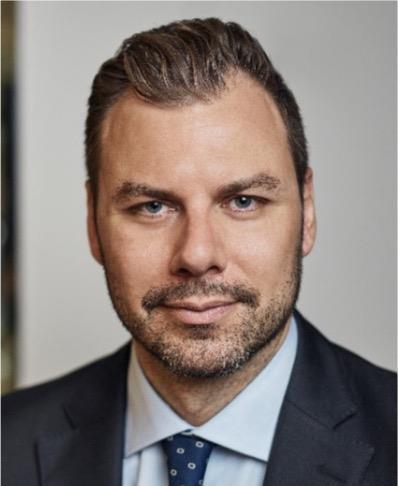 It might also be a proxy for a focus group.
Amundi launched its first floating-rate ETF in 2015 – it was the first such ETF in Europe.
To ensure the fund did not face a liquidity issue, the manager placed a liquidity filter on the index it was tracking. The index was meant to have fewer than 100 bonds, but 100 passed the test. A few years later, there were almost 250 bonds in the ETF as the liquidity in the sector was much better.
According to Fragneau, the market – issuers and their advisers – spotted investor appetite. "This is something we didn't have before and it helps the market by giving a clear view of what people want," he says.
In the three years since the launch, the amount invested in floating-rate ETFs has risen to €8bn.
"The ecosystem around fixed income is changing and ETFs is playing a big part in it," says Lake, acknowledging also that the options for investors are changing, too. "With active funds, you can do more research into the downside risk – defaults and downgrades – which can make a big difference in the long run."
The future is bright for fixed income ETFs – and the party has just got going.