A snapshot of France's institutional investment landscape as seen through the lens of Indefi's latest survey
French institutional market: about €2,720bn as at end-2019 (figure 1)
The French Institutional market is characterised by the predominance of insurance companies which manage over €2trn of assets – 75% of the market related to life insurance business. Despite limited returns because of the low-rate environment and the weight of Solvency II, life insurance remains at the core of the French investment landscape. Owing to a strong public pay-as-you-go system, the pool of assets managed by second-pillar pension institutions is limited compared with European counterparts. The future role of pension institutions is unclear as Gilets jaunes protests and the COVID-19 pandemic have derailed President Macron's long-awaited reforms.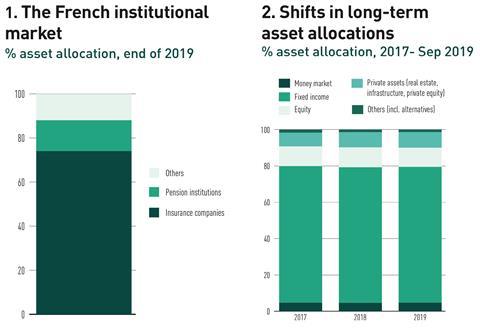 Asset allocations amid negative interest rates (figure 2)
Fixed-income products are the backbone of long-term institutional asset allocations (about 75%), as a result of Solvency II constraints (insurance firms). Negative sovereign bond rates have fuelled diversification, with private assets making the most of this trend. Despite a favourable market effect, equity allocations have been reduced because of an excess of volatility in a Solvency II-constrained framework. Yet investors have increased their exposure to global markets to the detriment of European equities. Money market has slightly increased in institutional allocations as a result of investors' wait-and-see attitude and unwillingness to invest in long-dated paper.
Private assets show uninterrupted momentum (figure 3)
Private assets have experienced strong growth over the past five years buoyed by investors' search for yield and their relatively favourable treatment under Solvency II, the number of institutional investors exposed to private assets having reached an all-time high. Furthermore, investors are diversifying their real estate allocations, extending their investments to pan-European products and seeking new thematic opportunities, such as logistics or health.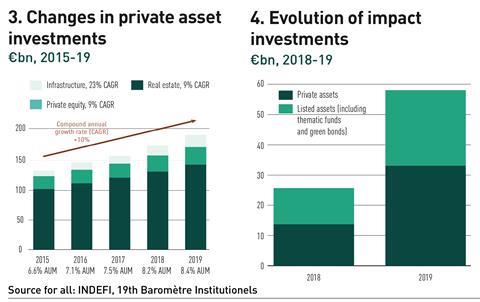 Growing share of impact investing (figure 4)
Impact investments have doubled in one year, to reach €58bn of assets under management by the end of 2019. In addition to (now) traditional allocations to green bonds and thematic equity funds, institutional investors have turned to private assets to materialise their sustainability ambitions, encouraged by article 173 disclosure requirements on green financing. Energy transition infrastructure and energy-efficient real estate form the bulk of these allocations. Yet innovation and growth lie in new-found appetite for impact private equity strategies, in which institutional investors have placed their hopes for a renewal of a challenged asset class.
€425bn assets outsourced to third-party managers (figure 5)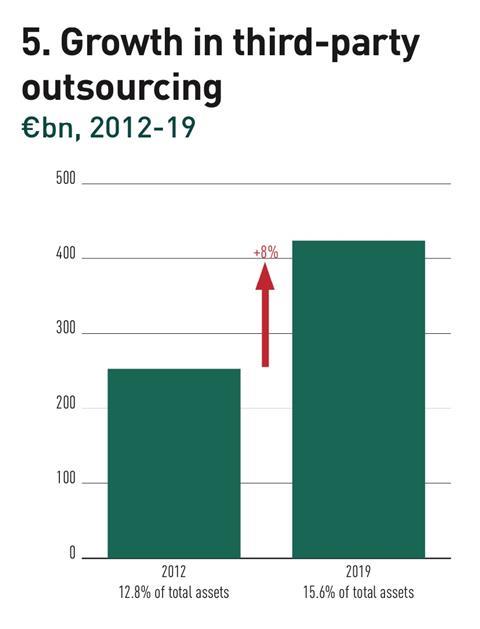 French institutional investors outsource €425bn of assets to third-party managers. Traditional asset classes (outsourcing has decreased from 16.0% in 2018 to 15.6% in 2019) have been fully offset by diversification. Private assets remain the major growth relay for third-party asset management, accounting for about 25% of total outsourced assets. Institutional investors increasingly favour segregated vehicles, as they seek to tailor products to facilitate asset-liability management and regulatory constraints including transparency, reporting, and so on. The competitive position of managers is expected to go through a turbulent period in 2021, with best performers likely to benefit from polarised inflows in the COVID-19 period.
France: U-turn for FRR
1

2

Currently reading

France: Institutional market barometer

3