New occupational pension savings plans are taking root, despite the lack of a regulatory push from pension reforms
KEY POINTS
The PACTE law aims to simplify supplementary pensions saving and encourage small business growth
A separate pensions overhaul has been halted because of COVID-19
New PACTE products are selling steadily, providers are hopeful about the long term
On 22 May 2019, the Loi PACTE – for Plan d'Action pour la Croissance et la Transformation des Entreprises, or action plan for business growth and transformation – was enacted.
The concept behind the law is that companies that are better funded, innovative and fairer are more likely to grow, creating jobs.
The law aims to help small and medium-sized enterprises (SMEs) grow by facilitating access to diversified funding (public listing, investment capital and crowdfunding), as well as orientating individual savings towards companies' equity capital. It also encourages employee incentives including profit-sharing, and employee savings plans.
As part of this drive to promote saving, PACTE introduced substantial reforms for supplementary pensions, replacing existing schemes including PERCO (collective workplace retirement saving plans), PERP (individual savings plans) and the Loi Madelin (contracts for the self-employed).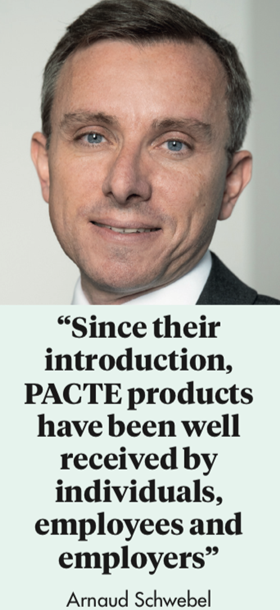 The changes are intended to unify, harmonise and simplify these schemes, A further objective is to open the product landscape for retirement savings – currently dominated by insurance companies – to a wider range of providers.
Under the new law, from October 2019 providers were allowed to offer a new vehicle, the Plan d'Epargne pour la Retraite, or PER, for defined contribution (DC) plans.
But over the following few months there have been question marks about the future of these products.
In December, new proposals for a complete overhaul of France's statutory pension schemes, replacing them with a single funded scheme, were announced. These would also replace social security and AGIRC-ARRCO, the existing (unfunded) second-pillar pension regime for the private sector. The proposals were planned to take effect from 2022.
In February 2020, Edouard Philippe, then prime minister, railroaded the legislation through parliament by decree, following intense opposition from both MPs and unions. A key criticism from opponents was that the proposals would force people to work longer for reduced benefits.

But the onslaught of COVID-19 brought all reforms to a sudden stop.
On 16 March 2020, president Emmanuel Macron had addressed the nation, asserting: "We are at war… That is why I have decided that all the reforms under way will be suspended, beginning with the pensions reform."
The French parliament later approved a law allowing the government to legislate, where necessary, through ordinances in areas strictly related to crisis management.
However, providers had by then taken the opportunity to unveil new products under the PACTE regime, launched in October 2019 prompting a flurry of products. As part of this activity, BNP Paribas Asset Management (BNPP AM) announced that it had created a new unit focused on defined contribution (DC) pension saving in Europe. Besides the PACTE law, the unit is also aimed at taking advantage of the EU's pan-European personal pension product (PEPP) regulation.
But will the abrupt halt in pension reforms announced in March act as a delay on the development of PERs, or scupper them altogether?
Arnaud Schwebel, global head of retirement solutions at BNPP AM, is optimistic about the product's long-term future. "Since their introduction, PACTE products have been well received by individuals, employees and employers," he says.
According to the French Treasury, assets invested in new PERs had grown by 33% from the end of December 2019 to the end of March 2020. The number of savers increased by 42% to 790,000 over the quarter. Occupational or collective plans set up through corporate PERs represent over 55% of savers and nearly 50% of total assets.
Schwebel says the positive customer response to the product is attributable to a number of benefits offered by PERs, including the guarantee of portability of the contributors' savings throughout their careers; the opportunity for savers to participate in financing a sustainable economy; and tax reductions for both employers and employees.
PACTE Law – the facts
● Law passed on 22 May 2019
● New products marketed from 1 October 2019
● Assets under management (31 March 2020): 7.8bn
● Individual savers (31 March 2020): 790,000
New retirement vehicles
The PACTE law establishes a new defined contribution (DC) savings product (plan d'épargne retraite, or PER) which has three variants:
● Group retirement savings plan: open to all employees, this supersedes PERCO, the existing collective savings plan for retirement.
● Corporate retirement savings plan: open to certain categories of employees (generally for executives and managers), and supersedes the Article 83 contract.
● Individual savings plan: takes the form of a securities account or an insurance contract, replacing the PERP and Madelin individual savings plans.
Common characteristics
● Each PER has three components for:
a) compulsory contributions
b) payments from payroll savings
c) additional voluntary employee contributions
● Early withdrawals allowed from voluntary savings to buy primary residence, or as a precaution in case of disability or unemployment.
● Choice of lump sum (for voluntary savings), annuity or a combination, at retirement.
● Choice of investment, otherwise default investment on a lifecycle basis.
● Greater range of investments.
● Easier to switch product provider than under previous the regime.
Xavier Collot, director of employee savings and retirement at Amundi, says: "The advantages of these new savings products have been very well perceived by French savers, as well as by corporates which can offer their employees an attractive package to build up long-term retirement savings."
He points out that these packages can include lifecycle strategies, as well as flexible payout options during the decumulation phase, through lump sum withdrawals and/or annuities.
At the end of March 2020, Amundi boasted a market share of over 55% for occupational/collective plans through corporate PERs.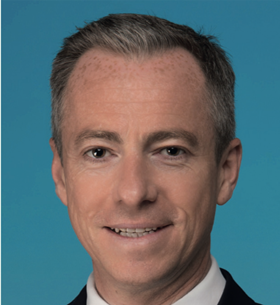 Collot says: "The funds raised through the PER can only develop because of the benefits brought by these new savings products."
However, according to Christel Bonnet, principal, Mercer, the PACTE law has not led to a trend in companies setting up DC pension plans. "We are seeing large employers taking this opportunity to amend their existing DC plans to make them compliant with the new law," she says. "Meanwhile, smaller employers have not set up new DC pension plans. COVID-19 does not provide a good context for this kind of change."
She says that implementing new PERs is going to mean insurers having to make huge changes to their IT tools to manage the insurance contracts and the employees' affiliation, although she expects most insurers to be ready by the beginning of 2021.
Bonnet adds that Mercer's view is that it is more the overarching pension reform – with its resulting decrease in pension payments – which could have a huge impact, encouraging employers to set up 'plans d'épargne retraite entreprise', or PEREs.
Schwebel acknowledges that PERs have their challenges.
He notes that during the lockdown period – from mid-March to mid-May – in France, in the absence of consumer spending, the amount of savings in France increased by a record €100bn.
"However, these savings currently remain mostly in short-term instruments," he cautions. "The challenge is therefore for professionals to maintain the momentum on the sales of retirement saving plans, given that their investment horizon is entirely suited to longer-term investments offering a more attractive yield."
France: U-turn for FRR
1

2

3

Currently reading

France: Steady workplace demand