The implementation of social partner pensions between employer and trade unions has yet to take off
Key points
Two years of limbo have followed the announcement of a new framework for social partner pensions (SPPs)
Plans to create the first SPP were announced by Talanx and VER.di in October
Alternatives to the SPP are a subject of public discussion
In January 2018 a new framework for occupational pensions, Betriebsrentenstärkungsgesetz (BRSG), took effect with substantial fanfare.
For the first time, workplace pension plans could be created without guarantees, freeing employers from the obligation to top up underfunded plans.
The defined ambition plans can only be established by employer associations and trade unions – the social partners – and are therefore known as Sozialpartnermodell, or social partner pensions (SPPs).
However, despite much public discussion and swirling rumours as to who was going to be first to introduce such an arrangement, little has happened for nearly two years.
But last October, insurer Talanx and ver.di – the country's second-largest trade union – announced an agreement to deliver a defined contribution (DC) SPP plan.
The press release also stated that Zurich Group Germany – which is partnering Talanx in providing the plan – was planning to start negotiations with ver.di "soon", with the aim of creating an SPP for its employees.
However, any hope that this might open the way for a torrent of new schemes has been dashed. While some companies have held discussions with the unions, no other such arrangements have been announced.
"Outside the insurance industry, we are seeing announcements about negotiating an SPP in the banking sector, and there was recently an announcement in the metal and electrical sector," says Michael Karst, director legal, tax and accounting at Willis Towers Watson Germany. "Both processes are at a very early stage, and whether they will end in agreement cannot be predicted."
The different entities involved have all attracted some criticism for the apparent halt.
"The labour unions seem to be uncomfortable with the role that they've been given," says Thomas Huth, head of pension management, institutional coverage Germany, DWS. "Together with the employers' associations, they are responsible for setting up and running an SPP. That means they are also responsible for the outcome – the SPP's financial return – and they will take the blame if pensions have to be reduced."
And he highlights another problem: "The political discussion has never stopped, and has continued to produce alternative suggestions. So many companies are in a wait-and-see mode."
Low expectations for government commission on pensions
The German government is in the midst of tough negotiations to design a new model for retirement provision based on a "reliable contract" between generations. For this reason, it has established a commission – the Rentenkommission – to draw up proposals for a sustainable pension system from 2025
The commission includes representatives of the governing parties, CDU/CSU and SPD, as well as experts and trade unions (see box).
The commission's final report was expected before the end of March, with no delay anticipated despite the spread of COVID-19. However, it is still unclear exactly what the commission will recommend and expectations are low. It is understood to have struggled to agree on a common line.
Klaus Stiefermann, managing director of aba, the German occupational pensions association, says: "We do not think that the report will include anything completely revolutionary but will instead recommend further development within the existing models. However, we do hear clear messages relating to the things that interest us most – occupational and private pensions.
"This could include proposals in the direction of auto-enrolment but we don't know yet. I do not expect a complete departure from the privately funded pension system, the Riester Rente, however, and I do not ultimately expect recommendations on issues that have been debated in Germany such as Staatsfonds, Extrarente or Deutschland-Rente."
These latter are various ideas for a national additional pensions savings scheme, along the model of KiwiSaver or the UK's NEST. Aba opposes this.
Stiefermann hopes that occupational pensions will take policy priority over third-pillar retail savings and that improvements to occupational pensions will be considered for low-income groups. For the second and third pillars, occupational and private pensions proposals to stabilise the statutory pension insurance system will be vital.
Stiefermann adds: "I believe that comments will be made on the issue of the retirement age and its flexibility according to the life expectancy, but I do not think this will be part of the report."
Aba sees auto-enrolment as a crucial issue: "We hope that solutions like Staatsfonds, Deutschland-Rente or Extrarente will be not propagated because this will cannibalise occupational pensions. There won't be a winner and the models are all not sufficiently well-engineered," Stiefermann adds.
"The trade union side has strongly supported an expansion of pay-as-you-go state pensions and it will not be a surprise if this position has not received the approval of the employers or from the specialist members of the commission," says Stiefermann.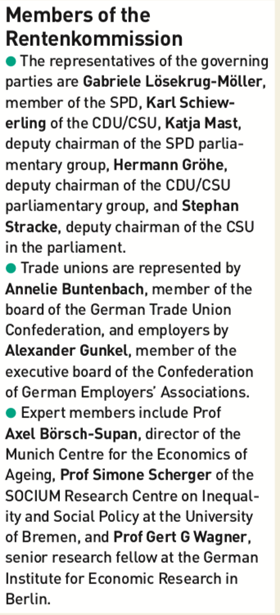 "The experts are pushing for capital-funded pensions, possibly also through auto-enrolment, but employers are unconvinced by auto-enrolment and trade unions also view capital funding critically."
Employees still want guarantees, Stiefermann notes, despite the expense of sacrificing future returns in a funded model. He adds that the social partnership model for pensions is now enshrined in law.
Annelie Buntenbach, member of the board of the German Trade Union Confederation and a member of the Rentenkommission, says she supports "a strong state pension, stable and in perspective higher pensions, beyond 2025, and more solidarity. Politics must now set the right course for this. People need a long-term perspective that the level of pensions will not be reduced any further. It is clear to everyone that pensions are not for free, but neither are solutions on the capital market. We want the costs to be shared fairly.
"With solidarity pension insurance, employers and employees share the costs. In the case of private provision, the burden is solely on the employees. That's unfair. We propose a smart mix of contributions and taxes to finance the system. If the number of old people increases, the share of the gross domestic product spent on them cannot remain the same or even decrease.
She also opposes raising the retirement age, as life expectancy varies between social groups and people with physically hard occupations have a lower life expectancy than others.
"For them, a further increase in the retirement age would be a reduction in the pension through the back door. Instead, we need more flexible transitions into retirement, for example for shift workers and nurses. Working conditions must also be fundamentally improved so that work doesn't make you sick."
Luigi Serenelli
Heribert Karch, managing director of MetallRente, the pension fund for the metal and electrical industry, says so far it is mainly the providers – the life companies – that have dominated the public debate, while they have also tried to conclude some deals with the bargaining partners in their own sector.
"They claim to be 'BRSG-ready' and I have no doubt they are," he says. "However, there are a lot of possible models. And therefore a lot more discussion between social partners is needed. So it's not a surprise that we don't yet have an explicit labour agreement."
And he continues: "Germany's specific SPP model is a completely new approach to pensions, not only for Germany, but also worldwide," he says. "It looks similar to systems in other countries only at first sight. Any new topic, and the goalposts for bargaining, need time to be thought through thoroughly and to be discussed within each organisation."
He adds that every aspect of the topic is relevant. "It is not only smart, but also crucial, to have a real, informed conversation about chances as well as risks."
The Rentenkommission – the federal government's pension commission set up to prepare proposals for the future of pensions – was due to publish its final report last month (see panel). But even if it meets that deadline, it is unclear whether it will shed a helpful light on the situation.
Huth says: "There seems to be some disagreement over some things, such as retirement age, contribution levels, and so on. I wouldn't be surprised if the Rentenkommission fails to produce a proper outcome, although this would not be the worst that could happen with respect to the SPP."
Karch adds: "At the moment, the Rentenkommission debates seem to be limited to the statutory pension and to a private pension standard product inside the taxation framework of 'Riester pension' subsidies."
But Karch is not critical of this focus. "The BRSG reform was just the right thing to do for the German occupational pension system, and we don't need another reform before this legislation really takes off," he says. There are always regulatory aspects that could be changed for the better.
But he points out: "At the beginning of this year, one major unfairness at least was improved: social insurance contributions from occupational pensioners has been reduced and hence, a long-standing obstacle for occupational pensions was partly removed."
In terms of the situation the SPP was created to address, certain ideas are doing the rounds, such as a regulated standard pension product based on a DC approach, or an 80% guarantee established by automatic enrolment on a private basis.
"Taking into account that about 40% of the workforce don't have the budget for pension savings, what we really need is a new financing and risk-sharing deal for pensions, rather than playing with new structures," Karch says. "This can lead towards alibi politics, blaming someone else, causing irritation and confusion."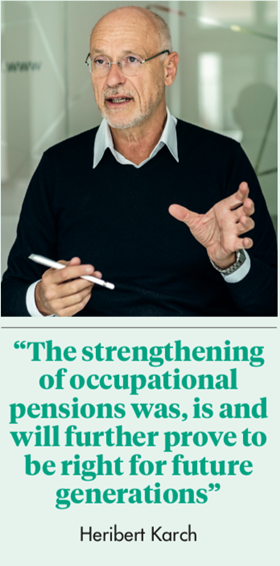 But he adds: "We should all be clear that reforms that might result from that debate and the final report, should not thwart what was rightly introduced with the social partners pension model and the BRSG as a whole. Occupational pensions are the proven system for valued additional pensions for millions of Germans. Whatever the Rentenkommission concludes, the strengthening of occupational pensions was, is and will further prove to be right for future generations."
So what is the future for Germany's occupational pensions system (bAV) if the SPP does not take off?
Alternatives to the SPP model include a national auto-enrolment fund along the lines of KiwiSaver in New Zealand or NEST in the UK.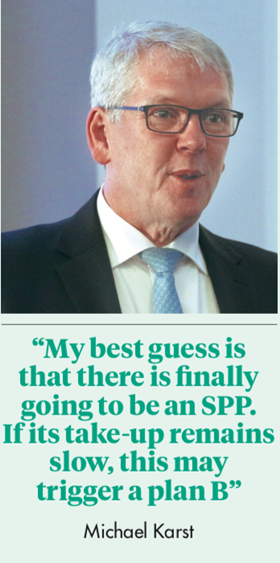 "That could lead to a loss of interest regarding the traditional bAV in Germany," Karst says. "The right way to face this challenge is for all German employers to ensure a certain level of more occupational pension promises for a broader range of employees in the country, even in industries where we do not have any bAV systems so far."
But he says this is not a certainty. The next step would be the result of the Rentenkommission's deliberations about such mandatory systems, he says.
Huth says: "My best guess is that there is finally going to be an SPP. If its take-up remains slow, this may trigger a plan B. But even then, I would also expect the government to introduce some new ideas to make the SPP more attractive."
Karch agrees: "I see no indications whatsoever that there won't be a take-off. No one can hide from the reality of the markets and the economy, nor can one hide from the fact that we need better pensions for most people. Whatever the social partners do in the end, they can provide higher pensions for many, and clearly create sustainable systems for occupational pensions in the future."
To read the latest IPE Digital Edition click here
Germany & Austria: Do social partners pensions have a future?
1

Currently reading

Germany & Austria: Do social partners pensions have a future?

2

3