German pension funds are embracing ESG and alternative assets in the search for improved yield
Key points
ESG investing has moved up the agenda although it still has some way to go
Regulatory pressure is helping to drive ESG investing
Alternatives and illiquid assets are seen as a way to boost yields
In Germany, it started mainly with the churches seeking to invest their funds in an ethical manner. But now, years later, environmental, social and governance (ESG) investing is on the agenda of an increasing number of institutional investors.
A worldwide survey carried out by Allianz Global Investors (AGI) last year found that many pension funds in Germany have started to embrace ESG and sustainable investing in their investment strategies.
In Germany, 73% of institutions – compared with 71% globally – agree with the sentence "I expect ESG/SRI/impact investing to grow dramatically more popular among institutional investors in the next three years."
And while only 11% of those surveyed globally viewed ESG investing expertise among their top three considerations when choosing a manager, the figure in Germany is 20%, which is likely to increase significantly, according to AGI.
"In the past, there was an 'ESG paradox' among German corporates," says Steffen Hörter, global head of ESG integration and solutions, AGI, and a member of the EU sustainable finance technical expert group. "Many large listed corporates were paying a lot of attention to sustainability in their operations but did not consider sustainability in their corporate pension schemes. This is now changing. We see increased attention and interest from insurance-regulated pension funds on ESG disclosure and climate-risk management."
And Hörter says BaFin's December guidance notice on dealing with sustainability risks has moved the topic to the top of German pension funds' agendas.
Regulatory pressure is one driver of the accelerated adoption of ESG values, says Dennis Hänsel, head of investment & ESG advisory EMEA/APAC at DWS.
"Under the EU Action Plan, pension funds will need to report on how they integrate ESG risks into their investment process," he says.
Reputational risk and investment risk are also speeding up ESG adoption. Hänsel says: "Investors recognise that incorporating ESG criteria can significantly reduce portfolio risk and increase the resilience of their allocation."
However, he says the main challenge investors face in evaluating how to improve the sustainability of their portfolios is inconsistent ESG data.
"German corporate pension plans are therefore seeking help from ESG experts to understand how to select, aggregate and implement ESG data into their portfolio," he says.
Eberhard Glöckner, head of client relationship management, institutional clients, Germany, at Union Investment, says: "As a first step, corporates have analysed their supply chains and products from a sustainability perspective. The integration of ESG criteria in capital investment is the next step."
He says larger, listed German corporates with corresponding disclosure requirements are taking the lead, both in avoiding reputational risk for the company and in reducing investment-related risks of the portfolio.
"Exclusions still dominate, but best-in-class approaches and, in particular, active shareholder engagement are becoming increasingly popular," he notes.
Overall, however, Nigel Cresswell, director, head of investment, Germany, Willis Towers Watson (WTW), strikes a cautious note: "It is by no stretch of the imagination a tidal wave towards ESG at this point in time."
Risk/return trade-off
ESG is not the only subject of discussion within the asset allocation landscape. The risk/return trade-off is also an important issue for pension funds.
"German investors have a low risk spend, lower than their international peers," says Cresswell. "In order to meet their stated objectives, they will need to increase their overall level of risk spend, and improve the diversity of their portfolios with this available risk spend."
He warns that many investors are still to reassess not only their willingness, but also their need to increase risk budgets, which he says suggests an unnecessary degree of conservatism.
The WTW Global Pension Asset Study 2019 (see figure) shows that German funds have, on average, the highest allocation to fixed-income instruments, lower allocations to risky assets, and the lowest allocation to equities.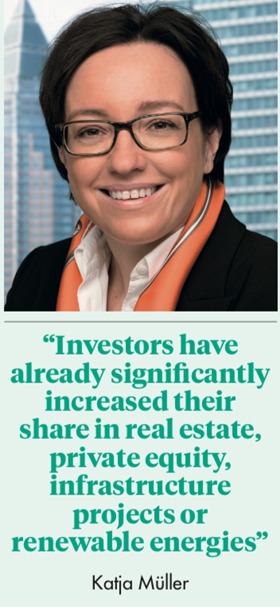 Cresswell says overall portfolio construction could be significantly improved. "Just looking at the current risk budgets, by embracing a broader range of return drivers, the expected returns for regulated investors could be improved by nearly 50%, from 1.3% to 2.1%," he says. "For unregulated investors, the corresponding change is again approximately 50% from 2.2% to 3.4%."
However, for other investors including Pensionskassen, BaFin regulations set out the types of assets that can be invested in and the maximum amount that can be invested in each asset class.
Furthermore, additional solvency requirements lead to restrictions in the degree of risk that may be spent and, says Cresswell, have "forced" regulated investors into a pro-cyclical reduction in risk, and an inability to "sit out" short-term market noise to profit from the long run.
But Katja Müller, chief client officer, Universal-Investment, says German institutional investors – who are preparing for a prolonged period of low interest rates – are continuing the trend of diversifying portfolios through alternatives.
"Investors have already significantly increased their share in real estate, private equity, infrastructure projects or renewable energies, and plan to increase them further," she says. "Our performance data shows that this has helped them in the past to fulfil their obligations."
But she agrees there are challenges. She says: "Some of them are getting closer to their ceiling for investments in illiquid assets, and finding suitable investments with attractive risk/return ratios is becoming increasingly strenuous, as some markets are apparently already showing signs of overheating."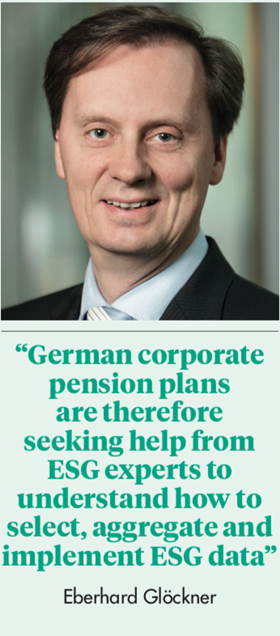 Stefan Bauer, country head for Germany at Franklin Templeton, agrees that the trend towards alternatives is continuing. "Infrastructure, private debt and equity, and real estate thus tend to balance out portfolio volatility," he says. "In many asset-liability management studies, both the expansion of allocation to alternative asset classes and the country allocations with more focus on emerging markets are becoming apparent."
Of course, risks on the capital market increase in a negative interest-rate environment and with the current geopolitical backdrop. "Following the trade war between the US and China last year, and now the coronavirus, a downward trend caused many investors at the beginning of the year to use up [their] risk budgets," Bauer says.
He continues: "All in all, investors tell us that complexity with potential risks to their portfolios has increased, and this is countered by a relatively tight regulation for pension fund investments, though not applicable to contractual trust arrangements, and existing pension liabilities with a guaranteed yield distribution [Garantiezins]."
Müller says that when markets began to fall as Covid-19 spreads, trading activity in funds on the Universal-Investment platform increased by about 40%.
But an immediate effect on allocations was not visible, she says: "The only thing that increased was the number of hedges with derivatives, which fund managers use to hedge against further price falls. In historical comparison with similar market phases, however, this happened at a normal level."
Generally, she says pension funds are taking higher risks in relation to illiquidity compared with a couple of years ago, having increased investments in real estate and alternatives.
"In real estate, we see a greater appetite for development projects or properties in Asia, for instance," she says. "On the other hand, they increasingly monitor and steer their risks, for example through overlay management services."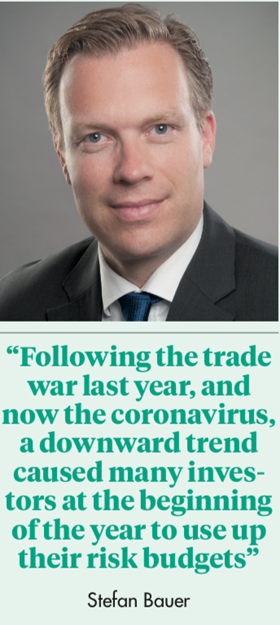 Oliver Postler, head of investment strategy, HVB Pension Fund, says: "In the current economic cycle, we generally tend to prefer higher-quality assets, covering all asset classes in the liquid and illiquid universe. Real assets like liquid/illiquid equity and real estate play an important role in a negative real bond yield universe. Like many other institutional investors, we are planning to add some more exposure to private markets including private equity, private debt and infrastructure."
But in all this, are investors sufficiently conscious of cost?
Hänsel says German pension plans are extremely cost sensitive, since yields are low. "We see that [cost sensitivity] for investments in seemingly efficient markets like US equities via passive strategies, Europe via passive enhanced and systematic strategies," he says. "Less efficient markets like emerging markets are allocated to active managers."
"Similarly to the public sector, costs play a much bigger role than in the past, when awarding mandates to new asset managers and service providers," says Bauer.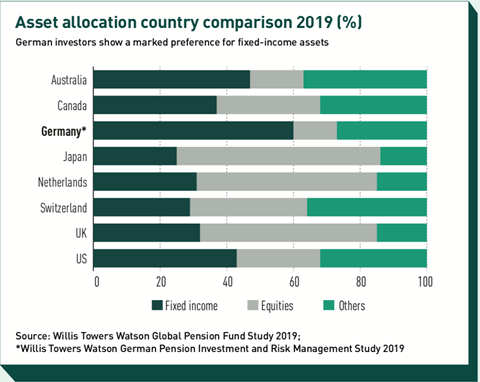 "Efficiency is a major cost factor for corporates, and here it is important to avoid additional funding obligations for the company. A transparent breakdown of costs is crucial too."
Postler says: "Due to the low-yield environment, high efficiency and a focus on costs are already in play. We do not have a bias to active or passive investments. We decide case-by-case where the best fit to our strategy is expected. For example, with equities and commodities, we prefer a multi-factor strategy."
To read the latest IPE Digital Edition click here
Germany & Austria: Do social partners pensions have a future?
1

2

3

Currently reading

Germany & Austria: ESG and alternatives rise up the agenda