Sarah Gordon, CEO of the Impact Investing Institute, is building awareness of SDG-related opportunities
As the coronavirus rages on, many are questioning the vulnerability of societies and economies to pandemics and other shocks in a globalised world. How can investment create a society which is not only fairer but more resilient?
Impact investing, investing for both societal and environmental good and financial returns, could be part of the solution to some of the most urgent global challenges including renewable energy, infrastructure and sustainable agriculture, as well as affordable and accessible housing, healthcare and education.
Sarah Gordon, CEO, of the Impact Investing Institute, is convinced it is and is optimistic about the future of impact investing. "The current situation is a dreadfully painful opportunity but it is an opportunity nonetheless to create a better, and more just and resilient society. I think the last few months have proven exactly how interconnected we are globally and that ad hoc national measures to address global problems are not sufficient."
Gordon, a former Financial Times business editor, is working to make policy makers aware of the potential that private capital offers in impact investing. "We cannot wait until the next global emergency happens. We have to build resilience not only into healthcare but other aspects such as climate, workers' rights and the financial system and economy itself. A more sustainable world in general is also a more financially sustainable one. Private capital has a great role to play in this and cooperation between public and private sectors is the way forward," she says.
Accelerating growth in impact investing is part of the institute's mission and for this to be achievable, Gordon says the industry needs supportive policy and regulatory frameworks. "This could mean mandated reporting for companies on their positive and negative impact. We are not calling for this yet but it could be a tool for the future," she adds.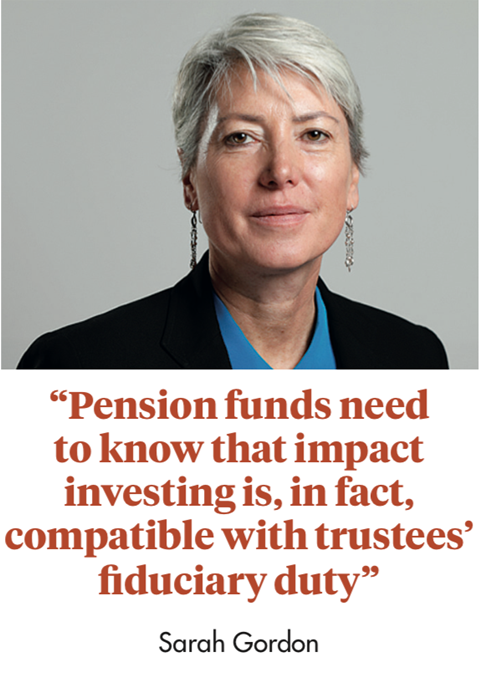 Institutional investors have slowly been getting in on impact investing and currently it is estimated that some $500bn (€459bn) has been invested in the various funds available, according to the Global Impact Investing Network (GIIN). Gordon says that to make pension funds comfortable with the idea of impact investing a clarification of their fiduciary duty needs to happen: "They need to know that impact investing is, in fact, compatible with trustees' fiduciary duty."
Gordon agrees that there are some growing pains – such as a lack of opportunities and the small size of some deals – which have deterred institutional investors. "This is true to some extent but there are also examples of pension funds that are investing in renewables and affordable housing. So some of the risks with impact investing are perceived risks or problems," she says. The institute is working with Pensions for Purpose and tha UK's top 75 pension funds to address common concerns about impact investing.
Building a better evidence base for the risk/return aspects of impact investing is one way to attract more investors, as is involving them earlier in the conversation about the opportunities that exist, Gordon says. "I do not see impact investing as terribly different from investments in general. There are several studies showing that impact investing is not detrimental to returns, on the contrary. You need to have clear return and impact expectations and consider the whole spectrum of higher return versus lower impact or vice versa; are you willing to give up some return for a higher impact, for instance," she added.
The lack of standard metrics is a problem Gordon agrees needs to be addressed and is working on several fronts to create a global consensus. One of these efforts is working with the Impact Management Project, a forum for organisations to build consensus on how to measure, compare and report impacts on social and environmental issues.
The Impact Investing Institute
• Launched 2019
• Combines two entities chaired respectively by Dame Elizabeth Corley and Sir Harvey McGrath, who now jointly chair the institute
• Joint report with Deloitte on technology enabled reporting
• Will produce a paper on pension trustee fiduciary duty with Sacker and Bates Wells
• Works with:
Global Steering Group for Impact Investment (GSG)
Impact Management Project
Make My Money Matter
World Benchmarking Alliance
Pensions for Purpose and leading UK 75 pension funds on areas such as fiduciary duty
• Supports IMP+ACT Alliance to promote a tech platform that allows investors to measure the impact of the investments
"The concern is that other countries and the EU, for instance, are also working on these and this may lead to a bifurcation rather than a unified global standard which would not be in the best interest of the impact investing sector."
Pioneering investors into impact investing strategies, ahead of big pension funds, endowments and insurers, have been well-known family offices and foundations, such as the Rockefeller Foundation. Some commentators have linked the agility of the latter with a generational changing of the guard at the top of these institutions.
Gordon points to the largest and most comprehensive study by the UK government of public demand for sustainable investment opportunities – entitled Investing in a Better world: Understanding the UK Public's Demand for Opportunities to Invest in the Sustainable Development Goals – published in September 2019. Among the 6,000 individuals surveyed, over 70% said they wanted their investments to avoid harm and achieve good for people and the planet and the number for under 40s is even higher. Gordon says technology will further boost awareness of where individuals' assets are invested
Considering the current climate, institutional investors are understandably worried, although avoiding knee-jerk reactions would be advisable. They would arguably do better on many levels if they would also consider the impact their investments have on the planet.
Impact investing: Build back better
1

2

3

4

5

Currently reading

Impact Investing Institute: The way forward

6

7

8

9