How will the IFC's impact investment principles help investors seeking transparency and clarity about their investments?
Key points
The Operating Principles for Impact Management were launched last year by the IFC
They require negative impacts to be addressed
Major asset owners are among the target signatories
The principles could prefigure an industry standard
They are distinct from direct regulatory instruments such as stewardship codes
A financial sector transparency initiative claims to make it just that little bit harder for impact investment firms to sidestep criticism. The unusual component in the new Operating Principles for Impact Management (OPIM) launched in 2019 by the International Finance Corporation (IFC), the emerging markets-focused private sector arm of the World Bank Group, demands the investor assesses, addresses, monitors and manages potential negative impacts of each investment.
"If you sign up to the principles, you open yourself up to scrutiny, comparison and feedback," says Johanna Köb, head of responsible investment at Zurich Insurance, a member of the OPIM advisory board. Nobody needs to join the group of signatories, but 92 investment firms have – including 33 since last year, among them BlackRock. By participating, each agrees to the potential for challenge by its peer group on its investment thesis and whether that qualifies as impact.
In so doing, participants also accept a more thorough examination of how they approach impact investment, helping better characterise a sector initially outlined by the Global Impact Investing Network (GIIN) a decade ago. "The market for impact investment is experiencing growth, and definitions might blur. We're starting to structure that discourse by first agreeing on what the process of managing impact should look like," says Köb.
Hence, signatories are expected to define their impact thesis upfront, demonstrating the intent to make positive social and environmental impact, and to manage strategic impact on a portfolio basis. "There can be a tendency to fall for the showcase, anecdotal story without looking at consistency. However, the principles zoom up from transaction to portfolio and fund level," says Maria Teresa Zappia, chief investment officer at BlueOrchard, a specialist investment firm on the advisory board of OPIM with around $6bn (€5.5bn) assets under management.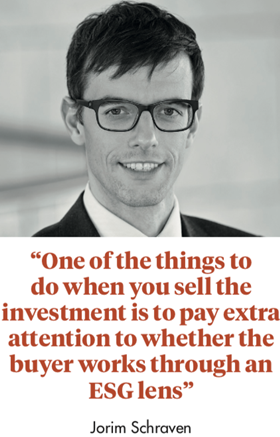 Signatories also have to establish the manager's contribution to impact; assess the expected impact of each investment; monitor progress and respond accordingly; and conduct exits considering the effect on sustained impact. "One of the things to do when you sell the investment is to pay extra attention to whether the buyer works through an environment, social and governance [ESG] lens," says Jorim Schraven, director of strategy at the Dutch development bank FMO.
Finally, they have to review and improve decisions and processes based on lessons learned, and use third-party auditors to periodically verify and publicly demonstrate alignment with the principles. Zappia says: "No matter how you as a practitioner develop your impact management framework, you need to have strategic intent, and explain both ex-ante and ex-post your monitoring of impact. Explicit disclosure is required in a statement that is externally verified."
The rigorous nature of the framework is a certainly a step forward in developing the sector by providing a more detailed description of how its investments work. But it is less of an exercise in ethics than it appears. Misdemeanours are not the focus, and no official regulatory authority specifically supervises the principles. Hence the penalties for non-alignment are low although disclosures are subject to usual fiduciary and regulatory concerns.
Rather, growth is the aim in a global market currently estimated at $502bn by the GIIN. "The principles will help mobilise more capital," says Neil Gregory, chief thought leadership officer at the IFC. Among the financial sector players still absent from the signatory list are major asset owners such as pension funds, although Gregory says this is a target group.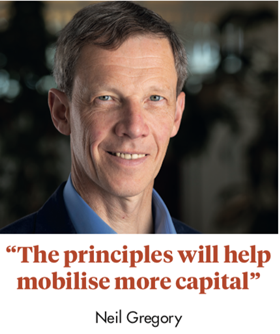 "We are talking to a number of asset owners. They could use the principles to allocate, which would also encourage more adoption by asset managers," Gregory adds. Zurich Insurance, Prudential Financial and the Australian pension fund Christian Super are among the handful of asset owners already involved.
Equity funds, according to Gregory, have an equally significant role to play in fulfilling ESG mandates. But boards need better definitions when comparing potential types of funds for allocation, ranging from ESG funds to impact investments. "It's helpful for asset owners to have clarity as to which is which. These investors are often interested in greater detail about the companies and the longer time horizons of impact investment because it takes time for impact to emerge," he says.
Yet it is unusual for greater disclosure to stimulate market growth. More likely, the signatories have convened to more effectively re-label a proportion of their activities, a few of which are already ongoing, and shape a framework for observing a newly formed market segment, which is subject to existing investment regulations.
Among their aims is the fulfilment of Sustainable Development Goals (SDGs), particularly in lower and middle-income countries. "Unlocking commercial capital is a most significant aspect of this as part of the drive to accelerate achievement of the SDGs," says Zappia of BlueOrchard. By providing that framework, the principles could attract funds for that purpose, some of them from new sources, which can now be designated impact investments.
Wider membership pool
Diversity of signatories is another of the aims of the advisory board, ranging from the large pension funds to development finance institutions, private equity firms and specialist asset managers while organisations arranging concessionary finance are fewer in number.
Yet, as Zappia indicates, this aspiration to variety could place limitations on the principles: "If you want to be more inclusive, the principles cannot be more prescriptive," she says. Although signatories are expected to disclose their assessments, they still have freedom to choose how they make such judgements – and this may vary according to organisation type or business model.
On the other hand, that diversity demonstrates the range of organisations motivated to influence the direction of the impact investment sector, ranging from improving and growing microfinance to women, through to participating in public private partnership infrastructure projects.
Assessment is an acknowledged work in progress. Schraven of FMO comments: "People assess impact in their own way. It's an area that really needs improvement if we are to reach the SDG targets by 2030 and to track progress – for example, in terms of avoiding greenhouse gas emissions or how we measure jobs created." Initiatives such as the Impact Management Project, which aims to rigorously define impact, are essential to distinguishing such investments from conventional channels.
The peer review encouraged by membership of the principles is distinct from direct regulatory instruments like stewardship codes, which outline principles of good practice and may form part of company law. Although that characteristic is a source of potential pitfalls, the additional requirement for external verification shows serious intent. As Zappia explains, the principles could prefigure a new industry standard.
"They could do for impact investment what the International Capital Market Association has been able to do for green bonds through the Green Bond Principles. This will help grow the market and ensure that, as regulation moves towards sustainable investment, we do have a framework we can follow," Zappia says. If signatories effectively maintain long-term positive impacts, they may play a part in releasing a stream of pension fund capital.
Impact investing: Build back better
1

2

3

4

5

6

Currently reading

Impact principles: Held to account

7

8

9