The EU's IORP II directive has yet to be fully implemented by Italian pension funds
Italian workplace pension funds are in limbo as the national pension regulator COVIP has yet to issue the new rules that are necessary to fully adopt the EU's IORP II directive. However, from last year, pension funds have started to take measures to comply with the new EU regulation.
"Actually, the new EU regulation is already effective because the Italian law 252 of 2005 regulating pension funds is in line with the IORP II directive," points out Claudio Pinna, head of retirement for Italy at Aon. "COVIP must issue some guidelines and clarifications, and has decided to wait and do it along with the revision of other rules concerning all pension funds."
One of the most important changes for Italian pension funds concerns risk management. "Until now, it has been incorporated into the finance function, which is responsible for monitoring volatility and the performance of the external asset managers," says Pinna. In fact, none of the mostly defined contribution (DC) Italian workplace pension funds manages assets in-house. "But with the new rules, risk management will involve all kinds of operative risks – in other words, anything that could jeopardise the fund's functionality, such as cyber risks," he says. In his view, the coronavirus pandemic has raised awareness of such risks. "Smart working from home implies more possible cyber attacks on pension funds, which should build business continuity plan."
Silvio Bencini, managing partner at European Investment Consulting says: "Many pension funds – such as Alifond, Espero, Pegaso and Priamo – have launched calls for tenders to outsource the risk-management activities." His firm has been appointed to carry out risk management functions for Byblos (graphics, paper and publishing industry) and Pegaso (local public utilities), two funds for which EIC already monitors external asset managers, according to Bencini.
"Pension funds should have an internal system to double check contributions through random checks" - Andrea Scaffidi
The new rules allow outsourcing of all functions but Andrea Scaffidi, head of retirement for Italy at Willis Towers Watson, says it is advisable to keep risk-management activities in-house. "Today, Italian pension funds have a very slim structure, even when they manage billions of assets. In practice it's just a few employees lacking an organic vision of all the operational risks," he says. "If external record keepers make a mistake with contributions, for example, pension funds cannot notice it; they should have an internal system to double check contributions through random checks. Generally speaking, they should be able to have their own control system."
Scaffidi says that some of the pre-existing funds – those that predate the 1993 reform and mainly serve the banking sector, the pharmaceutical industry and executives – will retain the risk-management function in-house.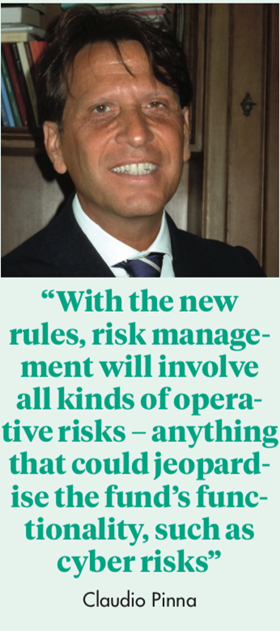 Cometa, Italy's largest contractual pension fund, with more than €11bn of AUM and about 411,000 members, which serves the metal industry, has chosen to internalise the risk-management function. "Last year we appointed the risk manager," says Cometa general manager Maurizio Agazzi. "With the assistance of a specific consultant, our manager is implementing the documentation required by law and an adequate risk-management system. So far, the consultant has prepared the documentation concerning the risk-management policy, outsourcing, the remuneration policy and the mapping of the financial and operational risks."
The new role of the board of directors versus the general manager is another important change required by IORP II. "The general manager used to be the person responsible for all the activities; now he must implement the policies that the board of directors approve," says Fabio Ortolani, deputy chairman of Eurofer, the €1.15bn pension fund with 78,000 members, who are employees of the Italian railway company. "The new rules open a new phase for Italian pension funds, with more awareness of all their responsibilities," Ortolani says.
Another challenge is the remuneration of the board of directors of Italian pension funds, who are representatives of the unions and of the sponsor companies in equal measure. "Until now, the directors have not really been remunerated, but the new governance rules require a remuneration policy for them too," says Pinna. "The question is whether they have the time and professional skills to take care of all the necessary changes."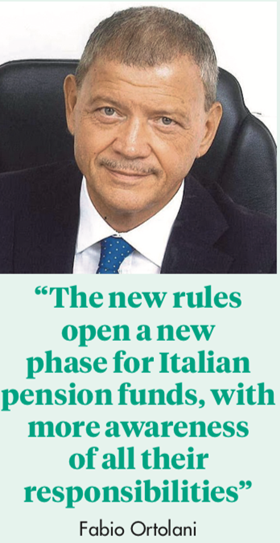 Lorenzo Cicero, lawyer in the regulatory and institutional section at the Rome think tank Mefop, says: "The IORP II directive asks the funds to define and write down a document outlining the new governance structure and policies for each new function. This is a complicated job and the directors and managers of the funds need a lot of training to do it well. That is why we are organising many educational initiatives for them."
According to the new rules, pension funds must also introduce ESG (environmental, social and governance) factors into their investment policies. "Some of the Italian funds think it's only a fad. Others have already started adopting ESG criteria," says Pinna. This is the case for both Cometa and Eurofer. "In 2010 we started our commitment to social responsible investments and we updated our ESG guidelines in 2018," recalls Agazzi. "Our approach is engaging with companies and analysing our portfolio to find out if any of the companies we invest in could expose us to ESG-related risks. To do so, we hired Vigeo Eiris, a consulting firm specialising in this field."
Ortolani says: "We have included ESG criteria in our last call for tenders to choose our asset managers. Eurofer asked asset managers to explain if and how they have adopted ESG strategies. The selection process is still ongoing."
The review of all policies that IORP II requires is also an opportunity to improve the use of funds' websites and their digital communication with members. "We have launched a new app that will soon allow members to manage their accounts," says Agazzi. "It will also help us go paperless and make us more eco-friendly; for every 4,000 authorisations to go paperless that we receive from our members, we will plant 200 trees in the cocoa forest that we inaugurated last year in Cameroon, using the online platform Treedom.net."
Pinna says: "Better communication with members is crucial to address the most serious problem that Italian pension funds are still facing. They have not yet conquered the heart of Italian workers. In fact, only one out of three workers is voluntary enrolled in a workplace retirement plan," he says.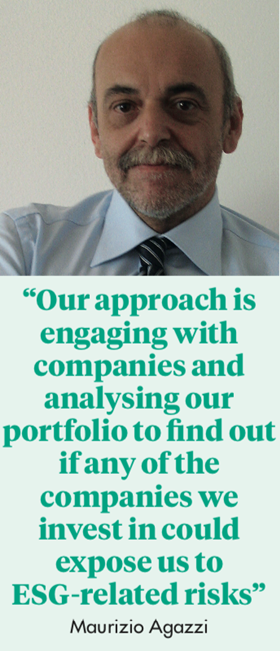 "So far, the documents that most pension funds send their members are too bureaucratic and not easy to understand. They should be simpler and explain the potential retirement benefits that each member's investment choices imply. Moreover, with the new rules, pension funds should check whether those choices are appropriate for each member. All this may help workers trust pension funds more."
Ortolani says: "At Eurofer, we are already trying to emphasise our fund's good performance and the potential positive benefits. This way, we have convinced around 6,000 workers who were members by default but didn't make any contribution (by contract, only their company would make a contribution token of about €100 per year) to become fully-fledged members and make real contributions."
Italy: Ready for the challenge
1

2

3

4

Currently reading

Italy: IORP II in limbo

5