Italian pension funds are primed to participate in Italy's post-COVID-19 recovery
Key points

Private equity is seen an attractive asset class in a recovery environment
Experts call the government to grant tax relief on real economy investment
Existing pooling initiatives represent a blueprint for investment in private markets
The pension fund market is reaching critical mass
As Italy emerged from the lockdown, with the reopening of most economic activities, the central bank, Banca d'Italia, forecast that the COVID-19 crisis will cause a 9.2% contraction in GDP this year. It foresees a gradual recovery over the next two years, with growth of 4.8% in 2021 and 2.5% in 2022.
The central bank said the fiscal policy measures taken by the government were of great help in countering this year's drop in GDP. It estimates they contributed more than two percentage points, assuming that the spread of the virus will be contained.
For pension funds and other institutional investors, the anticipated period of economic recovery represents a moment of 'endless' opportunities, particularly in infrastructure investment, says Alberto Brambilla, chairman of Itinerari Previdenziali, a pension think tank.
"In Europe, and particularly in Italy, there is a lot to do, both tangible and intangible infrastructure has been neglected for a long time," he says. But this type of investments, which carry a higher level of risk, would require some degree of tax relief. "The Italian government must reduce the tax burden and find tools to channel part of the trattamento di fine rapporto (TFR, severance pay) into the real economy."
The government tried to encourage investment into the real economy by creating piani individuali di risparmio (PIR), individual savings plans that enjoy tax relief when investing in Italian businesses. This is a paradox, adds Brambilla, as PIR are speculative investments from the individual saver's point of view.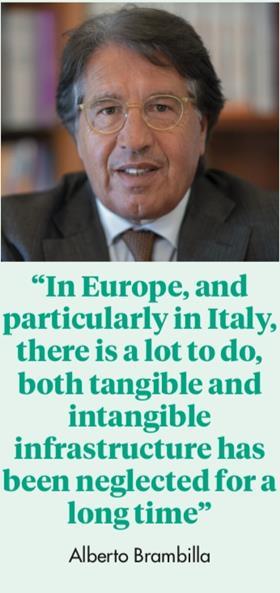 "Pension funds are a guarantee for workers in old age, also thanks to complementary insurance policies, while PIRs do not guarantee either the economy or the individual saver, but tend to invest in the liquid segment of the stock exchange," he says. "This government should deal with this situation by starting to reduce tax on pension fund returns from 20% to the original 10-11%, and avoid levying tax on the funds annually as if they were speculative products."
In Brambilla's view, the TFR should flow into the real economy to support research and development, companies with good technologies, and more generally job creation in Italy. At present, this financing tool ends up supporting foreign economies. Brambilla says: "The TFR represents the larger share of the inflows to open pension funds, pre-existing funds and fondi negoziali. For businesses, TFR is an alternative to bank financing, allowing SMEs to spend resources that belong to the worker, but are available to the company until the worker leaves the job. TFR should not be taken away from companies and put into pension funds that invest 3-4% of their assets in Italy and the rest abroad," he says.
Italy continues to struggle, owing to lacklustre economic growth and a high unemployment rate compared with its European peers. The government has tasked a committee of experts with drafting a recovery plan to revamp the economy after the peak of the pandemic. The plan acknowledges the limits of PIRs as an instrument for investment in non-listed firms. It also identifies incentives to support capital increases for firms investing in green technology and the allocation of private savings into SMEs and non-listed companies through collective investment schemes.
"To deal with lower growth, demographic dynamics and lower productivity, combined with high public debt, an impressive amount of public and private investments is required and, in this sense, pension funds together with institutional investors would certainly finance strategic projects that generate returns for their members," says Andrea Nanni, a partner at Prometeia and head of pension funds and insurance advisory at Prometeia Advisor Sim.
European policymakers are generating new market opportunities for Italian pension funds through credit lines of the European Stability Mechanism, European Investment Bank (EIB) loans and the EU's Recovery Fund. Prometeia Advisor Sim recently signed a memorandum of understanding with the European Investment Fund (EIF) to reinforce the cooperation for equity investments through pan-European institutional funds of funds. "The strategic partnership has the goal to facilitate the access of Italian institutional investors, including pension funds, to vehicles that the EIF will promote at European level," Nanni says.
Investments in infrastructure, however, require patient capital. In this phase, despite the dry powder available, Prometeia says private equity is particularly attractive for pension funds and in line with capital needs of Italian and European companies that compete on a global scale. "Here you can see a potential virtuous circle of growth, employment, profits and returns for investors," Nanni says.
For Brambilla, investments in private equity and in part in private debt "have to be strongly encouraged", although private debt carries a higher dose of risk than private equity. Private equity firms control a company with managers and long-term plans. "With private debt, there is not always control of the company, and a lack of control of subjects that manage the money of the investors is a risk, therefore it must be more regulated."
Private equity is an asset class that often does not show up in portfolios, and the first rule when approaching a new asset class is caution, according to Nanni. He argues that investment in private equity needs appropriate diversification that can be reached using funds of funds, or mandates. As a blueprint for investment in the asset class, Nanni points to the Iride project, an asset-pooling initiative by several second-pillar pension funds to access private equity funds. Prometeia acted as consultant to the project since its inception.
According to Nanni, Iride is replicable only if there is a clear focus on the goals. "Governance remains complex, since all decisions still need to be ratified by individual boards of directors. This aspect should not be underestimated, it is no coincidence that Iride was the only project born out of an agreement between pension funds," Nanni says. The hope is that another project of this type will start shortly, perhaps with a smaller number of pension funds, with specific targets including private debt, private equity or multi-asset mandates. "We are working on it with our clients," he says.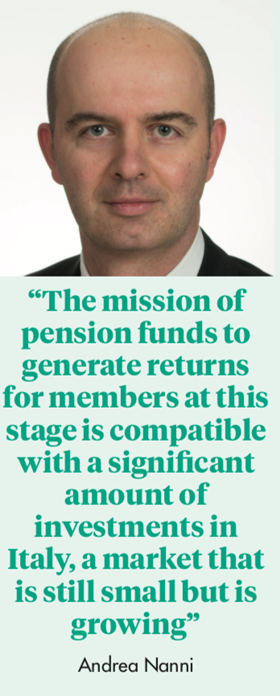 The expert committee that drafted Italy's recovery plan holds a critical view of Alternative Investment Funds ( Fondi di Investimento Alternativi), because they effectively prevent most savers from participating. Prometeia prefers FIAs specialising in small and mid-markets firms, with potential to grow in Europe and especially in the Italian market. "Given the size of the portfolios and resources of pension funds, regional diversification is essential," says Nanni.
He adds that Italian pension investors understand the importance of monitoring risks and opportunities. They also take seriously their role as responsible investors, particularly in relation to climate change, the energy transition, conservation of biodiversity and the reduction of social inequalities. Overall, the mission of pension funds to generate returns for members at this stage is compatible with a significant amount of investments in Italy, a market that is still small but is growing, he says.
In the near future, pension funds may review expectations based on a prolonged period of low interest rates. "It will be necessary to further intervene on allocations, increase diversification and allocate the risk budget effectively, by quantifying and taking on market risk, credit risk, currency risk and, where possible, liquidity risk," Nanni says. This holistic approach to assessing portfolio risks should be seen as a standard and, for Prometeia, is a pre-requisite to approach complex investment instruments.
"Funds should carry out an accurate projection of cash flows, or an asset and liability management [ALM] study, and assess their capacity to commit capital for long, illiquid but hopefully more profitable projects. The Italian pension fund market is close to reaching maturity. Performance is increasingly important and, as such, it is important to focus on the liquidity profile of the portfolios," Nanni says. In his view, more can be done, as the resources to invest are available and the operational structures of pension funds are improving.
Italy: Ready for the challenge
1

2

3

4

5

Currently reading

Italy's recovery: Endless opportunities for pension funds