Sponsored content from iShares
Liquidity in a pension fund context can mean a number of things. As long-term investors, pension funds can harvest the illiquidity premia by investing in private markets, which they have been doing increasingly over the past 10 years.1 On the other hand, pension funds are required to meet their liabilities and so need enough liquidity to ensure the payment of benefits to members.
For pension funds, these are the two most distinct expressions of the term 'liquidity'. The balancing act of locking assets up while retaining enough liquidity to meet member benefits, if done correctly, can improve the returns generated from a scheme's asset allocation.
As of 1 May 2019, the UK pensions industry was £1.66trn (€1.85trn) of assets, earmarked to meet liabilities of over £1.84trn (€2.06trn).2 In the UK, 73% of pension funds have become cash flow negative, and across Europe this number stands at 64%. This change in cash flow profile has been brought on as pension funds have increasingly closed their schemes to new entrants and future accruals. Many funds are now paying out more to their members in the form of member benefits than they receive from the combination of company contributions and investment return on assets.
To put these liabilities in perspective, UK pension funds have approximately £20bn in cash and European pension funds around £100bn.3
The profile of these cash flows is not linear either. As baby-boomers retire, the bulge bracket of pension fund liabilities will mean the amount in sterling that needs to be paid out on a monthly basis for the average fund may increase dramatically from its current position.
Those schemes that plan effectively how to navigate this liquidity challenge will be better placed to achieve their long-term funding objectives than those that do not.
Currently, cash flow negative schemes may be adopting a series of measures. Some schemes are moving to cash flow-driven investing (CDI), which seeks to construct a portfolio of income assets, bonds and other contractual cash flow generating assets, which are projected to meet all the liability cash flows as they become due.
CDI can be a highly effective framework for pension schemes to map assets versus liabilities in a way that focuses on cash flow, particularly for more mature schemes. In the US, some of the most mature schemes are adopting liquid beta sleeves, alongside a CDI-type framework.
Liquid beta sleeves are a combination of index products that seek to provide market exposure in a way that is liquid and customisable to fit a scheme's specific needs, especially for those with negative cash flow.
In this context, liquid beta sleeves form a small percentage – perhaps 5-10% – of a pension fund's total asset allocation, and could be used to deal with the cash flow requirements of the scheme, alongside traditional money market funds. Typically, these liquidity sleeves reflect, as far as possible, the strategic asset allocation of the pension fund itself. To this end, the liquidity sleeve also helps the fund avoid a large build-up of cash that can arise as member benefits become more burdensome.
Case study
As the UK Local Government Pension Scheme (LGPS) continues with pooling and consolidation, cash management at the individual scheme level presents a cash drag against the overall strategic asset allocation (SAA). One UK local government pension fund committed to private markets approached BlackRock to help address an increasing need to hold cash to meet capital calls over a number of years. In order to achieve this, the client set four key priorities:
● Mitigating cash drag against its SAA;
● Retaining daily liquidity for meeting cash flow requirements;
● Lower expenses than holding cash at custody and lower trading costs than holding indexed mutual funds; and● Ease of implementation.
BlackRock's Portfolio Analysis and Solutions (BPAS) team conducted a bespoke analysis mapping the client's portfolio to a series of options that replicated its existing SAA to a correlation of >0.99 on a rolling one, three and five-year basis at a range of 13–20bps at no incremental cost.
The client was pleased with the solution and the cost-effective implementation, which removed the burden for the client in managing cashflows by creating a liquidity sleeve.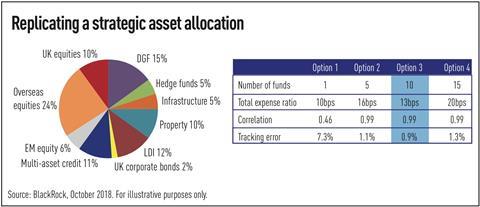 Increasing opportunity set across index investing
The topic of liquidity sleeves is becoming relevant because of the maturity of UK pension fund liabilities. The evolution in choices across indexing products is helping to improve the replicability of liquidity sleeves themselves. We believe that indexing has evolved from two perspectives.
● Exposures: While market capitalisation-weighted indices still dominate index investing across UK pension funds, the breadth of options has widened. Investors are now able to access single countries, common factors and specific sectors through ETFs. The number of exchange-traded products in Europe has grown from roughly 500 in 2007 to a figure close to 2,400 today.4
● Wrappers: Pension funds have a variety of implementation options when it comes to indexing. Index mutual funds remain the mainstay for most pension funds. However, the price dynamics around derivatives and ETFs have changed. Since the financial crisis, the implicit cost of holding certain index derivatives has increased as a function of changes in regulation. Meanwhile, the holding costs associated with ETFs are trending downwards, making them much more comparable to traditional index mutual funds. As the ETF market has grown, transaction costs have also shrunk as a result of increased trading on the secondary market. Lower transaction costs make ETFs a good fit to play a role in liquid beta sleeves, given that cash flows will require funds to be bought and sold regularly.
Conclusion
As defined benefit (DB) pension schemes continue to navigate towards the end game, managing the drawdown of their assets to meet their maturing liability profiles will be a difficult task. The sophistication of the indexing landscape has just so happened to coincide with this stage of the DB journey. The coming together of these two different aspects of our industry serves to provide maturing pension funds with a new way of addressing the challenge of negative cash flows.