The rise in investor awareness of climate risks and the increased allocation to passive strategies is set to continue. Tilting is becoming an alternative or complementary approach to traditional exclusion approaches to reducing carbon exposure.
From an analysis of absolute scope 1 and 2 greenhouse gas (GHG) emissions, a typical measure used on an absolute or relative basis to determine carbon exposure, we see the largest exposures in the FTSE developed and emerging market indices are in utilities (over a third), basic materials, industrials and oil and gas sectors. Collectively these sectors account for more than 80% of developed and over 90% of emerging market emissions. GHG emissions associated with fossil fuel reserves are 15 times those of Scope-1 and 2 emissions for the FTSE Developed Market index and 30 times those in the FTSE Emerging Market index.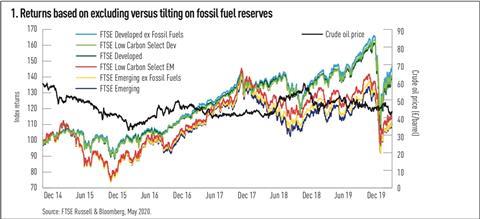 Therefore, excluding fossil fuel exposed sectors has been a common approach to reducing carbon exposure. However, exclusion introduces biases and excluding all fossil fuel exposed stocks can introduce significant divergence.
The oil and gas sector currently represents 4% of the FTSE Developed Market index and 7% of the FTSE Emerging Market index by market cap. With the recent volatility in oil prices and previously higher index weights, excluding this sector can have a notable impact on returns.
An alternative approach is to tilt based on both carbon emissions and fossil fuel reserves. One example is the FTSE Low Carbon Select indices. While these indices also exclude stocks based on business involvement in certain sectors (weapons, tobacco, coal and nuclear power, etc), they use a tilting approach to target ESG score, carbon intensity and fossil fuel reserves.
This approach can deliver a significant reduction in the weighted average carbon intensity while limiting significant sector over or under weights (see figures 2 and 3). This is the current TCFD recommended metric for asset owners and asset managers to report.
The importance of stewardship
Another benefit of retaining some exposure is to vote and engage on company plans to decarbonise. This provides shareholders with rights and a responsibility to hold a company to account. Active stewardship can be used effectively to drive improvements in business strategy and performance. Divesting stops investors having the opportunity to influence the companies to improve. Something we have seen more recently is the power investors have in influencing the actions of companies through engagement and thereby delivering emissions reductions in the real economy. Stewardship, undertaken by asset managers, is becoming an increasingly important consideration in the choice of ETFs.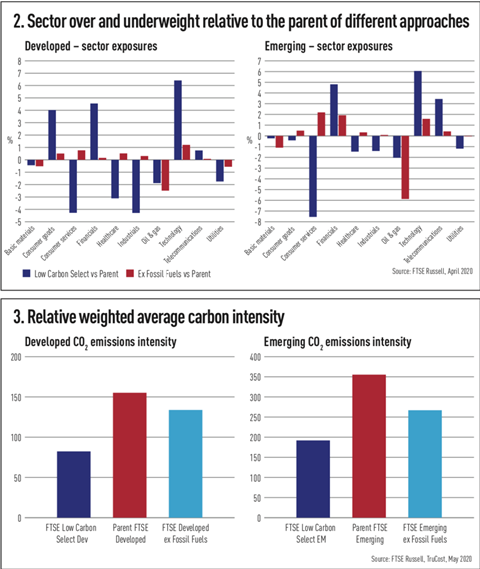 Summary
Reducing carbon risk exposure will continue to be a central focus for investors in active and passive strategies alike. Low carbon indices are likely to continue to evolve whether by incorporating additional climate risk metrics or targeting opportunities such as green revenues. The recent EU regulation on Climate Transition Benchmarks, Paris-aligned Benchmarks and sustainability-related disclosures for benchmarks will play a part in shaping the upcoming landscape.
Stewardship is an increasingly important consideration, by actively engaging on the issue of climate change, investors have a role in encouraging more climate-resilient business strategies, capital allocation and real economy emissions reductions.
For investors looking to use ETFs for tactical asset allocation or portfolio building blocks, tilting with limited exclusions may be a more effective way to target a reduction in carbon intensity while minimising tracking error.