Dutch pension managers are responding in different ways to the challenges of investing in alternative and illiquid asset classes
KEY POINTS
APG and PGGM are hiring more staff for their private-market teams in response to increasing demand
Their smaller peers are making more use of advisers and increased co-operation and co-investment
Co-investment can lower private equity costs by as much as half
Smaller pension asset managers in the Netherlands are reacting very differently to the rising demand for private market investments than the two Dutch pension giants APG and PGGM. While the latter are on a hiring spree, the former are increasing capacity by stepping up co-operation with their peers and hiring external advisers.
Attracted by the promise of steady long-term returns, Dutch pension funds have significantly increased their exposure to illiquid assets in recent years.
Since 2015, assets in alternative asset classes such as private equity and infrastructure have increased by 45% (Q3 2019) to €85bn. Separately, investments in private real estate have risen even more – by 53% to €64bn.
The two largest pension assets managers in the Netherlands, APG and PGGM, which are responsible for the majority of Dutch pension investments in alternatives, are responding to the increased client interest in alternatives by expanding their private market teams (see panel).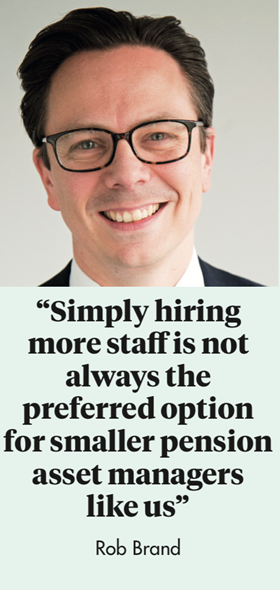 This is the only option for funds intending to manage these assets in-house, says Rob Brand, head of portfolio management at Blue Sky Group, which manages €23bn and is owned by the KLM staff pension funds. Brand says: "When you decide to increase your investments in alternatives, you have to automatically dedicate more resources too because investing in alternatives is not scalable like, for example, investing in listed equities. But simply hiring more staff is not always the preferred option for smaller pension asset managers like us."
According to Brand, mid-sized pension asset managers such as Blue Sky have two other possibilities that can be more attractive because hiring additional employees, of course, comes with a cost. "We are, indeed, considering hiring more alternatives specialists, but it's also possible to outsource the monitoring of private investments to an external party," he says. "We, for example, do this in our private real estate portfolio. We have hired Sweco Capital Consultants, a Swedish consultancy, to help us monitor the assets of the real estate funds we have selected."
PGB Investments, the €30bn manager of the multi-sector fund PGB, has gone down a similar road. It has selected "strategic partners" for advice and only employs three alternative investment specialists for investments in real estate and infrastructure. PGB Investments believes establishing such partnerships is more cost-efficient than hiring additional alternative investment specialists, according to a spokesperson.
Co-investments
PGB Investments has also outsourced the heavy lifting for private equity, hiring two external managers in 2019 and 2020 to select and manage investments in external private equity funds. But pension asset managers do not necessarily need help from advisers and consultants to be able to increase investments in alternatives, according to Brand.
Last year, Blue Sky joined forces with two other pension asset managers, Achmea Investment Management and SPF Beheer, to undertake collective co-investments in private equity. The three asset managers each commit money every year to a co-investment fund which will invest this in co-investment deals together with private equity funds, and believe joining forces will facilitate access to attractive co-investment opportunities.
"We have had little access to big deals until now, as the big guys like PGGM usually get the calls from private equity managers. By working together we believe we're becoming a more attractive partner," says Achmea IM's private equity head Jos van Gisbergen when the three asset managers announced their co-operation last year. In Q1 2020, the three had invested almost €100m in nine different companies through their co-investment platform.
The co-operation also increases efficiency, says Brand. "Working together with like-minded Dutch investors makes sense because we are all dealing with the same issues." In practice, the three share the responsibility for evaluating investment proposals from their adviser, Neuberger Berman, to the co-investment platform.
APG and PGGM expand illiquid investment teams
The two Dutch pension asset management giants APG and PGGM invest a higher proportion of their assets in illiquid investments than most other pension funds. Their main clients, the public sector scheme ABP and the PFZW fund for healthcare workers, want to increase their allocation to alternatives over the coming years.
While mid-sized and small pension asset managers try to deal with increased client demand for alternatives by stepping up co-operation and using more external advisers, APG and PGGM (with assets of €516bn and €252bn respectively) are hiring more staff.
PGGM took on 39 additional investment specialists last year. These hires were mainly to strengthen its private-market teams, according to the firm.
Private markets are relatively labour-intensive investment categories, PGGM told IPE. The reason for the expansion is PGGM's long-term strategy to build a state-of-the-art platform for private markets. Moreover, in-house management is thought to be considerably cheaper than using external managers.
"We are each responsible for evaluating proposals together with our partners in the Netherlands. By bundling brain power, we have, so far, not had to take on extra staff, though this may change if we decide to increase our exposure to private equity significantly in the future," adds Brand. "At the moment, we only invest about 10% of our total equity weight in private equity."
An additional advantage of participating in co-investments is that the money you commit is invested faster, leading to potentially higher overall returns, adds Brand. And last but not least, costs are also a lot lower. According to Achmea IM's Van Gisbergen, co-investing can be more than 50% cheaper than investing through private equity funds, even after accounting for the additional costs for advice.
Netherlands: New paths
1

2

3

Currently reading

Netherlands: Pension managers take alternative routes

4