Denmark's biggest commercial pension fund has been reshaping itself to ensure it can meet members needs as well as react effectively to extraordinary situations
Key points
Incoming group CIO Kasper Ahrndt Lorenzen brings ATP's all-weather portfolio construction mindset to PFA
PFA rebalanced liste d investments in the final quarter of 2019, and is now mapping all its alternatives in terms of public market risks
The exercise will provide a perspective that can be used in the context of Solvency II capital charges, says the CIO
Having built an allocation to alternatives of 20-25%, the CIO says there is still room to increase the proportion
Rather than a gleaming office interior, the first pages of PFA's latest annual report boldly display a workplace in transformation – ceiling wires hanging and floors peppered with building dust.
Alongside the physical upheaval at the headquarters in Copenhagen's North Harbour headquarters, a financial one is going on too.
The gradual reshaping of the DKK689bn (€92.3bn) investment portfolio managed by Denmark's biggest commercial pension fund entered a new phase at the end of last year.
"We've been very deal-focused, but now it's also a question of paying more attention to the overall," the mutual organisation's Group CIO Kasper Ahrndt Lorenzen tells IPE in an interview.
Since Lorenzen arrived at PFA last September after quitting the CIO role at statutory pension fund ATP that he had held for three-and-a-half years, he has been leading an overhaul of the organisation's investments which he describes as evolution rather than revolution.
"It's basically a continuation of what we had been doing. We believe in a broad diversified investment strategy, and alternative asset classes have a role in this.
"In 2015, PFA started out on a process of adding alternative assets, and that change has been implemented," he says.
Five years of building up this side of the portfolio has given the pension fund an allocation to alternatives of between 20% and 25%, he says, including real estate.
PFA's unlisted assets totalled about DKK100bn at the end of 2019, out of its overall portfolio of DKK689bn.
Within this private assets segment, DKK50bn is invested in Danish alternatives, split equally between private equity and credit, and DKK50bn is invested in real estate.
Ahrndt Lorenzen says he is impressed with what the PFA team achieved in the alternatives field in the years before he arrived on the scene.
"It is quite impressive that such a large portfolio is already in place in just a few years," he says.
While PFA is now satisfied with the alternatives weighting it has accumulated, he says there is capacity to increase it further, and private assets are set to grow faster than PFA's inflow from pension contributions, at least over the next year or so.
"We're going to add some alternatives and replace some of the current ones that are expiring – typically direct credit loans and also there are going to be some infrastructure investments which will come to the end of their lives.
"But on top of that, we also have room for more alternative assets, so we can continue that journey too. What will be different, though, is that the exposure is going to be more balanced," says Ahrndt Lorenzen.
With pockets almost full, he and his team will now be able to sit back and be more discerning when alternatives asset managers stop in at PFA's offices on their visits to Copenhagen.
"It will come down to whether we like the risk we see. We can definitely take on more alternative investment risk, but it depends on the specific investments," he says.
The fact that this more reflective process of asset management for the alternatives portfolio is happening under a new CIO has its advantages, according to Ahrndt Lorenzen.
"The asset purchases happened before I came, so I'm unbiased. The goal was set and the strategy was executed and now I can lead an objective evaluation," he says.
"When it comes to private markets, we're now going to focus on more top-down asset management." The story is a familiar one, he says. When building anything from scratch, materials have to be brought in, but once all the stock is there, it must be examined and arranged into the best possible shape.

"With a full portfolio, you are closer to your risk budget, liquidity budget, fee budgets and so on, so then you look at how you can get it a bit more balanced," he says.
Talk of risk budget refinements is reminiscent of ATP's approach to portfolio construction introduced under former CIO Henrik Gade Jepsen around 2015 and taken further during Ahrndt Lorenzen's tenure, which saw the investment portfolio envisioned in terms of four risk factors rather than asset classes.
The idea was inspired by AQR and Bridgewater Associates' all-weather portfolio concept.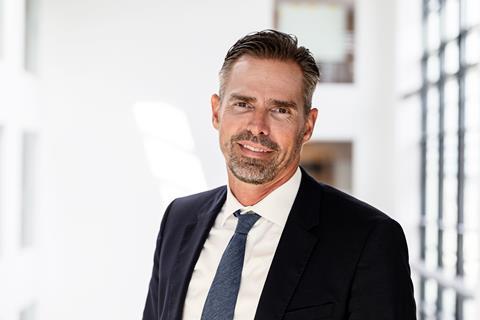 Ahrndt Lorenzen admits he is applying some of the same notions at PFA. However, he also stresses the big differences between the two organisations' investment requirements.
"It is definitely a mindset I'm bringing to PFA, and that's probably why I was hired. Although some of the things we did at ATP fit the particular purpose of that fund, which is quite idiosyncratic – a simple product and a monopoly with no competition and no frictions.
"What the portfolio construction team at PFA did after I joined was introduce a balanced mandate which is all-weather-like, but we kept it as simple as possible, because it doesn't have to be complicated," he says.
In some ways, Ahrndt Lorenzen says, the process was a test to see if it was possible to build an all-weather portfolio that worked, but one which avoided some of the complexity of the Bridgewater construction.
The task has involved making this concept work for the various different savings products that PFA runs, including the guaranteed pension product which generally looks for one type of investment, and the market-rate product, which needs another.
"It is also about trying to span the investment universe and create common metrics when you compare investments, so you are comparing apples with apples. In particular, it's necessary to be more specific about what risk profile the various investments bring," he says.
The project also has had two sides to it in terms of asset types – PFA's public market investments and its private market assets. In the final quarter of 2019, the team focused on establishing the listed investment component.
"That block allows us to run the risks we need to, and it is a nice block to calibrate using tactical adjustments," he says.
As for private markets, Ahrndt Lorenzen says PFA is still in the process of mapping all its alternatives in terms of public market risks in order to get some understanding of how this side relates the other: "We are trying to do that bottom up, based on each individual investment. The question we are answering is what kind of overall public market exposures do we have in our private market portfolios?"
Finding the answer to this is quite powerful, he says, not least because it gives the operation a perspective that can be used in the context of more formal capital charges under Solvency II.
"It means you can use your own risk measure, and compare it to the one that's been given, and then you can have a dialogue if you find you have been overcharged – or underestimated your risk," he says.
Ahrndt Lorenzen is aware that there is a certain price to pay for complexity in itself, but contends that, as things stand now, PFA can absorb more complexity.
"All this mapping takes time, and to some degree it adds complexity, so it is only worth doing if it adds energy to the PFA organisation and value to the PFA portfolio," he says.
Investment portfolios around the world faced an unprecedented test this March as the coronavirus crisis buffeted financial markets. Ahrndt Lorenzen is pleased with the way the new shape of the portfolio fared.
"Performance went very well at the beginning of the year, and then we calibrated and adjusted the exposures as the coronavirus hit," he says.
"We have managed to get the best out of two worlds – strategic anchoring, with the ability to act when something like this happens," the CIO says.
Nordic Region: Pension funds step up to the plate
1

2

3

Currently reading

Nordic Region: Gearing up for for all weathers

4