The colourful new CEO of Norway's sovereign fund is targeting a more diverse and technologically resilient organisation
KEY POINTS
NBIM has reduced its leadership group from 12 to nine
This may provide clues about how its new CEO intends to run NBIM
Among the new priorities are technology, ownership, diversity, increasing performance, improving communications and staff development
Expert observers wonder how the CEO will shape the NBIM organisation, and whether he will fully follow the instruction to run the fund as an index tracker
With the new leader finally installed in the Oslo offices of Norway's giant sovereign wealth fund, a dramatic chapter in the oil fund's story has drawn to a close.
Between March and September, politicians and central bankers argued over the controversial appointment of hedge fund founder Nicolai Tangen as the next CEO of Norges Bank Investment Management (NBIM) – the central bank division running the NOK10.7trn (€962bn) Government Pension Fund Global (GPFG).
Observers are wondering what will happen next, and specifically, what kind of leader Tangen will turn out to be. Since his first day on 1 September, he has put a new leadership team in place and made several statements about his priorities.
In the weeks before Tangen's much-anticipated leader-team reshuffle was announced in October, there were two exits from the 12-person management team.
The first was Karsten Kallevig, CIO real estate, who has become special adviser to the CEO. The second was CIO for allocation strategies, Ole Christian Bech-Moen, who has moved sideways within Norges Bank.
Tangen has reduced the leadership group to nine including himself, with three more departures from the old line-up under the previous CEO Yngve Slyngstad, and two new members – both of them women.
The three leavers were Nina Hammerstad, chief people and operations officer, Stephen Hirsch, chief compliance and control officer and Hege Gjerde, CFO. The two newcomers are Birgitte Bryne, COO, and Mie Caroline Holstad, real assets officer.
Announcing the changes, NBIM said it is strengthening its focus on technology by including both a COO and a CTO, Age Bakker, in the leadership group.
NBIM also said it would bolster its ownership work in the next few years, and that compliance and control had also become more important than ever. To reflect this, ownership, compliance and control have been combined in one leadership group role, with Carine Smith Ihenacho expanding her previous role of corporate governance chief to fill it.
NBIM said four leadership areas that had previously been represented separately were now being combined into two new ones to gain synergies.
Tangen said NBIM's main responsibility is to "continue to deliver a good return", describing the new leadership team as a "collective decision-making body".
He continued: "Decisions that are broadly anchored are better and less likely to be changed."
Having indicated that technology, ownership and diversity will be priorities, Tangen also told the Norwegian parliament's standing committee on finance and economic affairs at the end of October that his future organisational priorities are communication and talent development.
"I want to develop the GPFG into a more diverse and colourful organisation," he told the politicians. "I think this will result in more creativity, a more dynamic workplace. And this is what we need to make use of the opportunities to generate returns ahead."
Tangen's two new team members
● Birgitte Bryne, chief operating officer. Bryne came to NBIM in September 2015 as global head of investment administration, after a stint as CFO at Nordea Bank Norge. She worked at SEB Enskilda Securities before that, in roles including derivatives trader, chief of staff and COO for equities.
● Mie Caroline Holstad, chief real assets officer. Having previously worked in audit and advisory services at PwC, Holstad joined NBIM in September 2010. Between 2014 and 2019, she was chief administrative officer of the oil fund's unlisted property division, Norges Bank Real Estate Management.
Interpreting Tangen's choices
Espen Henriksen, associate professor of financial economics at Oslo's BI Norwegian Business School, says Tangen's style of management is evidently markedly different from his predecessors, just as Slyngstad differed from the fund's first leader, Knut Kjær.
"A more important question is how he will shape the organisation," Henriksen says. "NBIM is an organisation of specialists with solid values and a great corporate culture. I hope Tangen understands that and further develops that – and does not try to replace it with a more generic corporate culture of generalists."
He singles out two of Tangen's leadership choices that might indicate something about his role, investment strategy, and risk-taking. First, the replacement of Kallevig with Holstad.
"I want to develop the GPFG into a more diverse and colourful organisation. I think this will result in more creativity, a more dynamic workplace. And this is what we need to make use of the opportunities to generate returns ahead" - Nicolai Tangen
"A natural interpretation of this switch is that Tangen does not intend to do unlisted real estate or infrastructure deals, except those mandated by parliament, but rather just avoid any compliance mistakes in managing the current portfolio," Henriksen says.
He sees the departure of Bech Moen without any replacement as suggesting the new CEO will allocate fewer resources to the two distinctly separate areas that were Bech Moen's responsibility – macro and factor bets and providing strategic advice to the Ministry of Finance.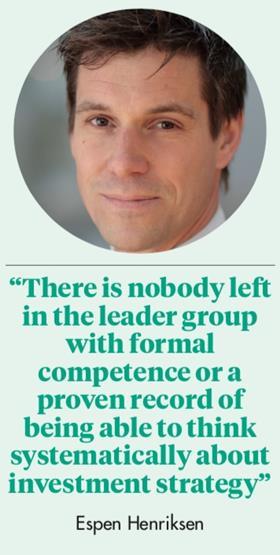 One interpretation of the latter, Henriksen says, is that Tangen will leave the risk-taking decisions to the ministry's economists – while he and his leader group implement those decisions within the fund's narrow tracking error.
"An important role of NBIM has been to give well-documented advice on the development of the investment strategy. Now there is nobody left in the leader group with formal competence or a proven record of being able to think systematically about investment strategy and provide that kind of advice," Henriksen says.
Espen Eckbo, Tuck Centennial Professor of Finance at the Tuck School of Business, Dartmouth College in New Hampshire, US, says that he respects Tangen's right, as an incoming CEO, to form the organisation as he deems necessary.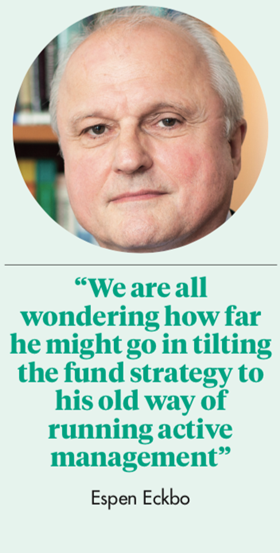 It is impossible for outsiders to judge the organisational changes without also knowing how Tangen wants to run the fund, he says.
So far, according to Eckbo, the CEO has avoided 'the elephant in the room' – whether he will fully implement the political instruction to run the fund purely as an index fund, which means tracking the reference portfolio at the lowest possible cost, and second, to voice the fund's opinion about corporate governance issues.
"The alternative is to tilt the fund strategy more towards active management, which requires more trades and employees. Tangen's hedge-fund background is in the latter, and we are all wondering how far he might go in tilting the fund strategy to his old way of running active management," Eckbo says.
According to Eckbo, Tangen has said he will increase the fund's active management, but has not given any details.
"One possibility is that the increased focus on IT is to lower the fund's trading costs in general, and the risk of 'front-running' in particular, which may be a cost-reducing improvement," he says.
Denmark's ATP: Accelerating diversity
1

2

3

Currently reading

Norway: Tangen's reshuffle at NBIM

4

5