New rules should drive consolidation and inject competition into the supplementary pensions business
KEY POINTS
Norway's egen pensjonskonto (individual pension account) reform is to take effect in January 2021
Pensions accumulated in previous employer schemes will automatically be transferred to the new scheme unless individuals opt out
People will also be able to choose a different provider
Corporate pension providers have been gearing up to benefit from the reform
Billions of kroner of defined-contribution pension (DC) savings are set to flow between Norway's pension providers next year under new pensions-gathering legislation.
The 'egen pensjonskonto' reform has two main goals – making it easier for individuals to keep track of their pension rights and reducing the administration costs for accrued pension rights.
Rules around the new accounts – individual or own-pension accounts in English – are expected to take effect from January 2021, although at the time of writing, the final regulation had not been approved.
DC capital certificates (pensjonskapitalbevis, PKB) issued by previous employers will be transferred into an individual's active scheme unless the holder makes an active choice to stay with the current provider by opting out.
With transfers based on a principle of passive consent, the vast majority of individuals are expected to accept.
The finance ministry has proposed that people should pay the same fee for former earned pension transferred into the individual pension account as that paid by their employer currently.
This wave of transfers will slash the income existing providers generate from PKBs, giving them more incentive to compete for a greater volume of active pensions business – another way the reform aims to lower pension costs.
Individuals will be also be able to transfer their pension account to other providers. Whether pension providers can expect the new regulations to bring them net business inflows or outflows largely depends on the relative amounts they have in active pension schemes and certificates from previous employment.
Individual responsibility
Storebrand, which has a 30% share in unit-linked occupational pensions in terms of gross premiums written, expects the reform to work in its favour as it currently has a higher market share for active DC schemes than for certificates, according to the group's third-quarter 2020 report.
At DNB Livsforsikring, CEO Anders Skjævestad says the incoming individual pension account regime is the firm's top priority in the savings and investment area. "The new regulation is another step in the direction of making pension a more individualised business," he says.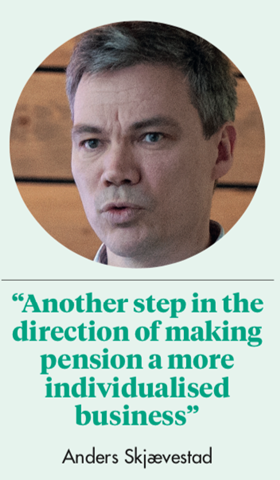 Not only will the new options available to employees open up more opportunities, but the new rules highlight the individual's own responsibility for their pension, he adds.
"For DNB, this implies that the entire group will be engaged in serving customers in an area which used to be for the specialists," Skjævestad says.
Lars-Erik Eriksen, pension adviser in Storebrand's corporate market operation, says the industry is preparing for the reform by developing new industry IT infrastructure to facilitate both automatic transfer of PKBs and make it possible for individuals to transfer pension funds to providers of their choice.
"Common infrastructure and more automated processes are necessary for cost-effective implementation of the reform," he says.
Eriksen expects around NOK70bn €6.3bn) of PKBs will be transferred to pension accounts in DC schemes, increasing the assets under management and attractiveness of workplace schemes.
"We expect that few individuals will opt out of the automatic transfer, as the benefits from moving funds to the employers' scheme are obvious when it comes to reduced cost, leading to increased pensions and better overview of pension rights" Lars-Erik Eriksen
He says: "With a market share of 30%, Storebrand is well positioned in this market. We expect that few individuals will opt out of the automatic transfer, as the benefits from moving funds to the employers' scheme are obvious when it comes to reduced cost, leading to increased pensions and better overview of pension rights," says Eriksen.
Skjævestad says the new policy is likely to bring more providers to the marketplace – one of the major political objectives of the regulation.
Christoffer Hernæs, an independent consultant and previous chief development officer at the Norwegian online bank Sbanken, says that although consolidation may result in a reduced profit pool because management fees will no longer be scattered across various pension accounts, there is unlikely to be any radical change in customer behaviour as a direct result.
"This regime has the potential to change the market dynamics by giving consumers control over their own pensions, but my belief is that this will not occur unless banks, asset managers and distributors actively invest in and deliver a frictionless user experience that makes long-term saving and pensions easier to comprehend for consumers," he says.
Nordea and Danica get into position ahead of new rules
In October, Danica Pensjon – the Norwegian pensions subsidiary of Denmark's Danske Bank – won a contract from the Norwegian Society for Engineers and Technologists (NITO) to provide a new pension scheme for its 92,000 members under the upcoming individual pension account regulations.
NITO said the new arrangement would ensure a good pensions alternative for its members, who would soon no longer be obliged to have their pension scheme with their employer.
Trond Markussen, the association's president, said that in the extensive tender process where several bidders had been carefully considered, Danica Pensjon had "shown a willingness to go to great lengths for the engineers and technologists at NITO, both from a sustainability perspective and not least in terms of price."
Back in July, the pan-Nordic financial group Nordea signed a deal to take on NOK4.2bn of defined contribution (DC) pensions from Frende Forsikring in Norway to put itself in a stronger position ahead of the reform.
Nordea said it intended to combine the occupational and individual pension portfolios from the insurer's Frende Livsforsikring unit with its own Norwegian insurance subsidiary Nordea Liv Norge.
The deal also involves a long-term agreement for the Nordea unit – which has a 14.2% share of the Norwegian corporate pensions market – to distribute pension products to the Norwegian savings banks that own Frende.
A spokesman for Nordea said the acquisition would place Nordea Liv as one of the main players in run-offs to the own pension account reform.
At DNB Livsforsikring, Skjævestad sees everything in the financial sector as being strongly influenced by technology.
"Most customers are served via digital channels – and want to have the offers and make their daily banking activity on a smartphone or a laptop. The 'own pension account' is no different," he says.
Eriksen says it will be interesting to watch the evolution of the new market created by the option for people to choose a new provider rather than their current employer's scheme.
"We look forward to competition from new actors in this market, but expect that most employees will probably stay in the collective scheme, where costs are very low and investment portfolios are designed for long-term pension savings," Eriksen says.
Following the government's logic that pensions consolidation and the associated cost benefits can only be achieved by means of passive consent, he notes, it is important to have good default solutions for those who do not make any active choices.
"The employers' pension schemes provides this, with low costs in a highly-competitive market and proven pension investment portfolios," he says.
Although pensions constitute a low engagement topic for many, some in the industry expect the effect of the new competitive environment around individual pension accounts to shake things up.
"Advertising and communication from all the vendors will most likely be massive. All Norwegians will be aware of what happens," says Skjævestad.
"This could possibly be the trigger that make Norwegians take more responsibility for their own financial future," he says.
Denmark's ATP: Accelerating diversity
1

2

3

4

Currently reading

Norway's individual pensions: Pots follow member

5