ADA fintech software enables multinational pension schemes to weigh up a vast range of data and information
Key points
The Ford Motor Company has adopted a specialist analytics tool for its global pension schemes
The ADA system uses new analytics and modelling software
The amount of data available on individual members has exploded recently
As a global firm with 190,000 workers worldwide, Ford Motor Company was looking for an analytics tool that would compare the value of the pensions provision of its 120 pension schemes in 36 countries.
About a year ago, the automaker started discussions with consultancy Redington in search of such a tool.
Redington's fintech software, called ADA, offers robust, scalable platforms using a cloud system and artificial intelligence (AI) from global software companies, cancelling out the need for the plan sponsor to create an in-house research capability.
Oliver Payne, EMEA pensions manager at Ford, says: "This project was a great example of thinking differently in pensions.
"The ADA system means we can move away from our traditional approach of collating and analysing pensions data on an individual project basis. We now have consistent, reliable data available for each project, which means we can be more proactive in the way we look at the costs and value of pension plans around the world."
The system – which was named after Ada Lovelace, a British mathematician born in 1815 and chiefly known for her work on a mechanical general-purpose computer, the Analytical Engine – offers five distinct services:
• Research: this puts investment professionals in control of their research process by providing a domain-specific research, data and document-management tool;
• Advisory: an online tool delivering pension scheme analysis and reporting. The aim is to accelerate the decision-making process by testing the impact of changes to investment strategy in real time;
• Risk analytics: an asset-allocation and liability-modelling tool used internally to produce risk analysis for Redington's clients;
• Member analytics: an interactive investment modeller that provides real-time analysis of the impact of different investment strategies on a defined contribution (DC) pension scheme;
• Transparency: a pension, investment and platform costs-and-value analysis tool. It allows plan sponsors to identify all the costs being paid to support the delivery of a pension scheme; benchmark those costs; and determine whether value is being provided.
ADA aims to put the plan sponsor in control of key decisions under its tailored plan-sponsor profile. The platform enables the asset owner to visualise funding level deficits and cash flow, making the investment governance process clearer when it comes to fund manager selection.
Adam Jones, chief technology officer and managing director of technology at Redington, claims that ADA facilitates smarter decision-making.
ADA uses Redington's proprietary risk analytics and modelling software. "The brains behind our asset-liability modelling capability have been wrapped into a system and packaged in a way that gives [clients] as much, or as little, information as you need to get the job done," Jones says.
Ada has a range of data visualisations, 'what if' modelling and strategic asset-allocation information providing an up-to-date, daily view of liabilities and risk.
Jones says these visualisations can easily be packaged into board papers and reports, and can be accessed at any time from any device to allow for collaborative decision making.
Redington's Red Radar process for qualitative analysis of fund managers is a core part of the system. Plan sponsors can access their preferred lists, as well as the research and governance that sit behind them via ADA.
"This industry-leading qualitative research is supported by the ability to integrate with a leading set of third-party data providers and in-house systems," Jones says.
Governance
For many firms, investment processes have grown organically and have often been developed by a few key individuals. This leads to a range of challenges:
• There is a lack of control and governance;
• Documents and meeting notes are hard to find;
• Research data is not portable;
• Folder structures do not match how a client's business works;
• When people move roles or leave, hard-won experience and knowledge is lost.
Sam Shaw, head of ALM systems at Redington, says that at a time when an increasing number of UK trustees are trying to assess their pension funds' various levels of risk, ADA can collect, store and analyse data from various sources, and offer a viable challenge within the pension schemes' governance process.
"The brains behind our asset-liability modelling capability have been wrapped into a system and packaged in a way that gives [clients] as much, or as little, information as you need to get the job done" - Adam Jones
The system can store information about various trustee and board meetings, keep an audit trail – on particular asset classes, or asset managers, for instance – track in-house versus external management, and offer investment research. There is also the use of a mobile application, which facilitates 'on the go' data, she says.
Jones adds: "It gives investment teams a fully configurable hierarchy that allows all information to be stored and accessed in a way that fits with your business.
"Its workflow capability allows teams to control their key process such as publishing documents and signing off decisions."
Information overload
Jones notes that "we also live in an age of ever-increasing data availability. It is becoming increasingly hard to ensure that every relevant data point is included in the scope of research."
This is why the analysis of business, market and social media data that sits at the heart of ADA's artificial intelligence research function is essential for modern investment teams, he said.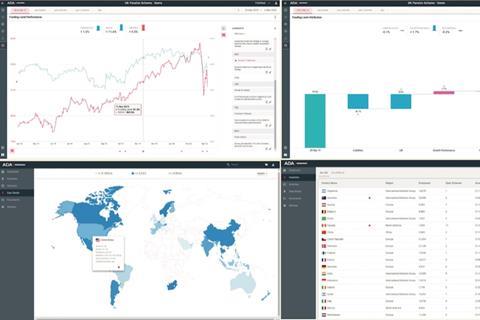 Screenshots from the ADA tool
Redington's advice is supported by quantitative analysis, which is constructed via ADA's risk analytics service. It produces full risk reports, runs strategic asset-allocation reviews and can answer questions clients may have, Jones says.
Before Redington designed ADA's risk analytics service, it used a third-party risk system to produce risk reports that took a long time to run.
Jones says: "For example, simple questions – such as 'what if I move 10% of my assets from equities to bonds?' – would take a long time to answer and restricted the analytics we had available to support our advice."
The system, however, enables users to make changes to an asset allocation or liability and view the results 'live'. Changes are viewed instantly, and reports are generated quickly and easily.
"It serves all of our regular risk reporting as well as all strategy decisions and analytics," he said.
Data changes the world
"Data is changing our world and changing the way industries work. The pensions and investment industries are no different," Jones says.
The amount of data available about individual members – and society as a whole – has exploded.
"On a day-to-day basis, we see this data put to good use. Our shopping experiences are tailored based on what retailers know about us," Jones notes, adding that every service provider, for instance, "knows our location and uses this information to make our interactions with them more relevant".
With ADA, plan sponsors can do the same; the data collected across multiple markets, countries, jurisdictions and age brackets ultimately empower the schemes to be able to assess running costs, challenge their suppliers on management fees and value-for-money services, as well as question whether the plan sponsors are indeed offering the best options to their members.
To read the latest IPE Digital Edition click here
Pensions tech: Fine-tuning the options
1

Currently reading

Pensions tech: Fine-tuning the options

2

3