Can the new Pan-European Personal Pension Product close Europe's pensions gap?
KEY POINTS
The PEPP model has been designed to boost voluntary retirement savings in Europe
The model includes a 1% cap on fees, and risk mitigation
Maintaining a balance between commercial viability and customer appeal is considered essential for the success of the PEPP
As European countries confront the problem of ageing populations, the continent's pensions crisis has become an established fact. State pension systems are battling to remain sustainable, but private pension saving is woefully inadequate: presently, only 27% of Europeans between 25 and 59 years old have voluntarily subscribed to a pension product.
"There is an obvious need to boost voluntary pensions savings within the EU," says Anna Driggs, director and associate chief counsel for global funds policy at ICI Global, the international arm of US asset management body, the Investment Company Institute. "Almost every European country is facing a challenge with retirement provision."
The Pan-European Personal Pension (PEPP) aims to close this pensions gap by channelling more savings into long-term investments, and increase the depth, liquidity and efficiency of capital markets to promote growth and create new jobs.
The process started in 2012 with the publication of the European Commission's White Paper – the resulting law took effect in August (see Timeline for introduction of PEPP). EIOPA is now drawing up Level 2 regulations detailing the workings of the PEPP model.
But the resulting model has sparked a debate about how successful it can be, both in take-up or in offering providers enough of a commercial incentive to enter the market.
Driggs says: "The PEPP is a significant step because it creates a pan-European vehicle for retirement savings. Furthermore, some countries, particularly in central Europe, do not have robust occupational pensions to supplement government pensions, so their citizens would benefit even more from a product like the PEPP."
But she says pensions are a sensitive topic, often viewed as something to be left to national authorities.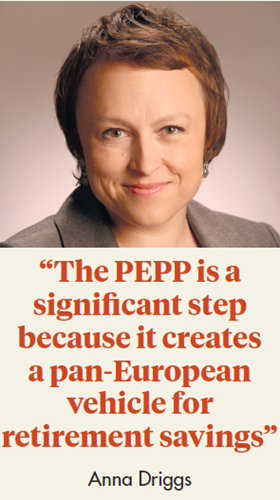 "And anxiety around trying a new concept led to the final law being over-engineered," she says. "It will be a challenge for EIOPA to create rules that result in a product both attractive to savers and able draw providers to the market."
Contentious provisions include imposing not only a 1% cap on fees for the basic PEPP model (see 'Features of the PEPP' ), but also capital guarantees.
"We support the full fee and cost transparency initiative but we believe the fee cap could have a negative impact by limiting provider competition and product innovation overall," says Arnaud Schwebel, head of retirement solutions, BNP Paribas Asset Management (BNPP AM). "It could constrain the quality of the service that the provider can afford to offer. For example, life-cycle investments, which could be particularly adapted to the PEPP and customers' needs, could be too expensive to offer to young customers due to the high level of equity exposure at an early stage."
He also warns that since fee structures tend to vary across countries as distribution costs are often included, the fee cap could have a material impact in some countries.
Jacqueline Lommen, senior pensions strategist, northern Europe, at State Street Global Advisors, says it might also result in investments in lower risk fixed-income instruments, which will affect returns.
Christian Lemaire, global head of retirement solutions at Amundi Asset Management, warns that pure digital distribution will not be efficient for a new product competing with existing local pension savings products. "The PEPP will require a strong marketing effort based mostly on face-to-face meetings or individual calls by competent and well-trained professionals. This implies specific upfront costs, and to include them in the 1% cap would not be economically viable for providers."
Amundi therefore strongly recommends excluding advisory fees from the 1% fee cap, while it maintains all providers should have to include the cost of the guarantee to have the same level playing-field.
While Amundi is supportive of the PEPP concept, Lemaire observes that the 1% fee cap is the result of a political compromise between member states, not based on factual and economic market data.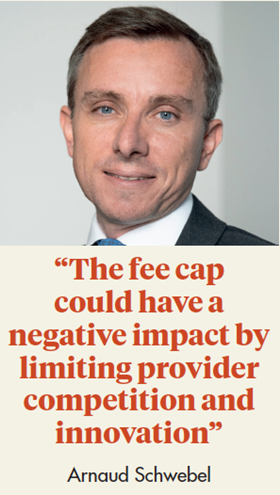 "It is important to ensure that providers have adequate compensation to develop and market this new product," Lemaire says. "If not, this could risk having no product on the market or leaving the market to large providers, most of them being non-European. In both cases, the final outcome will be in complete contradiction with the initial objectives of the European Commission and Parliament."
Driggs says: "For the basic PEPP, we strongly believe the market, not a fee cap, should drive competition and costs. In 2018, the asset-weighted average ongoing charge for equity funds was 1.29%. Mixed UCITS, which invest in a combination of equity and fixed-income securities, had an asset-weighted average ongoing charge of 1.43%.
"UCITS have been around since 1985, building up pools of assets under management, and yet many of them could not meet the fee cap requirement. So it's not clear for a new product like PEPP, that is based on small contributions, how a fee cap could work. We urge EIOPA to structure the rules in such a way that PEPP can still succeed."
A further requirement is that providers must give advice to consumers before they sign on the dotted line. "If the cap includes the cost of advice, it will limit both the choice of products savers can purchase and the type of advice they can receive," says Driggs. "It will also limit the types of providers that could enter the [market], limiting competition to the detriment of EU citizens."
And she is doubtful about the requirement for risk mitigation. "The regulation seems to imply that the retirement product has to be safe from market risk," she says. "But having a pension pot that doesn't grow over the lifetime of saving isn't serving savers well. We need to educate consumers to better understand the benefits that can accrue from investing in the capital markets with a long time-horizon, like retirement."
Mixed response
Despite the less-than-enthusiastic reaction to PEPPs from some providers, others are considering entering the market.
BNPP AM's retirement solutions department was recently created to focus on defined contribution (DC) pension savings in Europe in a context of increased need for voluntary personal pension saving.
"In theory, the PEPP would be a natural offer to develop for BNPP AM," says Schwebel. "However, at this stage stakeholders are still working with the regulators on level-2 measures that will be essential to evaluate the feasibility and attractiveness of this product."
He says the main advantage of the PEPP is to generate economies of scale by having a single product covering all European markets representing 500m individuals, compared with national markets of 82m in Germany and 67m in France.
"With the BNP Paribas Group having a distribution reach in almost all these markets, it is a unique opportunity for an asset manager like us," says Schwebel.
"As with any new market, we are assessing the opportunity that it presents to our business," says Lommen. "SSGA is a large asset manager that has economies of scale and a wide range of investment funds and strategies in place, including low-cost index funds. This means we would be well placed to provide cost-efficient investment solutions to PEPP providers.
"We expect local providers to team up with international providers in entering the local and regional PEPP markets. The local providers have distribution channels, local branding and local market insights. The international players could provide the cost-efficient and well-tested investment components, IT infrastructure and member engagement tools such as a website, tooling, or apps."
Generally, Lommen expects commercial success to come in countries where the second and third-pillar markets are not as well developed: "We don't see a huge impact on the existing large national pensions markets."
Timeline for introduction of PEPP
2012: European Commission's White Paper calls for more opportunities for citizens to save in good-value, complementary funded pensions
2013: European Parliament's resolution welcomes this call
27 July 2016: EC launches a consultation on a policy framework to establish a pan-European personal pension
29 June 2017: EC issues a proposal for a regulation on a pan-European personal pension product (PEPP) to increase investment in the EU and contribute to completing the CMU; enhance features of personal pension products; and enhance the cross-border provision and portability of personal pension products
26 February 2018: The European Parliament's Economic and Monetary Affairs Committee (ECON) presents a draft report
3 September 2018: ECON votes on the draft report, which is passed by a majority
4 April 2019: The European Parliament adopts the text
14 June 2019: Act adopted by Council
July 2019: EIOPA appoints expert panel for policy advice on implementing level-2 measures
25 July 2019: Act published in the Official Journal
14 August 2019: Regulation takes effect.
Features of the PEPP
• Each PEPP can have up to six investment options, one of which must have a default investment policy – the Basic PEPP
• For the Basic PEPP, costs are capped at 1%, while there is capital protection through either a capital guarantee or other risk-mitigation techniques
• Transparency for fees and costs
• Full mandatory advice
• Flexibility to cater for national differences
• Ability to switch providers every five years, at capped costs
• Portable across borders within the EU, if offered by provider.
Lommen says PEPPs sit next to cross-border occupational pension plans (IORPs), a market she says is steadily growing and fulfilling the needs of many multinational plan sponsors and employees.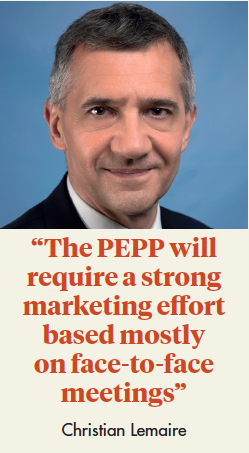 "The market entry of multi-employer cross-border IORP platforms, offering DC solutions, has marked a tipping point in the growth of the cross-border IORP market," she says. "In years to come, the impact of the IORP on the European long-term savings, pensions and capital markets could be more significant than PEPPs."
And she cautions that to realise the potential of PEPPs, the details of the forthcoming level-2 measures will be important.
Simone Miotto, senior policy adviser at PensionsEurope, says: "We hope that PEPPs will contribute to filling Europe's retirement income gap, but whether this will really happen remains to be seen, and very much will also depend on the technical standards that are under development and on the tax treatments that member states will decide to apply. PEPP is not a silver bullet."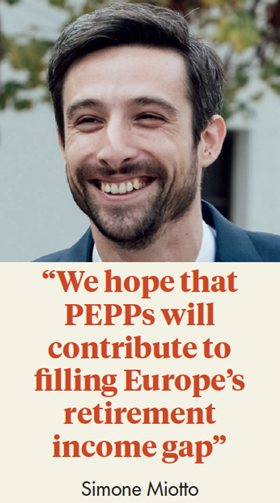 However, Miotto agrees that PEEPs could be particularly useful for mobile workers and for those without access to workplace pensions, or where personal pensions offered at the national level are not reliable or attractive. He adds: "Aspects like design are important, and it is key that the basic PEPP will be a high-quality – not simply low-cost – product available at competitive costs."
PEPP: Time to get personal
1

Currently reading

PEPP: Time to get personal

2

3

4