A new report by Amsterdam-based Phenix Capital runs the rule over the growing marketplace for impact funds
How do you make sense of the vast impact investment fund universe? Phenix Capital has risen to that challenge in a recent market report, finding a healthy offering of impact funds globally across asset classes, and a sector in growth mode – at least until the end of 2019.
The Global Impact Platform Report tracks the allocation of some €245bn to a little over 1,300 funds, with close to half (47%) covering developed markets and 71% of the total funds raised accounted for by private markets.
"We see quite a few more funds out there than most of the asset owners we talk to realise and also the average fund size is bigger than what people expected from our initial feedback," comments Dirk Meuleman, CEO of Amsterdam-based Phenix.
For instance, Phenix finds no fewer than 53 managers currently raising some 82 private-debt impact funds, with an average target of just over €300m. The number of new private-debt funds has more than doubled to 23 since 2015.
Phenix analyses the impact proposition of each fund, how it is integrated in the investment decision-making processes, how the managers work with the portfolio companies and how the reporting is carried out. The firm applies definitions of intentionality and measurability to each fund and assesses the investor base.
The sector is developing at a fast clip, according to Meueleman, including in important qualitative areas. "Impact reporting is developing really quickly. We see the curve of best practice pretty clearly, and that is just moving very quickly.
"Basically, what was best practice two years ago on impact reporting is now middle-of-the-pack reporting. It's gone that quickly."
Industry standards like the IFC's Operating Standards for Impact Management, which are applied in Phenix's database, are also helping drive standardisation and best practice.
"I think it's a great piece of work done by the IFC, and that will drive standardisation. Similarly, I think with IRIS+, there's an excellent piece of thinking where the per-dollar impact of investment will be able to be made more comparable, which will be an entire force of change in this industry." IRIS+ is a free reporting standards framework managed by the Global Impact Investment Network.
Phenix Capital's Global Impact Platform Report highlights
• Tracks total allocated capital of €245bn
• 1,306 institutional impact funds
• €160bn committed in the past 10 years
• €110bn currently being raised across 562 funds
Meuleman says Phenix sees high quality impact reports both in private as well as in public markets and finds it hard to generalise about where the best reporting is to be found.
Large, better-resourced managers are not necessarily better at reporting, he says. "I think it's really predicated on the type of manager and how much focus they have on impact. As you can imagine, some of the microfinance organisations, for instance, where the impact is just such an integral part of the entire organisation, have some of the most detailed reporting out there."
Public equity impact funds account for some €55bn in committed capital, with 18 fund launches in 2019 and 122 funds overall in the market. Phenix's report raises the issue of ensuring best practice of the integrity of public market impact funds.
"Public markets are an area where, over the last two years, we've seen a lot of growth in products, but where we also see a lot of growth in reporting standards," Meuleman says.
"Having said that, it's just very easy in public markets to put the word impact in a fund name and not do that much.
"I think the thought leaders in the public equities impact space are doing an excellent job at making sure they make the impact of their investment decisions transparent and get to a detailed level of reporting. They can't always show it for 100% of their portfolio, but they might do it for the 60-something per cent, where they are able to get the data, and then find ways to extrapolate that."
Capital mismatch
Does the market offering meets the needs of investors, and are funds addressing the overall aims of the SDGs, particularly in directing capital towards less-well-covered goals?
"They don't always match, as a lot of institutional investors have the preference to allocate to developed markets and a lot of SDG funding is required for developing markets. Having said that, we do see the market supplying more and more. We see big firms entering the impact space exactly to address some of that institutional investor need, but it's far from being where we need to be, from some of the institutional investors we speak to that would like to increase their positive impact of their portfolio with very significant amounts but they're still struggling to find the right opportunities."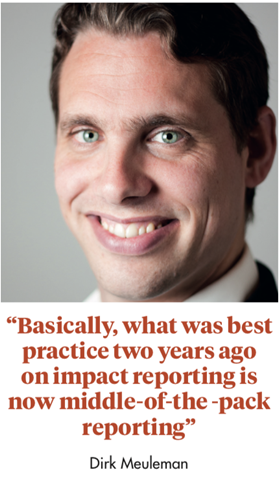 Meuleman details a mismatch he sees between the opportunities offered through funds and the themes that need to be addressed. "A classical example is circular economy [SDG 7], for instance, which has a few funds that target it and a lot of demand from institutional investors.
"Oceans [ESG 14] is also a theme where there are not that many funds that specifically target that, but it is a pretty common theme, especially for family offices."
Phenix does see a positive story in the direction of travel, albeit with a dollop of good intentions. But Meuleman emphasises that it does take time to develop expertise and a track record, particularly in private markets.
As he points out, it is also easier to fund renewable energy companies than firms promoting SDG 16, for instance, covering peace and justice.
Yet a holistic view of the SDGs might lead to the conclusion that responsible consumption and production, where water consumption is involved, for instance, is closely linked to peace. A 2019 report by the World Economic Forum found that water was a major factor in 45 conflicts around the world in 2017, including in Syria.
"We will need more entrepreneurs focusing on developing business models that tackle these issues, and then the investment funds will follow," the CEO says.
Meueleman predicts greater numbers of investment opportunities focused on oceans, given the overall level of attention focused on them recently. Other areas include development of medicines and social housing, where a large number of US managers have a focus. Microfinance should also gain traction, given the continuing low-yield environment and the low correlation with traditional fixed-income assets.
"Typically, I recommend to investors to look at it from a portfolio perspective," says Meulemean.
He adds: "I don't think there needs to be a trade off between impact and return. I think within all the themes you are able to be selective to find managers with excellent track records and where you can make excellent returns. Otherwise, we wouldn't see some of the impact portfolios from some of the large institutional investors outperforming their traditional portfolios."
It is hardly possible to imagine that the coronavirus pandemic will not have a huge impact on fundraising this year. "A lot of it will depend on how long this situation lasts because I think that's the key factor, and how deep the recession, consequently, is going to be," comments Meuleleman.
"In the longer term, I do think this will end up being a boost for the impact-investment movement in general; we see the need for collective action; we see the cost of externalities becoming very visible; we see the need for investing in medicine development.
"But I think the paradigm shift, that investors need to look not only at the risk and return aspects of their investment decisions, but also at the societal impact, the climate impacts of these capital allocation decisions, will be strengthened and will get more support.
"I think that paradigm shift has already occurred in society but the investment industry to some extent has to play catch up."
Impact investing: Build back better
1

2

3

4

5

6

7

8

Currently reading

Phenix Capital: Measuring the market

9