Key regulatory issues summarised
Denmark
In January 2020, the Social Democrat government introduced the senior pension, an early retirement disability pension.
This had been agreed by the previous (centre-right) government – ousted after the June 2019 election – and followed a national debate over whether workers in physically or mentally arduous occupations should retire earlier than others.
The new arrangements replace the senior disability pension, which had stricter requirements.
The pension allows individuals with at least 20 to 25 years of full-time employment and who are unable to work more than 15 hours a week in their most recent jobs to receive a pension up to six years before normal retirement age (currently age 65 and six months).
Responsibility for assessing disability will rest with municipalities, but in January 2021 will move to ATP.
The measures also include setting up a pension commission, to consider whether the gradual increase in the retirement age should continue beyond 2040, when the retirement age is scheduled to reach 70, and the effects of a differentiated retirement age
In January, the employment minister Peter Hummelgaard announced a further remit for the commission – reviewing the consequences of abolishing the off-set of earned income against the state pension.
Several parties including the Danish Employers' Association have been lobbying for this, saying it would increase the available workforce. It would also bring Denmark into line with Norway and Sweden.
It is expected that a decision concerning the pension commission will be taken this spring. At present, it is uncertain what its precise task and organisation will be.
Last December, the Danish Competition Council published its two-year study into the pensions sector. It had been launched because recent mergers between providers in the commercial sector had fuelled concerns that competition was being reduced.
Among its recommendations, the study proposed independent ongoing evaluations of pension companies managing compulsory, savings-based pension savings, to help decisionmakers – companies and social partners – make an informed choice of pension company.
"Corporate pension schemes are typically made up of cheap insurance products and expensive asset management," the report said. "This makes comparing pension provision more difficult and can be a barrier for new players. The Competition Council proposes that a working group be given the task of developing a model that can ensure more cost-effective pricing."
It also called for solutions to make it easier for individuals to transfer between pension provider after they have retired.
Germany
For years, the level of contributions paid into statutory health and long-term care insurance schemes relating to company pensions has been hotly disputed. Since 2004, retired employees have had to pay the full amount of social security contributions, rather than half.
In consequence, the 2020 contributions for health insurance are at least 14.6% instead of 7.3%, and 3.05% instead of 1.525% for long-term care insurance (plus a surcharge for childless pensioners). Health insurance schemes also apply additional rates.
Until the end of 2019, there was an exemption limit with no tapering, so that while no contributions were due for smaller pensions, full contributions as the threshold was exceeded.
The rule was unpopular but the government decided that reintroducing the 50% rate of contributions for pensioners was financially non-viable.
As a compromise, and effective as of January 2020, legislators introduced a contribution-free allowance for statutory health insurance (but not for statutory long-term care insurance). This is €159.25 per month for 2020 and will vary over time.
The exemption limit – the same amount as the contribution-free allowance – continues to apply for long-term care contributions.
So pensioners pay health insurance contributions on the excess pension, and long-term care contributions on the full amount.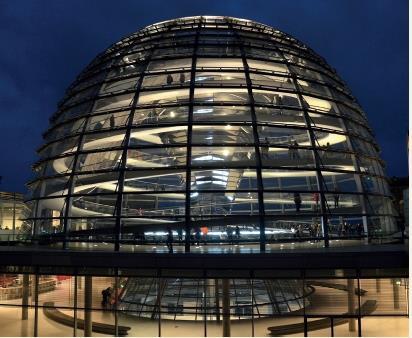 For example, no contributions at all are due on a pension of €150 a month. But, on a pension of €200 a month, the pensioner pays health insurance contributions on €40.75, and long-term care insurance contributions on the full pension.
The Ministry of Labour and Social affairs has proposed a new law which would include Pensionskassen within the statutory insolvency protection system for company pensions. The proposal is connected to a ruling by the European Court of Justice in December 2019 that German company pensions law does not fully comply with the European directive on insolvency protection.
So if this proposal becomes law, employers using a specific type of Pensionskasse (usually insurance mutuals) would be forced to pay contributions to the statutory insolvency protection scheme (Pensions-Sicherungs-Verein, PSV).
The impact would be considerable in sectors such as financial services and chemicals, where these Pensionskassen are common.
As a consequence of IORP II, a revised version of a regulation on obligations for IORPs relating to members' information (VAG-Informationspflichtenverordnung) was published in June 2019.
In addition, the financial regulator BaFin is expected to publish requirements for the system of internal governance of IORPs and their own risk assessment.
The Federal Labour Court (Bundesarbeitsgericht, BAG) also recently ruled on the consequences of a transfer of undertaking if both transferor and transferee run a collective defined benefit company pension scheme. Following previous rulings and market practice, it was assumed that the benefit claim for future service following the transfer would be replaced by the transferee's pension scheme, even if the benefit level was less favourable than that of the transferor's scheme.
Past service was considered to be more strictly protected.
However, a BAG press release (the full ruling has not yet been published) suggests the transferee company may be obliged to continue the higher benefit level of the transferor's scheme, unless it can present specific justification, such as economic difficulty, for reduced benefits.
The Netherlands
Last June, social affairs minister Wouter Koolmees negotiated a new pension agreement with the social partners which was presented to parliament.
However, the sense of achievement was short-lived, as advice from the Dijsselbloem Committee quickly undermined the proposal.
The committee – set up to advise the government on assumptions for returns used by pension funds – advocated more moderate returns that funds can use in recovery plans and premium setting.
To top it off, interest rates fell to an all-time low in August. The threat of having to cut pension entitlements loomed large, and it was expected that the pensions of 8.5 million Dutch people would be reduced in January 2020.
The combination of these new parameters and low pensions coverage ratios increased pressure on the government. Minister Koolmees finally came up with a diplomatic compromise last November.
So reductions in pensions are on hold, as long as a pension fund has a coverage ratio exceeding 90%. These funds have now been given an extra year to reach their recovery targets.
One element of the pension agreement, namely the less rapid increase of the state retirement age, has already been formalised in legislation.
The state retirement age has been frozen at 66 years and four months for 2020 and 2021, increasing in steps to 67 years in 2024.
Thereafter, for every one-year increase in life expectancy, the state retirement age will rise by eight months, instead of a year, as previously scheduled.
The reform of the second pillar is planned to take effect in January 2022. It envisages just two types of pension contract, both with a defined contribution (DC) character.
The annual accrual rate will change from an annual fixed percentage to a decreasing percentage per year. The premium paid will be limited to 27% of the pension base, that is salary minus offset of the state pension.
The change from a fixed to decreasing accrual per year means older cohorts will be unable to amass as much as currently, so transitional measures will be necessary.
The effects of the new contract are less predictable than the current one – for example, benefits will be increased and reduced more rapidly.
The details still need work, but a steering committee has been appointed and is expected to publish its initial thoughts before summer.
Meanwhile, last year, pension funds became obliged to communicate pension entitlements to participants not only in terms of the expected amount, but also the forecast amounts under best and worst case investment scenarios.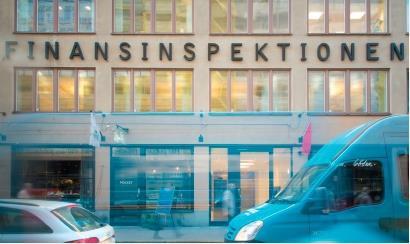 Sweden
New amendments to the Swedish Insurance Business Act with limitations on fees for pension fund transfers entered into force in January 2020. Under these, transfer fees charged by insurance and occupational pension companies may not exceed the company's direct costs for administrative handling, and the remaining acquisition costs relating to the insurance that have not yet been amortised.
The implementation of IORP II was completed in January 2020, albeit delayed by a year. In addition to incorporating the directive into domestic law, Sweden chose to make additions. The national add-ons include a risk-based capital requirement for pension fund providers and a regulation for the supervision of financial services groups.
This was done in two layers. The main principles were set out by parliament, with the details carved out by the Swedish Financial Supervisory Authority (Finansinspektionen) in its regulatory code.
The risk-based capital requirement is calibrated at a value at risk of 97%, as opposed to 99.5% as set out in the Solvency II regulation.
After criticism that the capital requirements were too tough, the Ministry of Finance has begun examining the new solvency regulation, before presenting amendments to parliament.
Insurance companies and mutual benefit societies (understödsföreningar or pension funds) offering occupational pensions and wishing to apply the new regulation will have to change their legal status to an occupational pensions company, offering only occupational pensions.
Mutual benefit societies must apply no later than 30 April 2020, while insurance companies have until the end of 2022 to decide, as it will be possible for them to apply Solvency II as an insurance company instead.
Both insurance companies as well as occupational pension companies will be able to distribute occupational pension products.
Meanwhile, the tug-of-war over investment rules for the Swedish buffer funds continues.
Last November, the government said it had submitted a proposal to the Law Council amending the investment rules for the AP funds 1-4. The proposal would make it easier for them to invest in illiquid assets, increasing cost efficiency.
It follows a law intended to relax the rules that was approved in 2018, but which – according to some buffer funds – did not go far enough.
The latest proposal is supported by the cross-party Pensions Group but has been criticised by AP4 as too restrictive. If approved, the amendments would take effect in May 2020.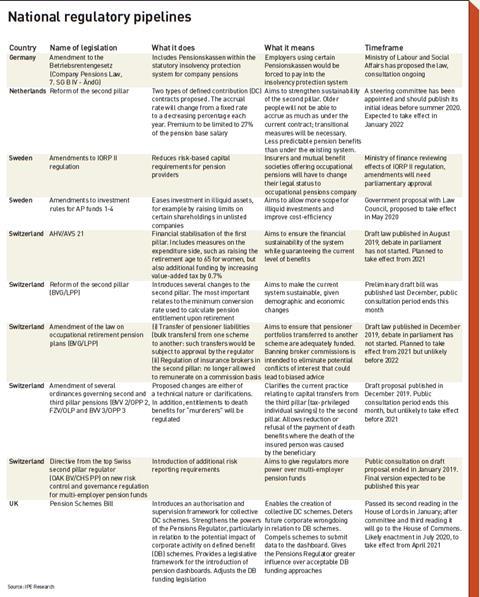 Switzerland
A draft bill on second-pillar reform (BVG/LPP) was published last December, with the public consultation ending this month.
Aimed at achieving financial sustainability in an era of economic challenges, its key provision relates to the minimum conversion rate used to calculate entitlement on retirement, from mandatory savings.
The reduction – from 6.8% to 6% – will lower pensions. To compensate for this, the bill proposes a transition measure: a fixed pension top-up, paid lifelong for those within 15 years of retirement. The top-up will be between CHF100-200 per month (€93-187), and financed by a contribution equal to 0.5% of salary, split between employer and employee.
Although agreed between employers and trades unions, the proposals are unpopular. "Everyone agrees the conversion rate should be lower and that there should be some form of compensation," says Simon Heim, head of Swiss Life's employee benefits legal practice. "However, opponents say it is too expensive, and that it introduces an element of pay-as-you-go to the second pillar, which should not be the case."
Further criticisms are that the process would be centralised, with some funds subsidising others. There are also fears the transition period could be extended indefinitely.
Heim doubts the proposals will get legislative backing: "I think a set of compromises will have to be made but, even so, there could be a public referendum afterwards."
Two previous referendums (in 2010 and 2017) resulted in defeat for plans to reduce the conversion rate.
Meanwhile, the draft bill on first-pillar reform (AHV/AVS 21), published last August, awaits the start of its parliamentary passage.
Proposals include raising the minimum retirement age for women from 64 to 65, the same as for men, with additional funding from increasing the VAT rate by 0.7%.
If approved, the changes could be introduced in 2022.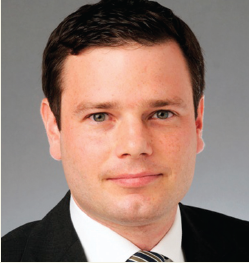 Another pending issue has been amending the law to ensure adequate funding of pensioner portfolios transferred to another scheme.
A draft law published in 2019 proposed that bulk transfers be subject to regulator approval. This could make it more difficult for companies to change their pension fund, according to Swiss Life, as the new provider has to ensure that the pensioner liabilities to be transferred are adequately funded. This could result in additional funding requirements for the employer.
It is also proposed to ban commission for insurance brokers to avoid conflicts of interest when giving advice. This has prompted discussion, with brokers unsurprisingly opposed.
At present, the broker is usually paid by the pension fund on a commission basis. But a ban could change the system, with companies obliged to pay brokers directly on a fee-based arrangement. This could lead to a situation where companies that are unable to pay a broker would no longer have access to independent advice.
An alternative would be to increase transparency for commission paid to brokers. The aim would be full transparency, both regarding the services provided by the broker and the related remuneration.
Meanwhile, two other regulations remain in the pipeline.
A draft proposal to amend ordinances governing the second and third pillars was published last December. Most changes are technical, or clarify rules governing transfers between the pillars.
However, following recent cases of mariticide, they aim to give insurers additional abilities to reduce or refuse death benefits where the beneficiary deliberately caused the death of the insured.
Consultation ends this March, with the changes unlikely to take effect before 2021.
UK
The Conservative Party's decisive victory in last December's general election, and its ability to achieve Brexit, means the UK government can move forward with changes to the pensions framework.
The Pension Schemes Bill, was reintroduced to the House of Lords in January with few changes from the original.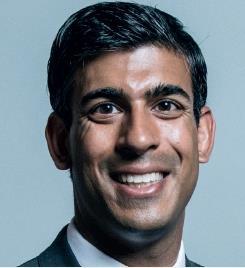 The draft legislation includes a framework for the operation and regulation of collective defined contribution (CDC) schemes. It also enables the creation of pension dashboards, including powers to compel pension schemes to provide as-yet unknown pension information to consumers.
Revisions to the DB funding legislation are also included, with the Pensions Regulator (TPR) expected to consult on a revised code of practice. Changes to the legislation include an obligation for schemes to set a long-term funding and investment strategy, and to appoint a chair, who will have to report to
TPR via a chair's statement, submitted with the scheme's triennial valuation.
The regulator is also being given increased powers, particularly in relation to corporate activity that may adversely impact DB schemes. New criminal offences are introduced, as well as a new power to issue civil penalties of up to £1m (€1.2m).
The bill also requires individuals involved in certain corporate transactions to make a statement setting out information about the event and how any detriment to a DB scheme will be mitigated.
However, the bill does not introduce a framework for consolidation of DB schemes into so-called superfunds – a year after the government consultation closed. The government is expected to publish its response shortly, setting out a future legislative framework.
As IPE went to press, the bill had reached committee stage in the House of Lords but will still require a third reading before it reaches the House of Commons.
A possible candidate in relation to future legislation is adjustments to the Guaranteed Minimum Pension (GMP) conversion legislation in order that this route can be used by pension schemes to resolve their GMP inequalities. Action on this became necessary following the recent Lloyds Bank case: in 2018, the UK's high court ruled that the payments – dating back to 1990 – must be reviewed and recalculated if necessary, to ensure men and women receive equal treatment.
An obstacle for many schemes is the extra tax levied if pensions are raised as a consequence of this recalculation. There is no news from HM Revenue and Customs on what, if any, assistance it can provide under current tax legislation.
Finally, on 11 March all eyes will be on the UK's new chancellor, Rishi Sunak, as he delivers his first Budget, less than four weeks after his appointment: the big unknown is whether he will abolish the 2016-introduced taper on the annual allowance on pension contributions and if he does, what other action he might take to compensate for the tax receipts he will lose
Regulation: Asset managers - Regulators set sights on liquidity
1

2

Currently reading

Regulation: Pensions - Regulation around Europe