---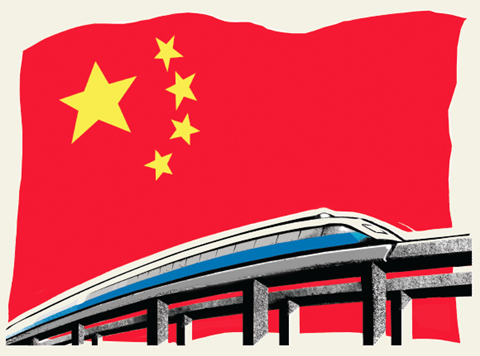 Access to the world's third-largest bond market is slowly improving
Key points
• The Chinese bond market is one of the world's largest but overseas holdings are tiny.
• Bond Connect should make it easier for foreign investors to access Chinese markets.
• Lack of foreign access is a barrier to China becoming part of the main bond indices.
• Chinese government policy is a key question for investors.
Foreign investment in the Chinese onshore bond market is tipped to triple over the next three years as Beijing continues to pull down barriers to its bond market, valued variously at $7trn to $10trn (€5.9trn-€8.4trn).
Although the Chinese bond market is the third largest in the world – after the US and Japan – global holdings of Chinese bonds are miniscule. But according to HSBC Global Asset Management, foreign participation in China's onshore bond market is about 3%.
However, with a further relaxation of rules and the renminbi's inclusion into International Monetary Fund's Special Drawing Rights (SDRs), this percentage is expected to treble by 2020 to "an amount equivalent to 8.5% of China's GDP", say HSBC.
China introduced Bond Connect in July – a move considered by many as the most significant relaxation in the Chinese bond markets.
Foreign fund managers are optimistic that Bond Connect will unlock the Chinese bond market for foreign investors, and it has come at a time of heightened interest in Chinese assets.
Gregory Suen, investment director of fixed income at HSBC Global Asset Management, says foreign investors are still assessing the usability of Bond Connect and need to understand the mechanism if they wish to participate. "As a house, we have started to see a pick up of interest from the second quarter. In time, we will see increased buying of renminbi bonds," he says.
Suen says Bond Connect removes the need for foreign investors to apply for quotas to buy renminbi bonds in the onshore market.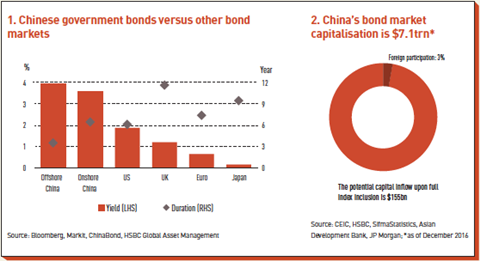 Over the years, China has progressively opened its bond market using quotas starting with the qualified foreign institutional investor (QFII) scheme, progressing to renminbi-Qualified Foreign Institutional Investor (RQFII) and most recently, China Interbank Bond Market (CIBM), introduced last year.
Under QFII, quotas were assigned to locations or countries. Suen says: "If we were in Hong Kong, we would be allocated a portion of Hong Kong's overall quota, and if that was fully taken, we and many other investors in Hong Kong would be limited as to how much exposure we can take."
Edmund Goh, an Asian fixed-income manager at Aberdeen Standard Investments, says Bond Connect will make a difference as it will make it much easier for foreigners to inject or repatriate capital in and out of China.
At any one time, Aberdeen Standard's team in the UK and Asia would have investment in Chinese bonds valued in the "hundreds of million [of] renminbi". The firm has been buying Chinese bonds since the start of this decade.
As Goh sees it, the Chinese bond market has been "maturing" gradually. Investing in Chinese bonds looks easier today than it did five years ago.
Portfolio manager Teresa Kong, who manages Matthews Asia's strategic income and Asia credit opportunities strategies, says the opening of the bond market is a first and important step that could significantly affect the flow of capital into China.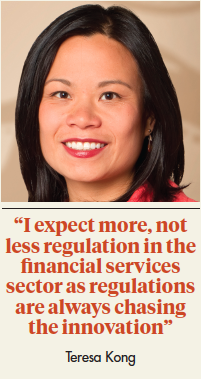 Kong adds that foreign access is an important barrier to China becoming part of the main bond indices. "Today, most investors can ignore China's onshore bond markets and not participate at all, but when it becomes part of the major bond indices, it can no longer be ignored" says Kong.
If Chinese bonds are included in global indices, capital inflows of up to $150bn a year can be expected, according to fund manager estimates.
Five-year Chinese government bond rates are at about 3.5%, compared with about 2% for US Treasury bonds and the barely positive yield on European bonds.
In the current world where German and Japanese yields are still negative, says Kong, few other A- rated sovereigns offer yields at this level.
However, the relative attractiveness of the return will be eroded if the renminbi depreciates. Goh says: "If an investor is bearish on the renminbi, then a 4% return will not give investors much comfort."
Compared to last year, sentiment on the currency in the past couple of months has been bullish. Goh cautions: "If you are looking at allocating assets to China you have to take a longer term view because there will always been short-term volatilities in renminbi."
There are two Chinese bond markets: the onshore renminbi bond market, and the much smaller – but more popular – offshore dollar-denominated bond market.
Goh estimates that the size of the offshore market is about $1trn. Although the onshore market is estimated to be closer to $10trn, he says this figure is irrelevant, because what makes a market is liquidity. In China, liquidity is "very poor" relative to other bond markets of similar size.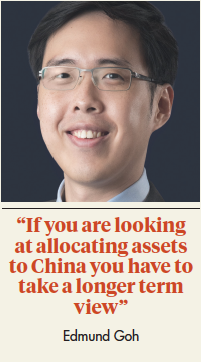 Kong says the differential between offshore and onshore was as much as 140 basis points in February 2016. "This differential has collapsed to about 20bps due to the ongoing deleveraging campaign undertaken by the government, which has caused onshore short-term yields to spike and the yield curve to be very flat," she says. "The result is the yield gap that existed between onshore and offshore has largely disappeared."
IPE has been told that the lack of differentiation between those companies with high borrowing and well-managed companies with low borrowing is a drawback for investors seeking to invest in Chinese bonds.
"Chinese corporate bonds onshore in general do not offer the credit spread premium we demand because most onshore investors tend to underestimate default risk, given the historical low default rates," says Kong.
"However, the corporate bond market is young and the historical sample size is small and therefore not indicative of potential future defaults," she adds.
Defaults by Chinese issuers make headlines. But the actual default rate in China is less than 1%, says Suen, pointing out that no global market is default free. "Defaults are part of a healthy, normal market," he says.
Goh counts about 10-15 defaults by Chinese issuers, and less than five defaults in offshore Chinese bonds. "So far, no LGFV [local government financial vehicles] or direct central- SASAC [state-owned assets supervision and administration commission] controlled entities have defaulted," he says.
Interestingly, those who spoke to IPE downplay China's debt problem. They all say the government has the resources and the will to stem a financial collapse.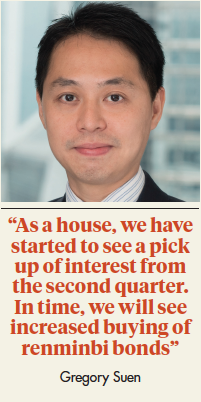 "The debt situation is manageable, especially when you consider the big four banks are majority-owned by the government," says Suen. "Unlike the US or Europe, China has more latitude when it comes to smoothing out the refinancing."
Kong says: "Much has been written about SOE [state-owned enterprise] debt and we are not overly concerned. Certainly, there are many SOE's that are technically insolvent and the overall levels of debt amongst SOEs are high and warrants monitoring, but we do not see this as a dire, systemic issue."
On the whole, China's private sector has lower leverage, ironically because it does not have a strong relationship with the Chinese banks. Consequently, the sector does not rely on leverage for growth.
The key question for investors is the policy of the government. Goh says it is still a planned economy and the government directs everything, from currency, investment and interest rate.
Investors will have been looking to the 19th People's Congress of the Communist Party of China last month for clues on the economic direction over the next five years.
China watchers expect continuing emphasis on deleveraging, and, very likely, a continuing focus on SOE reforms to improve efficiency and weed out the non-performing companies.
Contrary to the expectation of further deregulation, China juggles between deregulation and re-regulation as it seeks to control capital outflows and manage its economy.
Teresa Kong says: "I expect more, not less, regulation in the financial services sector, as regulations are always chasing the innovation. For example, banks now are mandated to produce a macro-prudential assessment score that captures risk more holistically as the complexity of their businesses and instruments increase."
At the same time, she also says China may allow more capital inflows to balance the structural rise in capital outflow pressure with a growing middle-class seeking to diversify risk away from China.
"Greater regulation and greater liberalisation are not mutually exclusive," she says.
China: Bond markets opening to foreign investors
1

Currently reading

China: Bond markets opening to foreign investors

2

3

4