Investing in the rise of China's middle class might seem obvious but it is a complex process
Key points
China's middle class is growing at a spectacular pace
Middle class consumption will continue to drive corporate profits in the future
Consumer spending patterns vary greatly across China's regions and demographics
A series of misconceptions have limited foreign investment in China
The aptly-named romantic comedy Crazy Rich Asians, released last year, grossed more than $238m (€213m) worldwide and received many accolades. The film, based on a 2013 novel of the same name, tells the story of a Chinese-American professor who struggles to be accepted by her boyfriend's extremely wealthy Singaporean family.
Although it portrays a narrow and well-established group of super rich, the film involuntarily hints at the rise of the middle-class across Asia. This is an important trend sweeping through the continent. According to a February 2017 paper by the Brookings Institution, a US think tank, 88% of the next billion people who will enter the middle class will be Asian.
China's middle class, in particular, is at the centre of nearly every conversation about global investment. Analysts identify the growth of this social group as the engine of the country's economy, and by extension the global economy, in the years to come. This is because China is succeeding at transforming its economy from one based on investment and heavy industry to one based on consumption and services.
The Chinese government may have engineered the shift but now the middle class is in the driving seat. It is now both the source and the product of historical transformation.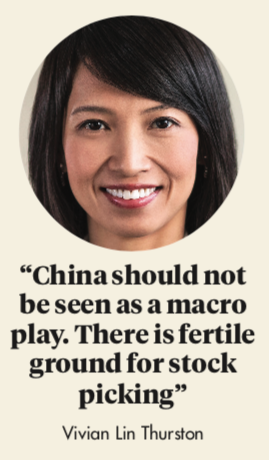 The estimates of the size of and growth trajectory of China's middle class vary widely. Some put the number at about 150m people, others reckon it is much higher, depending on how the middle class is defined. According to a paper by Legal & General Investment Management (LGIM), in 2018 there were 500m Chinese with an income above $10,000 a year, which corresponded to about 35% of the country's population. In 2030, those figures could reach 850m and 60%, respectively.
Differences aside, the scale of the trend is huge. The Brookings study estimated that in 2015 China's share of global middle-class consumption was 12%, or $4.2trn, the second-highest after the US, which was 13% of the total, or $4.7trn. According to the paper's authors, by 2030 China's share would become the largest, rising to 22% of the total or $14.3trn, topping India and the US.
Showing an acute awareness of this trend, in recent years Chinese authorities have worked to attract foreign capital to speed up the transformation. Global investors can no longer ignore China, and this is not only because the main index providers have added Chinese A-Shares to their main global indices.
"Chinese authorities want to rebalance the economy away from trade and towards consumption, and every regulation at the moment is being designed so that local companies can push domestic consumption through local brands. These brands, most of which we won't have heard of in the West, are emerging fast," says Jean-Christophe Lermusiaux, portfolio manager at Hexavest, a global equity-focused top-down asset manager.
Vivian Lin Thurston, portfolio manager at William Blair Investment Management, says: "China is in the sweet spot where, thanks to the growth in consumption and to the government's recent supply-side reforms, the leading companies will continue to gain market share and lead consolidation in their industries."
Faisal Rafi, head of research at emerging markets-focused consultancy RisCura, says: "The Chinese equity market is the second-largest in the world, and during certain periods, one of the most liquid. There are nearly 5,000 stocks to choose from, including hundreds of multi-billion-dollar market caps, many of which are growing sustainably and at a spectacular rate. Because of the geopolitical noise surrounding the trade tensions with China, many stocks are trading at very attractive valuations. This is why we get so excited about the opportunity."
One obvious way to play the rising middle class theme is investing in the internet sector.
The sector is populated by online retailers of consumer discretionary goods and interactive media providers that are reaping huge benefits from the rise of the middle class.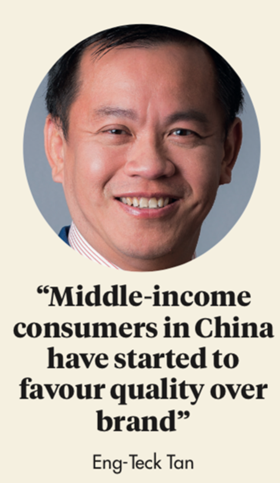 Lermusiaux says: "China's e-commerce is now larger than the US equivalent, and it will grow further. There are several platforms with more than 5bn visitors per month. The Chinese are simply addicted to online shopping, with 80% of e-commerce in China being done on mobile phones, which puts them way ahead of Western countries," he says.
Online gaming is another Chinese favourite, according to Thurston. She says: "China has been leading in online gaming because it has an enormous size in terms of consumer demand. There are 970m mobile-phone users. The sheer scale allows companies to invest in the development of the technology, which means the sector will evolve very fast."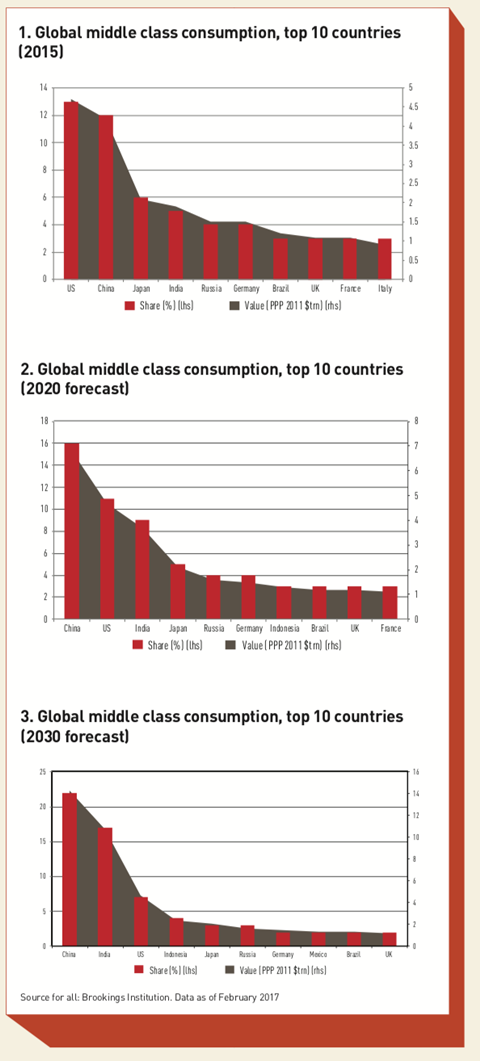 The internet sector is not just a good investment opportunity, says François Perrin, head of Asia at East Capital. It is a compass through which the development of the Chinese middle class can be read and understood. "The companies that are leveraging the internet ecosystem associated with the rise of middle class understand this trend very well. Their starting point is precisely that China's middle class will grow from 200m to 600m over the next few years. Through the different platforms they operate, they know exactly how to map transaction flow, consumer behaviour and therefore consumer preferences. They have a well-defined and proper understanding of where China is today and where China is going in terms of aspiration," says Perrin.
Sector opportunities
The internet is associated with consumer staples and consumer discretionary, which are obviously profiting from the emerging middle class's hunger for new and better products. However, aside of those sectors, China's diverse stock market offers great choice. Healthcare, education, insurance, travelling and experiential living stocks are all featured among managers' sector picks. But while the rise of the middle class consumer is the common growth driver in all those sectors, managers are trying to gain an edge by understanding the other underlying factors at play.
Take healthcare, for instance. The sector is already an investor darling, but analysts foresee it will continue to grow, and not just because Chinese middle class people increasingly turn towards private healthcare. William Blair's Thurston says: "Healthcare is a long-term growth industry. Specialist hospitals are an obvious play. But when it comes to innovative drug development or medical equipment, for instance, global players still dominate. So when we find companies that innovate and invest in R&D, we love that kind of play, as these companies are catching up on technology but face lower costs than global players."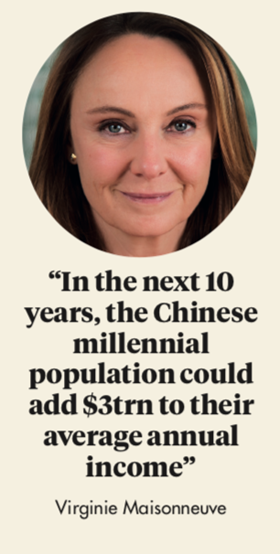 There are other sectors that will benefit from the expansion of the middle class, but not necessarily because of higher consumption. The life insurance sector, for instance, will flourish as the propensity to save for retirement grows among the Chinese. "Every year we see strong growth among Chinese insurance companies. This is due to a number of factors, not least the creation of robust and strong financial market, and the demographic dynamics, which see people ageing faster," says East Capital's Perrin.
Some managers argue that investors should resist the temptation to settle for beta exposure to the Chinese market. The market is largely dominated by retail investors and has a long way to go before it becomes even remotely efficient. Fortunes can be made and lost quickly. William Blair's Thurston says: "China should not be seen as a macro play. There is fertile ground for stock picking."
But on closer inspection, it quickly becomes difficult to decide which sector or stock will deliver sustained profits. RisCura's Rafi says: "The big challenge for global managers is how to tackle a market so large and under-researched, while dealing with a language and domestic culture that are understood by so few in the western world."
That is why RisCura tends to work with domestic fund managers, who are fully focused on the local market, adds Rafi.
It is fair to assume that global managers' Chinese equity portfolios are more likely to contain well-known global companies or large index constituents. These would be names such as internet giants Alibaba and Tencent, beverage companies Moutai or Wulyangye, electric goods manufacturer Midea, or financials Ping An or China Construction Bank. Domestic managers may be more likely to include less well-known names such as Brilliance Auto an automobile manufacturer, agricultural company Shunxin Agriculture, electronic manufacturers Sunlord or Sytech, or internet companies bilibili and YY.
The challange is that unpacking the spending patterns of China's emerging middle class can be difficult. Owing to the generalised lack of knowledge and understanding of China in the western world, there is perhaps a tendency to see China as a homogenous market, while experienced fund managers can attest to its complexity.
Millennial growth
First, there are different sub-groups driving consumption growth in different ways within the middle class. Virginie Maisonneuve, CIO of Eastspring Investments, points out the central role of millennials. "They represent 31% of the population, which means they are more than the working population of Europe. In the next 10 years, the Chinese millennial population could add $3trn to their average annual income," she says.
"Because they grew up with political stability and the internet, millennials want to trade up." She says. "They want premium brands delivering the best quality, both foreign and Chinese. This is both in consumer staples and discretionary goods. They also want to spend more on activities such as sport, travel, media, online gaming. There are more sensitive to environmental issues and this shows in their consumption patterns. The fact that they tend to be single also influences their behaviour. They are very different from their parents in many ways."
Eng-Teck Tan, portfolio manager at Nikko Asset Management, argues that understanding how consumer behaviour drives profits is crucial to build a successful portfolio of Chinese stocks. Tan points out that there are significant differences in terms of consumer behaviour across different cities or regions. Consumers in tier-one cities such as Beijing and Shanghai spend more on property, which greatly affects their disposable income and, as a result, how they plan to spend on luxury items or aspirational products and services.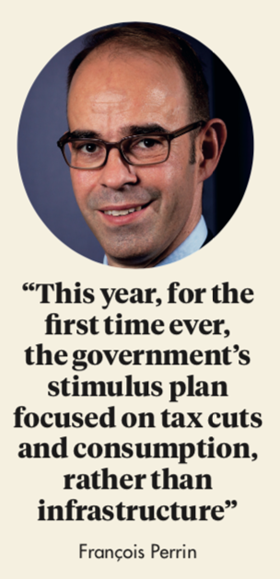 "Even though middle-income consumers in China are becoming richer, they do focus on value for money," he says. "They have started to favour quality over brand, particularly in tier-one cities."
Another relevant difference between consumers in tier-one cities and those in other regions is how they access the internet and through which platforms. Tan explains: "There are very successful e-commerce platforms that did not even exist until a few years ago, but saw the trend of consumers from tier-three and tier-four cities. These consumers want to shift to higher-quality products too, and emerging e-commerce players have engineered their whole platforms around those consumers."
Millennials cannot be seen as a homogenous group either, according to Tan. "Millennials generally prefer new brands and new products rather than the more established ones that their parents seek. But even millennials born in 1990 and 1995 show markedly different consumer behaviours," he says.
There are strong reasons to expect China will increasingly attract foreign equity capital in the years to come. It remains to be seen whether investors will overcome their concerns about China.
Wiliam Blair's Thurston says: "China continues to be a hybrid economic system and investors are concerned that politically it remains a communist country. But they cannot deny what it has achieved. In many ways it is more of a capitalist economy than western countries. There is also a misconception that the government is authoritarian because it is communist. But Chinese governments were authoritarian long before [they were] communist. It is a cultural difference investors must be aware of. Culturally, the Chinese are also no less, and perhaps more, entrepreneurial then other Asian people."
A Chinese middle class-focused strategy is not without risks but the macro environment seems to be highly supportive. Analysts identify high debt and unfavourable demographics as potential weaknesses. However, the government has already started to address those.
East Capital's Perrin points to the recent stimulus package as further evidence that the economy is shifting. "It is interesting to see that this year, for the first time ever, the government's stimulus plan focused on tax cuts and consumption, rather than infrastructure," he says.